Travel
A foodie weekend in Bergen, Norway
by Rob Crossan
Norway's fjord-side second largest city is a seafood haven and makes a great short break, says Rob Crossan.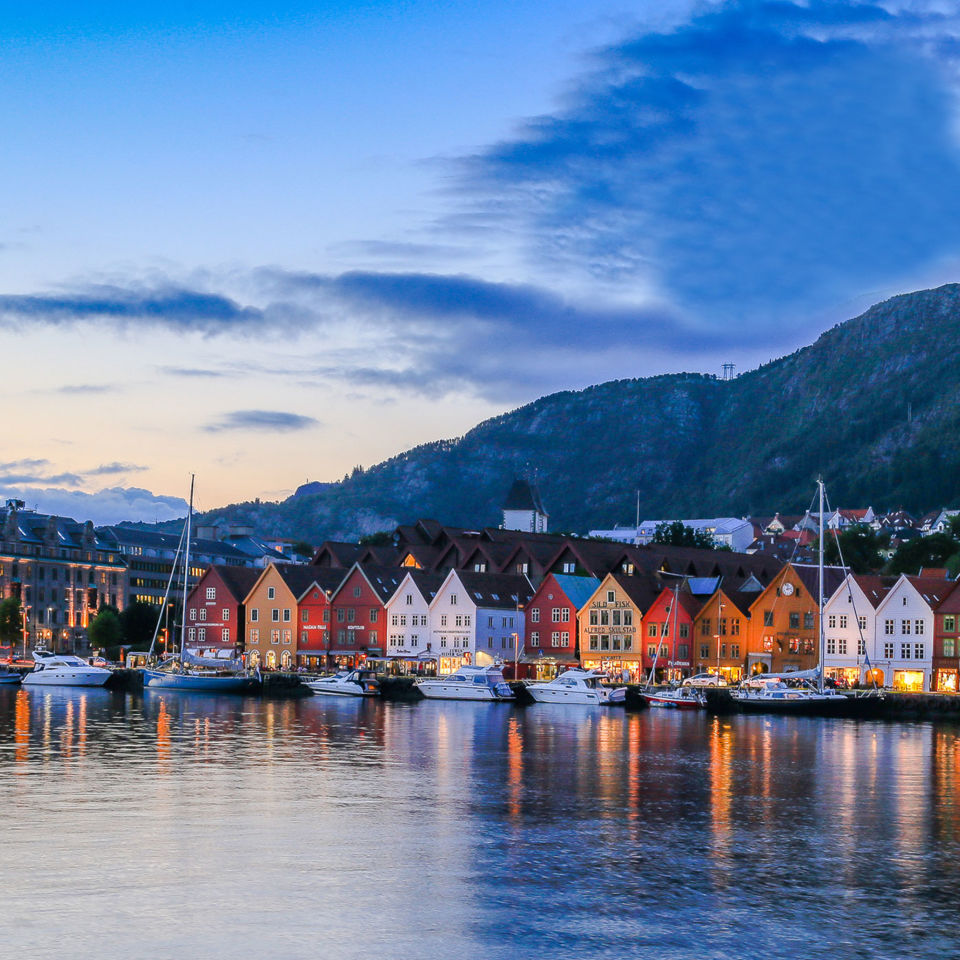 'Caviar sale,' reads the sign. What clearer indication could there be that I'm in one of Europe's more prosperous corners. Behind the sign stands a man whose blue eyes and white apron seem to be trying to out-dazzle each other. Manning the stall in Bergen's central fish market, he offers me a taste. How can I refuse? This is Bergen, Norway's piscine capital and gateway to the waterfalls, fjords and crenelated peaks of the pastoral Hardangerfjord region.
And in Bergen, caviar isn't the rarefied cuisine of oligarchs and royalty. At around £3, this is egalitarian caviar made, not from sturgeon, but from cod and served in tubes that you should not, under any circumstances, mistake for toothpaste. With a wildly salty, unctuous taste that, on a cracker, is a staple lunchtime choice of schoolchildren, office bees and, apparently, members of the Norwegian royal family, I feel I'm biting into a metaphor for this country; simple, accessible but always with a wry – or, in this case, on rye – appreciation for the unconventional.
The city has an almost defiantly youthful air about it. Hipster beards, skinny jeans and retro tea dresses are the mainstays of the sartorial code. Strolling through the warren of cobbled streets, wooden clapboard houses that teeter and lean like a drunken sailor, I meet Anna, a tour guide whose Bergen Base Camp company offers foodie tours of the city. In the market she picks up half a dried cod, wielding it like a fishy guitar as she explains the roots of Norwegian cuisine. 'Before we found oil, we were a poor nation,' she explains, encouraging me to rip off hunks of the cod, which, despite its texture of old wool, delivers a robust flavour when I chew. 'Fish was all we had but we influenced the rest of Europe with it,' Anna insists. 'If you've had bacalhau in Portugal or baked or roasted cod in Italy, it all came from us trading cod around Europe.'
Bergen's alfresco waterfront cafes are mostly geared towards cruise ship tourists. Dig a little deeper and you'll find establishments such as the cabin-like Bryggeriet, a microbrewery tucked away in the fish market with a balcony overlooking the harbour and wool blankets in which to wrap yourself draped over the back of chairs. In the street-art-filled neighbourhood of Sandviken, I sit in the sun on the terrace at Dr Wiesener Bar, owned as a co-operative by residents, eating a plate of deliciously fresh prawns and drinking ice-cold local lager.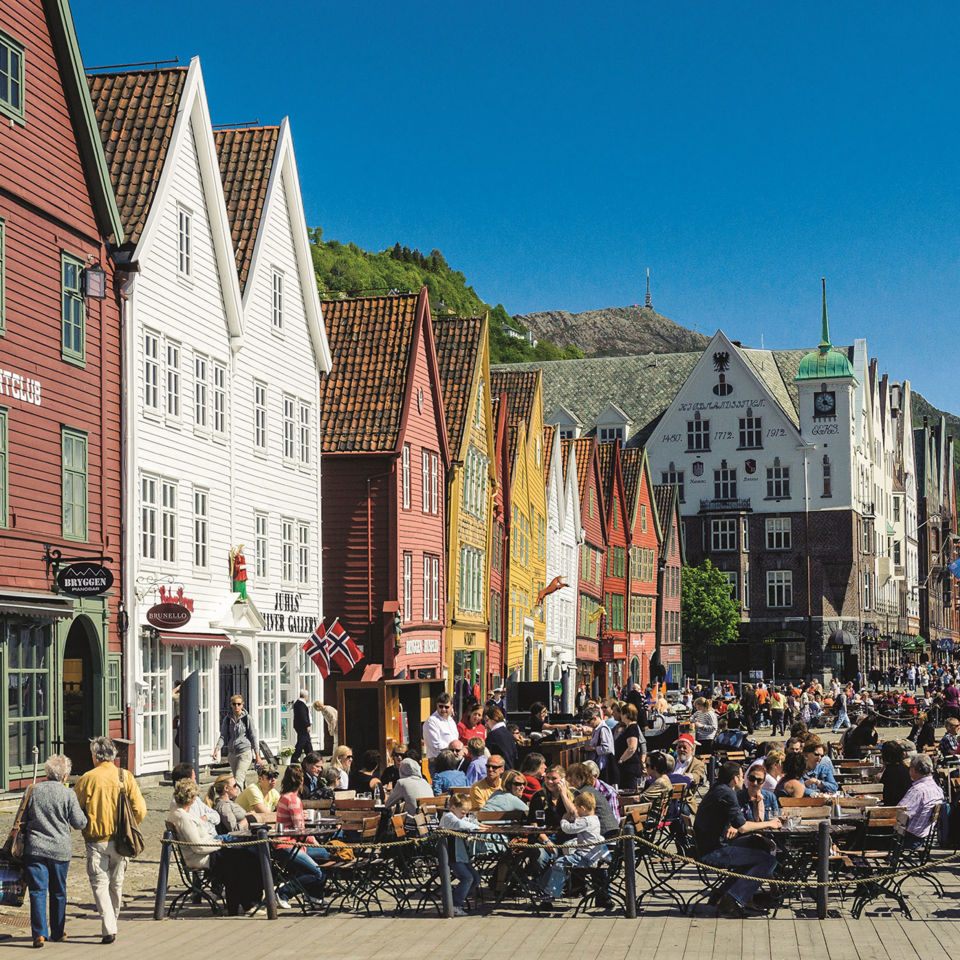 Enjoying the sunshine in the historical area of Bryggen
Rugged coastline
Dramatic fjords, which can be found all around Bergen, give a great sense of the role nature plays in this string bean-shaped nation, which boasts one of the longest, most rugged coastlines in the world. By catamaran – the equivalent of a ferry and popular with residents – I spend three hours gliding along bruise-coloured waters to the village of Ulvik, passing mountainous peaks that bow and bend like aged bookshelves and settlements of little more than primary coloured cabins, tiny wooden jetties and contorting, winding lanes. This is a village that clings to the edge of one of Norway's innermost fjords, and the absence of bracing coastal winds has made the area Norway's orchard, with raspberries, pears, cherries, plums and apples all growing here. Apple production has had something of a revival lately among farmers as the relaxing of somewhat draconian alcohol laws has enabled the resurrection of the ancient practice of cider production.
I spend the night at the retro-chic harbourside Hotel Brakanes, with a belter of a restaurant that has a short menu of impeccably prepared fish dishes.
Summer in these parts brings an almost otherworldly clarity to the landscape. You really get the sense that after a long, dark winter, Ulvik's 200 or so inhabitants embrace those long, light nights with the vigour of escaped prisoners. Youngsters whoop and leap into the cobalt fjords; sandy-haired farmers tend to young apple and cherry trees; elderly men in perfectly pressed check shirts lean against low stone walls.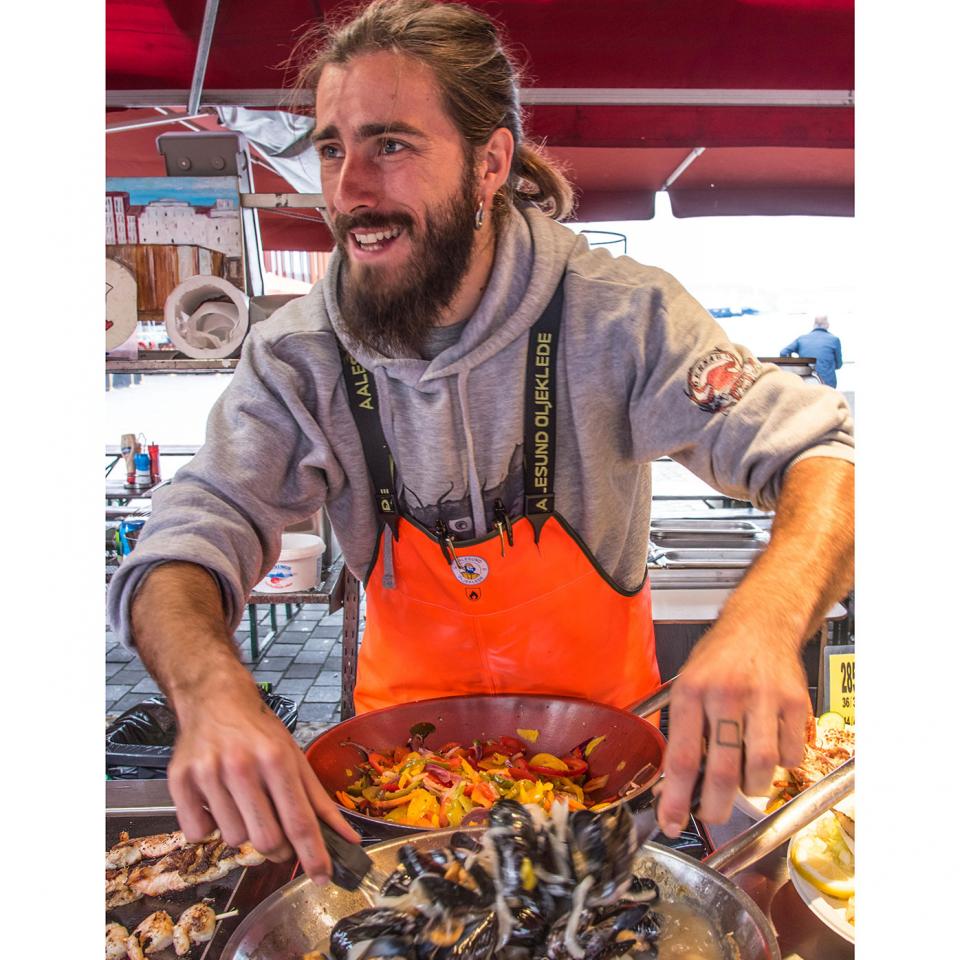 Bergen is Norway's seafood capital
Tangy brew
I call in at Syse Gard, a tiny sheep and fruit farm run by husband and wife Gro and Hans alongside their son and septuagenarian grandfather. Brandishing a jug of 9% proof cider made with the farm's 'discovery' variety of apple, I take a sip of the crisp, tart and tangy brew. It tastes of honey, pine and sunshine.
As the sun inches ever higher above us, Gro tells me of the Battle of Ulvik during World War II, when locals, fearing the Germans would seize a neutral vessel that had sought sanctuary here, scuttled it, inadvertently releasing its cargo of oranges. These bobbed around the fjord's waters for days afterwards. 'Nothing so dramatic has happened since then,' Gro smiles. 'Ulvik only changes with the seasons. For most people here, life is just about right as it is.'
How to book:
A 10-night Capital To Coast On The Great Bergen Railway group tour with Inghams Lakes & Mountains costs from £1,649 per person, including three- and four-star B&B or half-board accommodation in Oslo, Ulvik, Bergen and Stavanger, plus return flights (inghams.co.uk/lakes-mountains-holidays). For more on Bergen, go to visitnorway.com.
Don`t miss

---