Travel
A foodie weekend in Paris
Leah Hyslop delves into the backstreets of the French captial and finds the tastiest frangipagne tarts in town, where to enjoy a cake made by the world's best pastry chef and a city that just loves to entertain...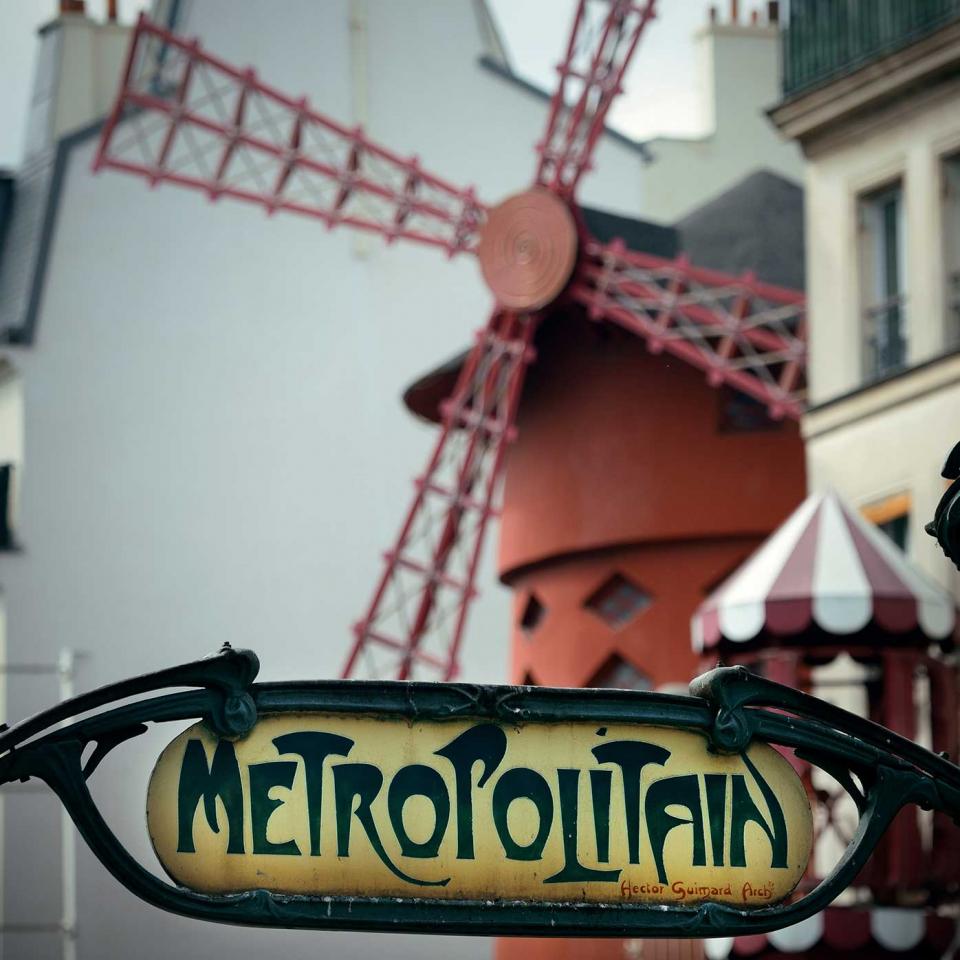 What do you do when you go to Paris? If you're like me, it tends to be the same old things: queuing for the Louvre; an ice cream by the Eiffel Tower; an overpriced set menu in a tourist-trap bistro. So earlier this year, I decided to explore the real – and more delicious – Paris. And who better than a French chef as my guide?
Gregory Marchand is the owner of Frenchie, a tiny restaurant that became a bigger hit than Edith Piaf when it launched in 2009 (he's now opened one in London). There's no congealing cassoulet or rubbery duck à l'orange in Gregory's pad; instead, the chef mixes French ingredients with techniques and flavours inspired by his time working in restaurants around the world. The food is astonishing, but perhaps even more striking is the restaurant's location in a tiny, cobbled alley in the 2nd arrondissement – Paris's smallest district and one that, for hundreds of years, tourists completely bypassed.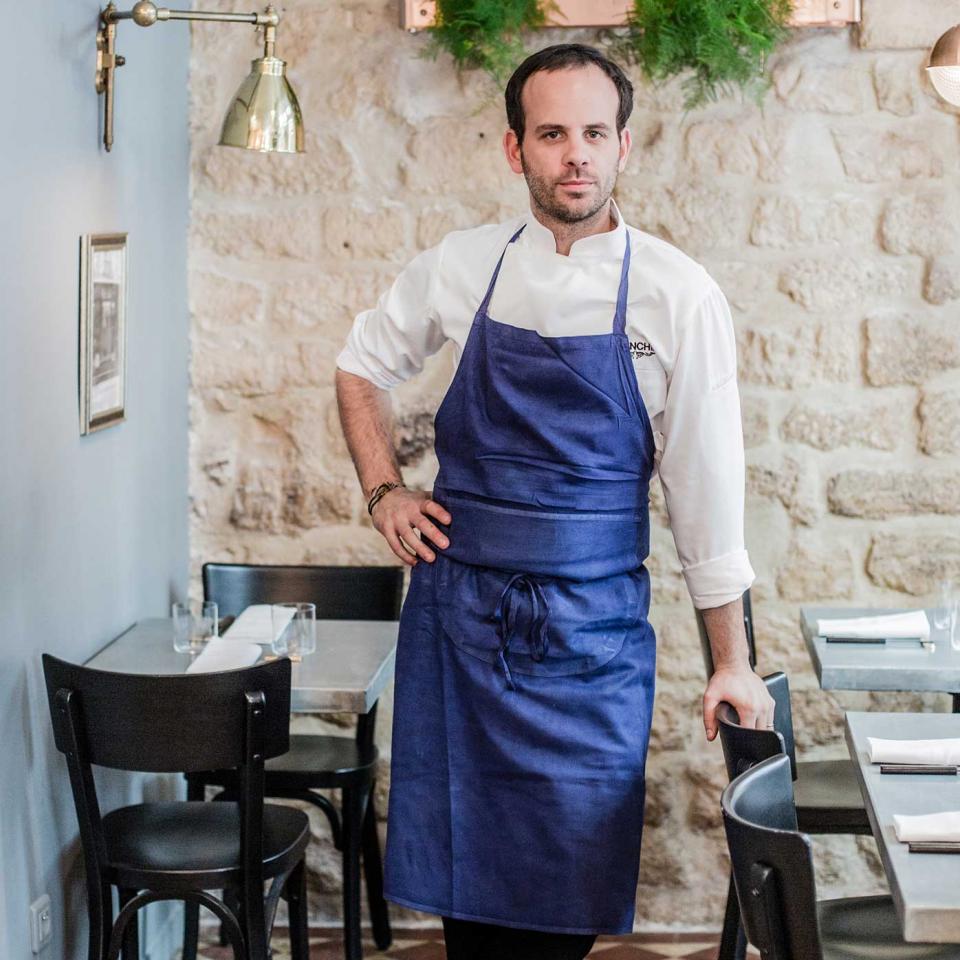 Gregory Marchand at Frenchie
'When I told chef friends I'd bought a restaurant in the 2nd arrondissement, they were horrified,' says Gregory, laughing. 'This was the run-down old textile district, and the red-light district, too. But since I've opened here, it's become really trendy.'
So popular has the 2nd become that hotels are opening faster than a Peugeot flying down the Champs Élysées. Cool global brand The Hoxton has launched its largest hotel yet, in a beautiful building once owned by an advisor to Louis XV while, down the road, stylish Parisians sip cocktails in the sunlit courtyard bar at the Hotel des Grands Boulevards. Outside of the 2nd, Gregory unearths treasures most tourists would miss.
As a kitchenware lover, I squeal with delight at E Dehillerin, a cavernous store that looks like it hasn't seen a lick of paint in its 198 years. There are copper pie moulds on the walls, escargot dishes in precarious piles and surly salesmen who look like they'd deck you if you asked the way to Notre-Dame.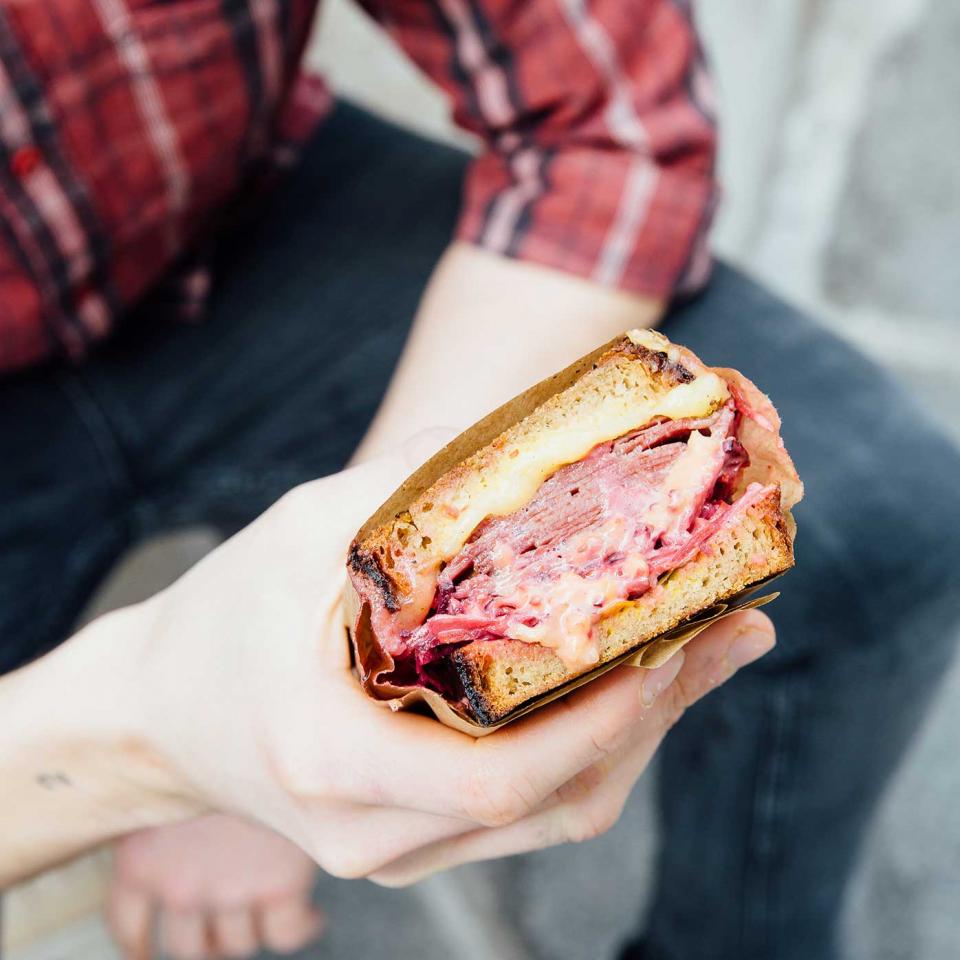 Reuben sandwich. Image: Food Feels
We get our sugar fix at Sébastien Gaudard, a classy bakery famous for its galette des rois, those delicate frangipane tarts traditional at Epiphany. 'There's a lot of debate about which bakery does the best galette, but it's definitely Sébastien,' says Gregory. 'We eat these all through January – go to a dinner party, and there'll be one for dessert.'
For a less elegant treat, Gregory points out Au Pied de Cochon, a 24-hour brassiere 'that's an institution. You can come here after a nightclub at 6am and get a pig trotter or steak tartare. It's our version of the British kebab shop!' Personally, I'd rather soak up the hangover at Frenchie To Go, Gregory's New York deli-style sandwich bar opposite the restaurant. Gregory fell in love with bacon while working in the US and England, and his 'Complete Sandwich' – golden-yolked egg, crispy bacon, fluffy bread – is a million times better than a sad old croissant.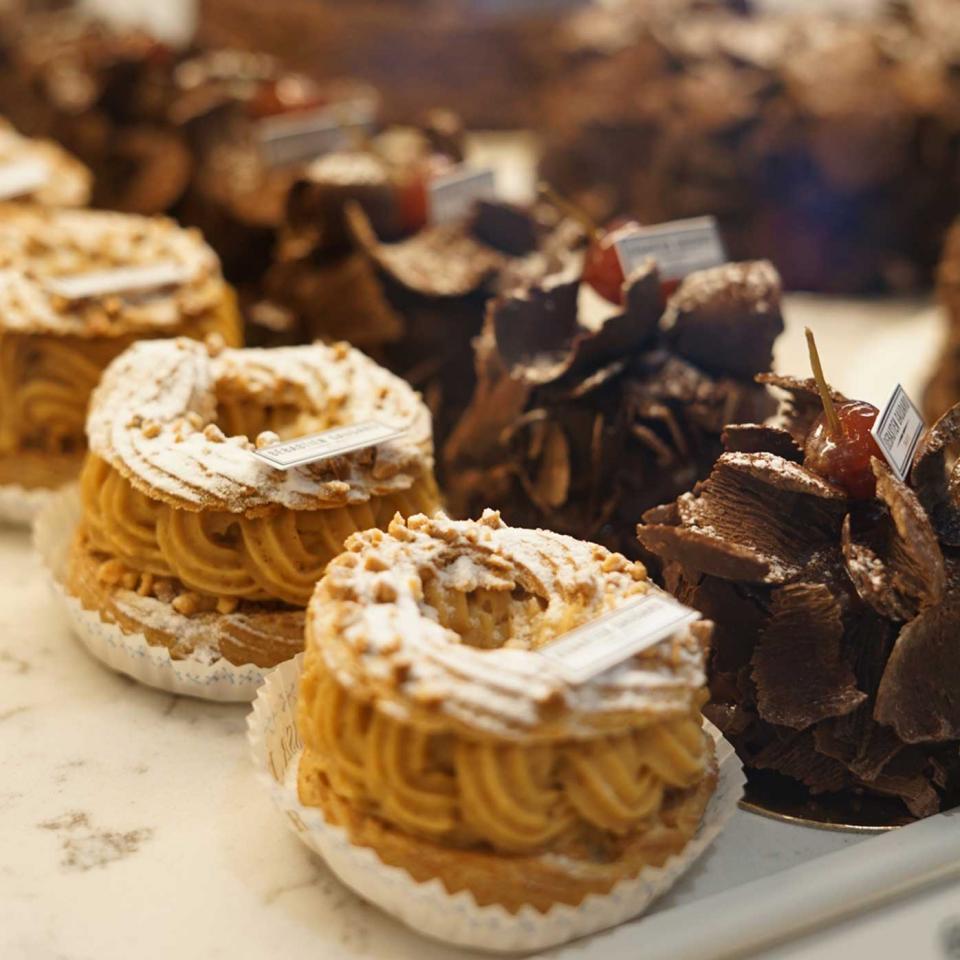 Pastries at Sébastien Gaudard
To experience Paris as its poshest, there's nowhere better than five-star hotel Le Meurice. You'll need deep pockets to afford a meal at celebrated chef Alain Ducasse's restaurant, a room dripping with chandeliers and mirrors. But Gregory has a good tip: nab a seat in the hotel's cosy bar and enjoy a decadent hot chocolate and dessert created by the world's best pastry chef, Cédric Grolet. My trip ends with a slap-up dinner with Gregory's family and friends in his apartment.
'We love dinner parties in Paris – every weekend we'll either be hosting, or at someone else's,' says Gregory. 'One of the things that surprised me about opening the restaurant in London, and spending more time there, is that the British just don't do it as much.' Nibbling on shellfish with the balcony doors wide open, listening to the bustle of the street below, is the kind of authentic Parisian experience I'll never forget. The next day, on my way home on the Eurostar, I vow to come to Paris more often – and to seek out different experiences. That, and to have more dinner parties.