Travel
My Peruvian foodie pilgrimage in Lima
by Helen Graves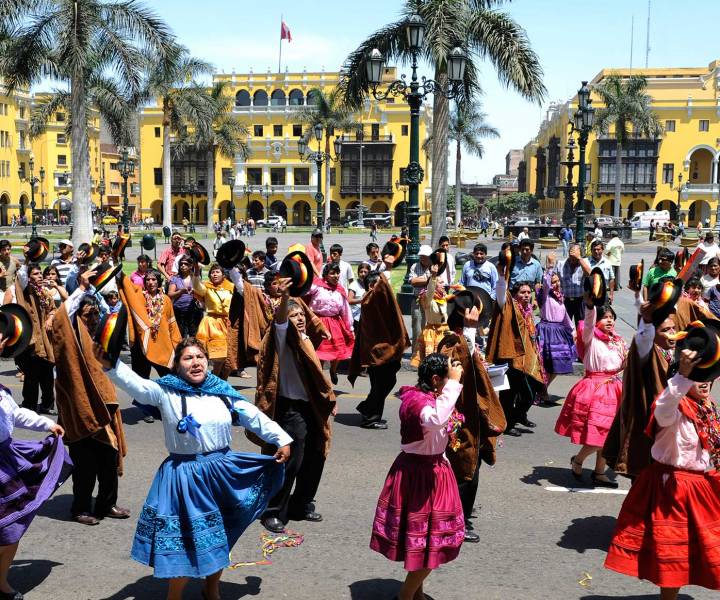 Dancers in Lima. Image: Getty Images
Award-winning food writer Helen Graves munches on anticuchos and other delicacies in Peru's capital, Lima...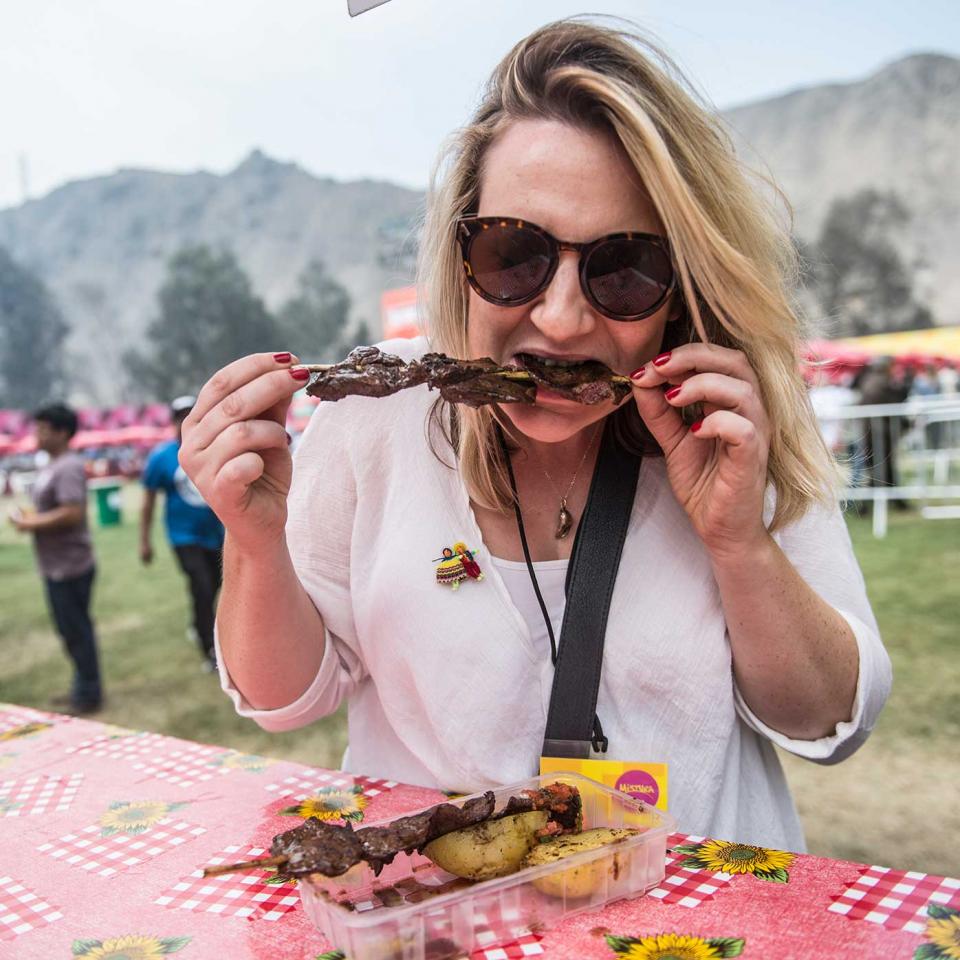 Helen tucks in during her trip to Lima
I'll reluctantly admit that, until recently, I hadn't much awareness of Peruvian food, other than some vague notions about raw fish and potatoes. Then, suddenly, I kept hearing about the country's chefs scouring different regions of Peru for unique ingredients and serving them in mind-blowing menus that made the food world sit up and take notice.
Peru has a diverse geography and several distinct climatic regions. The 'pachamama' (the Quechuan word for Mother Nature) provides a unique natural larder and this, together with the influence of the many different peoples who have made this slice of South America their home, has shaped the story of Peruvian cuisine. So I decided to travel to its capital, Lima, a city where all these influences meet, to find out more. I arrived the definition of travel-weary but found the energy of Lima invigorating; the streets buzzed with musicians strumming guitars, street-food vendors selling honey-scented doughnuts, and the clatter and hum of markets.
Lima is divided into 43 districts with distinct personalities, from the ornate colonial architecture of the Central District, to the modern hotel-dotted skyline of Miraflores.
Heading to Isolina, a home-style restaurant in the bohemian coastal district of Barranco, full of artists and musicians, I tried my first Peruvian potato – a crop that, alongside corn, cacao, quinoa, coffee, chilli peppers and tropical fruits, defines the cuisine of Peru. It may sound silly to say I was blown away by the taste of a potato, but this was no ordinary tuber.
Simply cooked and dressed in citrus and chilli, it had a sweet yet complex flavour, its flesh silky smooth. I found them so game-changing, I will long to taste them again for the rest of my life (or at least until I return to South America on a potato pilgrimage). Everywhere I went there were makeshift street food stands, steam rising from mysterious pots, and cream- filled churros (doughnut sticks) stacked high. Cow heart skewers called anticuchos sizzled on roadside grills, the scent of smoke and chilli twisting into the air. It is likely this popular snack was introduced by African slaves working on cotton and sugar plantations – the women would cook in the kitchens and serve the beef to the master of the house, while the innards would go to the slaves.
Pork, introduced to Peru by the Spaniards after they conquered the Inca Empire in 1572, is also very popular. Heading north out of Miraflores, on my way to explore the famous Mistura Food Festival in the ancient Rímac neighbourhood, I found roads lined with vendors selling chicharrones from wheeled wooden carts. Made by simmering pork belly until the liquid evaporates and the fat renders, the meat is then fried in its own fat, so the skin is as crisp as the best crackling, the flesh juicy.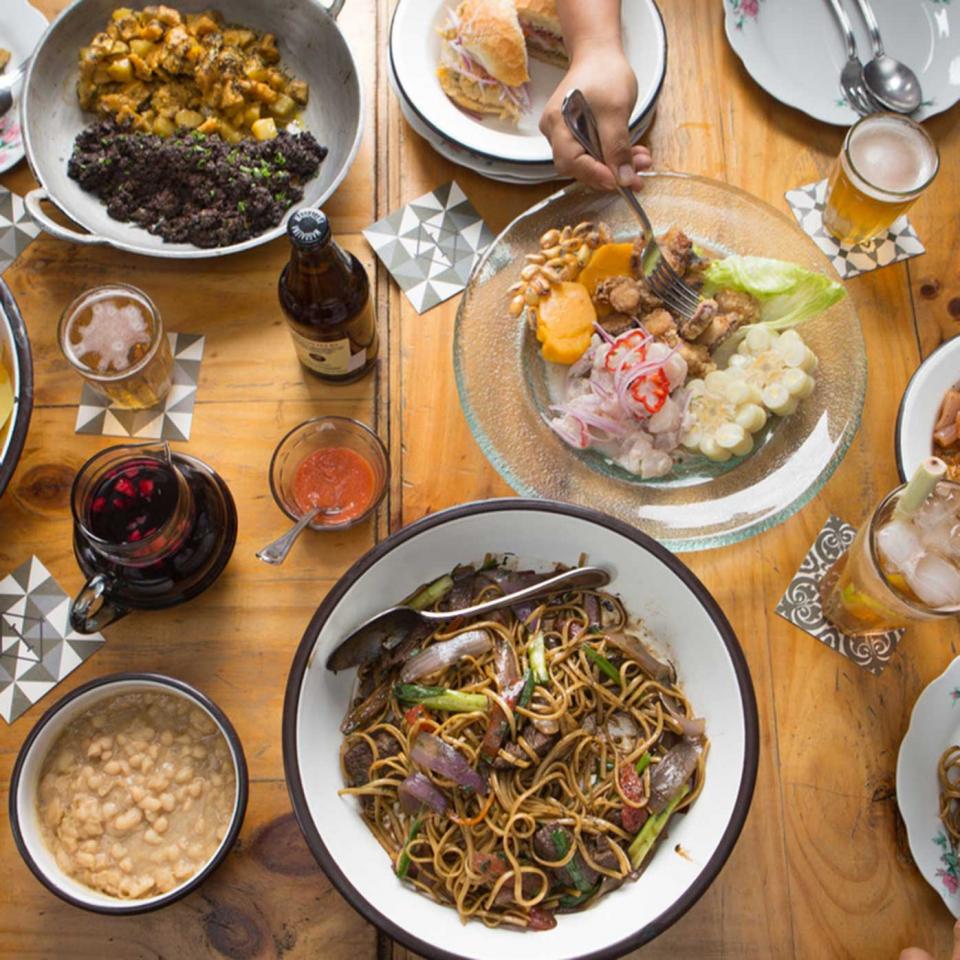 Home-style food at Isolina restaurant
At one of the festival stalls, I tried a wonderful sandwich, the meat so fatty it left my face and hands shining with milky juices. The pickled red onions inside are an exciting contrast, as is the spiky chilli sauce made with aji amarillo, a yellow chilli pepper. An essential ingredient in Peruvian cooking, it's a medium-hot pepper with a sun-soaked, fruity flavour. Finally, a layer of sliced sweet potato soaks up the flavours within the sandwich and adds its own sweetness. It's a lesson in the art of layering flavours: salty, sweet, hot and acidic.
If chicharrones are ubiquitous then ceviche – raw seafood 'cooked' by being doused with citrus juice – is a national treasure. There's even a holiday in its honour. Right on the coast of the Pacific, Lima has easy access to plentiful fish and, once it hits shore, it's more than likely destined for ceviche. The most common form of Peruvian ceviche is made with chunks of firm white fish, often corvina, although I saw many versions of the dish, from those sold in plastic cups on the street to the most elegant arrangements in high-end restaurants. At Isolina, the restaurant that gave me my potato epiphany, they serve a traditional version.
Chunks of white fish are dressed with key lime, bitter orange and aji amarillo chilli, making the dressing known as leche de tigre, or 'tiger's milk'. Locals say it's the ultimate hangover cure. At Astrid y Gastón, a restaurant owned by local celebrity chef Gastón Acurio in the upmarket San Isidro district, the fish comes bathed in a punchy tomato-based leche de tigre, like a fragrant, tropical bloody Mary. The way this dish is prepared owes much to the influence of Nikkei cuisine, another piece in the Peruvian food puzzle, and a result of Japanese immigrants fusing Japanese techniques with native ingredients.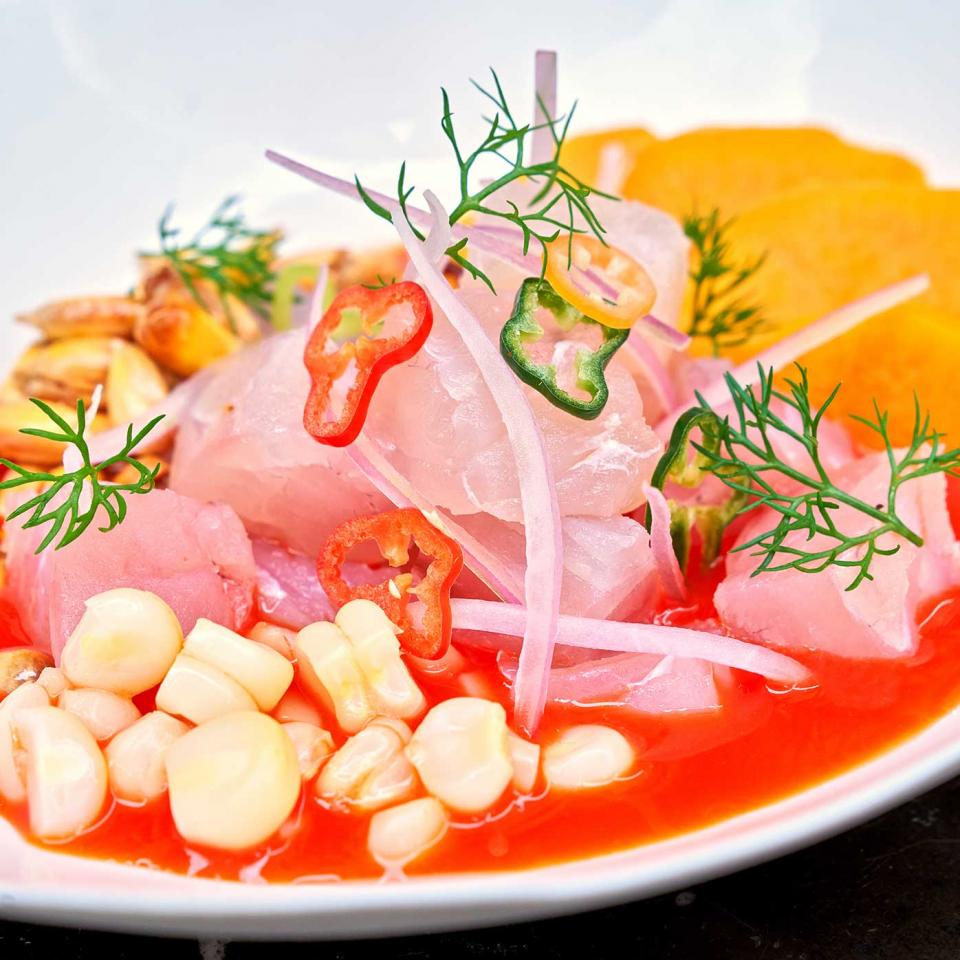 Ceviche bathed in 'tiger's milk' at Astrid y Gastón
One chef in Lima among the new wave championing little-known indigenous ingredients is Virgilio Martínez Véliz, the restaurateur behind Central Restaurante in Miraflores – currently ranked number six in the World's 50 Best Restaurants list. This remarkable place is part-research centre, part-culinary playground, and the meal I had there is one of the most memorable of my life. It was very strange to be served course after course in which virtually none of the ingredients was recognisable.
The menu has 17 courses, each listed alongside the altitude of the microclimate they represent. One course, Lofty Andes (3,900m above sea level), comprises one of the 400 varieties of potatoes they use, served with a dried alpaca heart dip (the heart is brought to the table, for interest). There's crisped piranha skin, algae foraged from Amazonian rivers and unusual fruits with haunting, mysterious flavours. It's incredible. Vergilio works closely with his sister, Malena, a scientist who oversees the identification of new species of plants, seeds, herbs and other flora they find during research trips. Of all the ingredients used at Central, 50% of them were previously unknown. I shall finish, like Peruvians do every meal, with pisco.
This distilled grape brandy has been made in the country since 1640. A good pisco should be swirled like a fine wine before being gently sipped – known as 'kissing the glass'. For a Pisco Sour, one of the world's greatest cocktails, add plenty of lime juice, sugar syrup, Angostura Bitters and egg white to give it its characteristic frothy top.
Pisco is so important to the Peruvians that it is a rite of passage to fall in love with it, and I did. It was the first thing to pass my lips on my arrival and the last, standing at the bar in the airport, as a final toast to my eye-opening gastronomic adventure.
Getting there
British Airways offers return flights from London Gatwick to Lima from £657 return. For more information on visiting Peru, the best place to start is the official tourism board. Where to stay: Hotel Casa Andina in Miraflores.
Don`t miss

---