Food
10 burning foodie questions with... Ruth Hansom
by Helena Lang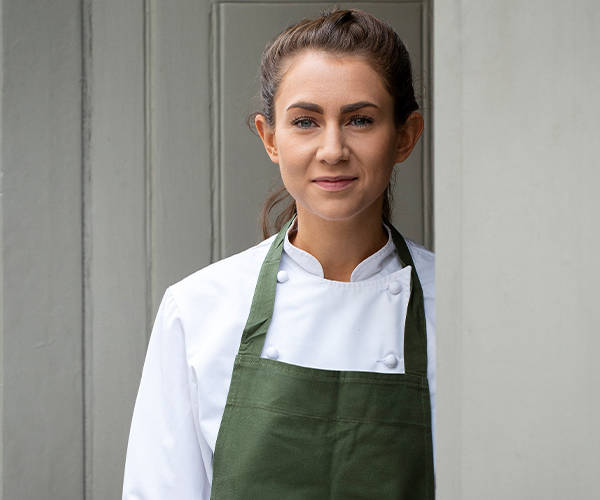 Ruth Hansom
Darlington-born Ruth is head chef at The Princess of Shoreditch in East London and was a finalist on The Great British Menu in 2020. She started her professional career as an apprentice at The Ritz kitchens
1. Takeaway or fakeaway?
Always a fakeaway. I love Asian food and taught myself to make my own gyozas [Japanese dumplings] and bao buns [soft doughy lotus leaf buns] during lockdown. Making them yourself is a lot cheaper than getting a takeaway.
2. What's your signature dish?
It's a halibut dish that's always on the downstairs menu at The Princess. There are some Jerusalem artichokes underneath and a fennel broth, pickled grapes, and some almonds. It plays on the classic Sole Veronique. I like to pay homage to the great classical dishes; the foundations of all good cooking lie there, but I like to twist it a bit.
3. What's your favourite cookbook?
Quay by Peter Gilmore, which is an Australian cookbook by the renowned chef, and, of course, The Ritz cookbook.
4. Starter or dessert?
Oh, starter, all the way. I'm a savoury person. I'll always order sweetbreads if I see them on the menu.
5. What's your last supper dish?
My mum's lasagne. Mum never cooked that much when I was little, it was always me and my dad, but the one thing she did cook when she wasn't at work was her lasagne. She would make everything from scratch. It was always really good.
6. My favourite ingredient to cook with is...
7. Any kitchen disasters to share?
There have been several. When I was an apprentice at The Ritz, I remember prepping some sea kale. I didn't really know what it was, and I made the mistake of not asking. As it looks like celery, I kept all the stalks and threw away all the little curly leaves. Of course, they were the bit I should have kept, and it cost about £10 for a tiny little bunch. So, always ask questions before you do anything!
8. What's your guilty food pleasure?
Tomato ketchup, any condiment in fact.
9. Which food trend would you like to see the back of?
It's a bit controversial but I think meat that's not meat is silly. There are so many good, lovely vegetarian ingredients that you don't need to pretend something vegetarian is meat. Why make it look and taste like chicken when it's not?
10. Pineapple on pizza. Yes or no?
I'll take pineapple on anything, and I love fruit in savoury dishes.
Don`t miss

---