Food
Yuzu need this in your life
Never heard of it? Keep reading because yuzu is the citrus fruit of the moment on all fashionable restaurant and cocktail bar menus. Originally from Japan, it's a small, round fruit and tastes like the aromatic lovechild of a lemon, mandarin and grapefruit. It has a yellow-orange, uneven skin and, like lemons, it's delicious in both savoury and sweet recipes.
Who is yuzu-ing?
• Nigel Slater drizzles his crab and apple slaw with a yuzu dressing
• Chocolatier William Curley adds fresh yuzu to his yuzu and praline tart
• Sainsbury's has added a mango and yuzu yogurt to its Taste the Difference range and a bottle of yuzu seasoning sauce
• Yo! Sushi serves up a salmon and yuzu salsa sashimi
• The Meringue Girls whip up yuzu-flavoured meringues
Great! Where can I pick up this fashionable fruit?
Ah, well that's the problem; the yuzu is sadly rather elusive in the UK. A ready-made dressing and the bottled yuzu juice is currently available from selected retailers, but getting hold of a whole yuzu fruit will require a visit to a specialist Asian food shop. However we are hopeful that the yuzu is more than just a passing trend and will one day sit happily next to its lemony cousins on the fruit isle.
Is it good for me?
Yes, very. In fact, budge over blueberries, because the yuzu is actually hailed as the new superfood because of its wonderfully high level of vitamin C.
What do I do with my yuzu?
Buy a bottle of yuzu citrus seasoning and try our recipe for crab, grapefruit and cucumber salad, or drizzle the ready-made dressing onto barbecued meats or fish this summer.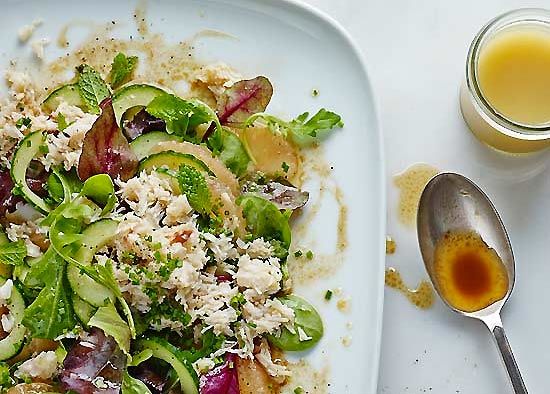 About the author