Food
Winter punch and top cocktail tips
by Sarah Alcock
After perfecting our cocktail-making skills at a Mixology Events cocktail class in London's Shoreditch, we asked experienced mixologist Neil Mitchell for his top tips for creating professional-looking cocktails at home. He even threw in a gin winter punch recipe; we made it in the office late one afternoon, needless to say we weren't wholly productive afterwards!
Our mixology class...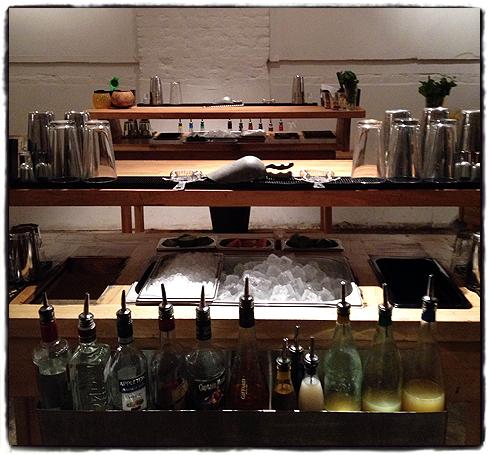 Neil's top mixology tips:
ο The more ice, the better. The more ice you put in your drink, the colder it is, and the slower the ice melts, thus making your cocktail less watery.
ο Prep all your ingredients in advance so that it's easier for you to make your cocktail without running around.
ο Be gentle if you're using mint. Don't crush it up as this releases a bitter flavour - just give it a gentle clap or a light rub to awaken the oils.
ο When drinking cocktails from martini glasses, hold the stem rather than the glass itself so your body heat doesn't warm up the cocktail.
This aromatic, spiced winter punch is a deliciously fruity, chilled alternative to mulled wine. It's great if you have lots of friends and family coming round as it's very quick and easy to prepare. It's bursting with citrus and apple flavours, eastern spices and zingy, refreshing lemongrass and ginger.
Aromatic spiced winter punch
Serves about 20
Prep 5 mins
Total time 5 mins, plus at least 30 minutes infusing
Get ahead Make up to a few hours ahead and chill.
You will need:
4 lemons
1 x 70cl bottle good-quality gin (Neil recommends Martin Miller's)
2 litres pressed apple juice
250ml ginger and lemongrass cordial
6 cinnamon sticks
12 star anise
12 cloves
1. Slice the lemons into wedges and squeeze a few into a large punch bowl, then simply add all the other ingredients.
2. Leave for about 30-45 minutes to allow the flavours to infuse. Cover and transfer to the fridge if not serving immediately.
3. Before serving, fill up the bowl with ice and ladle into an assorted collection of tea cups and glasses for the vintage look.
For cocktail-making classes, visit www.mixologyevents.co.uk
Don`t miss

---