Food
Michael Caines' Christmas carrots
Serves: 4
Move aside turkey and stuffing – this Christmas is all about...the carrot.
According to Sainsbury's, we Brits buy 30 million carrots in the lead-up to Christmas and rate this humble vegetable higher on the Christmas dinner popularity list than turkey, potatoes, gravy, stuffing and even roasties! Who would've thought...
In light of this jaw-dropping news, we thought it high time the poor carrot got the attention it deserves.
Try Michael Caines' tasty braised Chantenay carrots recipe and let the carrots take centre stage.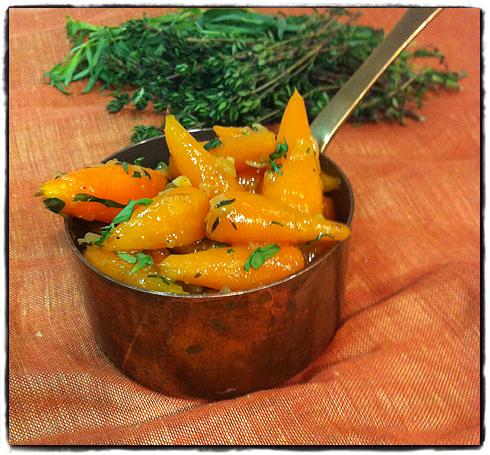 Do carrots feature in your Christmas lunch? How do you do yours?
Ingredients
50g unsalted butter
1 small onion, finely chopped
1 clove garlic, lightly crushed
750g Chantenay carrots, peeled
100ml chicken stock
a sprig of thyme
a large sprig of tarragon, plus extra to serve
a pinch of caster sugar
Method
Melt the butter in a heavy based pan, add the chopped onion and garlic and cook gently for 8-10 minutes until soft but without colouring.
Heat the oven to 200C, fan 180C, gas 6. Add the carrots, chicken stock, thyme and tarragon sprigs. Season with salt and white pepper and add a pinch of sugar, then add enough water to just cover the tops of the carrots.
Bring to the boil, and boil rapidly for 10 minutes, then remove from the heat and cover with some parchment paper. Transfer to the oven for 15-20 minutes or until tender.
Remove from the oven and discard the thyme and tarragon sprigs. Season to taste and sprinkle with chopped tarragon before serving.
About the author