As much as I enjoy labouring over a loaf, this time of year is just too busy to spare a whole day for making bread; so I was on the hunt for a quick and easy recipe. That said, I still wanted to reap the rewards of bread-making - the intoxicating smell of freshly baked bread wafting through the house, the unbeatable pleasure of eating it warm from the oven and, the smug satisfaction of having made something wonderful before most people are even out of their pyjamas - without quite so much of the effort.
My chosen recipe
While flicking through a copy of Rose Prince's new cookbook, The Pocket Bakery, (Weidenfeld and Nicolson, £18.99) I was immediately drawn to her wheaten soda bread. I was sold when I read the first line: " Soda bread is instant baking gratification". Just what I was after. As Rose goes on to explain, Soda bread is indeed as easy as it goes when it comes to bread making - there's no yeast involved, so little kneading required and there's no need to prove it for hours.
Getting prepped
So one dark, chilly December morning last week, I dragged myself out of bed half an hour earlier, and set to work making wheaten soda bread. The day before, I had studied the recipe carefully to make sure I had all the necessary ingredients and equipment. It only requires a standard 2lb loaf tin, so that wasn't a problem. Next, I checked the ingredients - the recipe calls for good quality wheaten flour, which is a mixture of mainly (about ¾) stoneground wholemeal flour and the rest (about ¼) crushed wholewheat or other grains. Who knew there were so many types of flour? I opted for Doves Farm Organic malthouse bread flour which seemed to have roughly the right ratio of flour to grain, and, being ready mixed meant I only had to buy the one bag of flour. Bonus! Also, I think you're meant to use liquid molasses (which is a bit like treacle, just not as sweet), but I couldn't get hold of any so used molasses sugar instead, which seemed to work just fine.
Making the bread mix
Back to the task in hand, I preheated the oven, weighed out all my ingredients and lined my loaf tin ready. Then I followed the recipe, mixing together the dry ingredients before adding the buttermilk to make a wet, rather sticky dough. The dough is meant to be wet, which is good to know, as it does become tricky to work with. I then kneaded it very briefly before popping it in the prepared tin, a few oats on top and it was ready to go.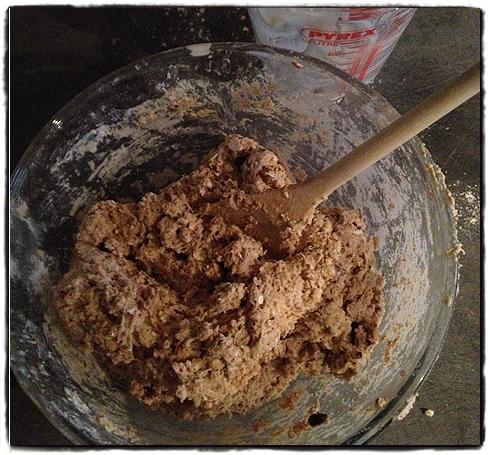 That freshly baked bread smell
Straight in the oven for 30 minutes and it was done, on the dot of 7.30, the gorgeous smell of malty bread has enveloped my tiny flat. A delicious smell for my flatmate to wake up to. I enjoyed the first warm slice, slathered liberally with butter and raspberry jam – and I can safely say it tasted as good as it smelt!
Verdict
I love a recipe that does what it says on the tin, and Rose's scrumptious soda bread certainly did that. What's more, it went down a storm in the office and all with very little exertion on my part. I'm looking forward to working my way through the rest of her lovely book over the coming weeks.
Wheaten soda bread - Makes 1 loaf, about 800g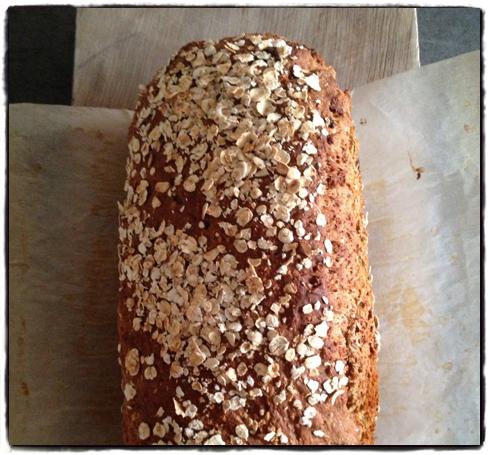 Ingredients
400g wheaten flour* (I used Doves Farm Organic Malthouse Bread flour)
* Mix 100g rye or wheat flour into 300g best stoneground wholemeal flour
50g rolled oats, plus extra for the surface of the loaf
1 tbsp malt or molasses
2 tsp bicarbonate of soda
1 1/2 tsp salt
400ml buttermilk or whole milk soured with a tbsp of lemon juice
Method
Preheat the oven to 220°C/fan 200°C/ gas 7.
Put all the ingredients in a bowl and swiftly mix together.
Turn the dough out on to the worktop and lightly knead for a minute, using dough scrapers if iti is very sticky (wet is good in this case).
The dough will be activated by the soda very quickly and unless it is mixed and baked as soon as possible it can be heavy.
Transfer the dough to the loaf tin. Smooth the surface with wet fingers and scatter plently of rolled oats on top. Bake for 25-35 minutes until risen and golden.
About the author