Food
We cook the books
by Sarah Alcock
We know him best as the hands-on host of TV fashion and body image makeover shows, but Gok Wan has recently added another string to his bow – celebrity chef. In Gok's Wok (£20, Ebury), he harks back to his childhood spent growing up in his parents' Chinese takeaway in Leicester, creating recipes that draw influence from the East, but updating them by reducing the calorie content so that they won't see you piling on the pounds. The recipes are super-simple and quick, so ideal for busy people and less-accomplished cooks. Which is where I come in.
Gok Wan is a bit of a Marmite love-him-or-hate-him figure, but personally I'm a fan, so this book had instant appeal. The tagline 'fast, fresh and healthy' encapsulates everything I want from a midweek dinner and a quick flick through offered up a number of tasty-sounding, doable dishes. I hovered for a while over the chicken katsu curry, but eventually settled on chicken and bacon chow mein as it sounded really straightforward, stress-free and delicious.
Ingredients ready and raring to go...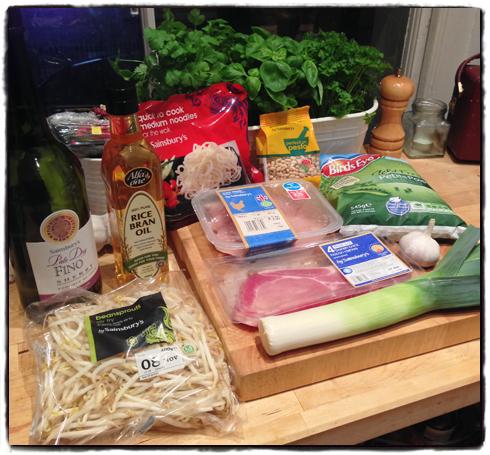 I was pleasantly surprised by how my version of the dish turned out – it looked good, if a little beige. If I made it again, I'd be tempted to add more veg to give it a bit more colour. As this dish serves two, I gave a bowl to my flatmate and he tucked in merrily, exclaiming 'You can cook!' Praise indeed. I'd recommend slicing the leek rounds in half before cooking so that they break up and spread more evenly throughout the dish. The sherry and soy added a great depth of flavour and the pine nuts ramped up the texture. The mess created was minimal and this is definitely the kind of thing I'd cook again and again.
The finished dish: chicken and bacon chow mein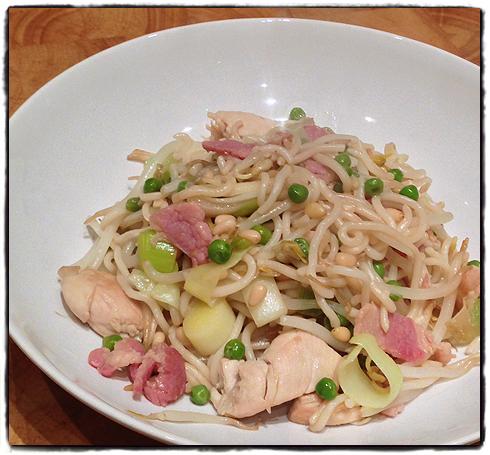 Ingredients
1 tbsp rice bran oil or vegetable oil
2 rashers of rindless unsmoked back bacon, fat removed, sliced into 1cm strips
150g skinless chicken breast, sliced into 1cm strips
1 leek, trimmed, washed and chopped into 1cm rounds
2 garlic cloves, peeled and finely chopped
50g frozen peas
250g ready-to-wok egg noodles (or rehydrate the dry variety)
150g bean sprouts
2 tbsp shaosing or dry sherry
1 tbsp light soy sauce
2 tbsp pine nuts
Method
Heat the oil in a wok over a medium to high heat. When hot, add the strips of bacon and stir-fry for 1 minute before increasing the heat as high as it will go and adding the chicken.
Stir-fry for 2 minutes, by which time the meat should have started to colour and be almost cooked through.
Reduce the heat a little, add the leek and garlic and stir-fry for 1 minute. Tip in the frozen peas and continue to stir-fry for a further 2 minutes.
Add the noodles and bean sprouts and toss together. Pour in the shaosing and let it bubble up and almost totally evaporate before adding the soy sauce. Mix well, then scatter over the pine nuts.
Serve or leave to cool and pack into a lunch box to eat tomorrow. Keep it in the fridge overnight.
Don`t miss

---