Food
We cook the books
by Sarah Alcock
Gourmet hot dogs are THE hot trend at the moment, particularly on the streets of London, so of course it was only a matter of time before the craze spawned a book or two. This one, Haute Dogs by Russell Van Kraayenberg, comes straight from the hot dog's spiritual (if not actual) home* – the US of A – by a hot-dog-obsessed Texan who quite won me over with his book dedication:
'To my mother... who always taught me to eat my vegetables. I put vegetables on some of these dogs. Does that count?'
THE RECIPE
Every conceivable type of hot dog is laid out in loving detail in double-page spreads with bold and bright colour photography, with options ranging from the straight-forward 'Plain Jane' (beef and pork dog, classic bun, yellow mustard) to the outrageously overloaded Guatemalan meat dog (all-beef dog, guacamole, mayo, ketchup, mustard, hot sauce, cabbage, ham, bacon, pepperoni, chorizo and longaniza sausage).
There's a brief history of the hot dog to start, seven pages of methods for cooking the sausages alone, and a collection of recipes at the back for making your own buns, dogs and condiments. But the raison d'être of the book really is to get you to pick a regionally named option (they're divided into American Classics, Modern American, South & Central American, and 'rest of the world' chapters), pile on the toppings and go wild.
I MADE...
While I'd love to say I ploughed straight to the back of the book to the 'make your own sausages' chapter, I confess I did decide that was a step too far, the sausage attachment on my meat grinder having gone AWOL and the use of a piping bag to fill hog casings was a level of effort I just couldn't muster.
Instead I procured some top-notch shop-bought dogs and set about choosing the most outrageous dog to try out. It started with simple enough sounding recipes for homemade fries and corn dog batter. Then I found the page that combined batter, dog and fries in one gorgeously crisp-looking (in the book at least), deep-fried coronary-on-a-plate called the French Fry Dog.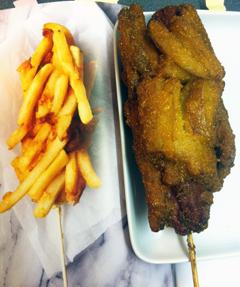 French Fry Dog
Unfortunately, however, translating US cup measurements into UK metric can be a bit hit-and-miss and neither batter nor fries turned out as the book promised, and the final dog – well, I feel the picture says it better than I ever could. The batter-only corn dog was marginally more successful, and both looked and tasted like carnival on a stick, but then anything coated in mustard and ketchup does, doesn't it?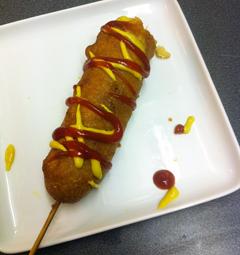 Corn Dog
THE RESULT
While I can't say I'll be deep-frying chip-coated sausages again I do think you could have a lot of fun with this book, provided you have a bit of time and a gaggle of carnivorous friends in the mood for a hot-dog party. All the sub-recipes for chilli, salsa and the like make plenty so you could knock up a few options, buy a few more, then set up a DIY hot dog bar and challenge friends to come up with even more outrageous combinations than in the book.
The day after my deep-fried disaster I raided the fridge and produced an overloaded hot-dog monster inspired by the Columbian Pineapple Dog I'd had my eye on before the battered recipes took over. An all-beef dog with thousand island sauce, yellow mustard, peppers, wild garlic aioli and a pineapple-corn-lime salsa. Crazy, but cracking.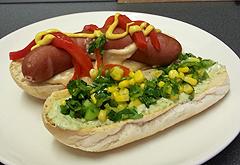 My version of the Columbian pineapple dog
Haute Dogs by Russell Van Kraayenberg (Quirk Books, £12.99)
Footnote: *The clue as to the hot dog's true origin is in the name of the sausages at their heart – Frankfurters – from Frankfurt in Germany.
Don`t miss

---