Food
We cook the books
by Sarah Alcock
John Whaite Bakes At Home (Headline, £20) has been released fortunately JUST in time for Mother's Day, so our editorial assistant Gillian made the most of the lovely Great British Bake Off champion's baking prowess, and had a go at a couple of his recipes at home.
Already a huge fan of John, my friends and I often cook from his first book, John Whaite Bakes, although we aren't confident enough to attempt the recipes that don't have pictures. I was a little disappointed, therefore, to find they've continued the more-recipes-than-pictures trend in his new book, although all the pictures they have included are drool-worthy.
Choosing what to cook
With my choice limited, I set out to find something my own dear mumsy would appreciate on Mother's Day. I was initially drawn to a lovely-looking marzipan brioche crown, as my mum loves marzipan, but unfortunately I didn't have the correct-shaped tin to hand. I was also tempted by the orange and cardamom opera cake, but just about everyone I know has given up chocolate for Lent (and there is also the fact that my baking skills possibly don't stretch that far...).
The rhubarb and rose shortbreads were a contender, as were the apple and lavender tarts, but I decided instead to go for the showstopping 'slimming Suzie's almost fat-free cake'. And the prosciutto and cheddar Stromboli buns, because, well who doesn't like a cheesy bake?
Getting cooking
The recipes were helpfully detailed, without being laboriously so, and the ingredients were all readily available, especially as I had a lot already in the house. The only thing my Sainsbury's had run out of was fresh basil, but I made up for it by choosing a herby prosciutto, and using a handful of (rather bruised) leftover basil from the bottom of my fridge.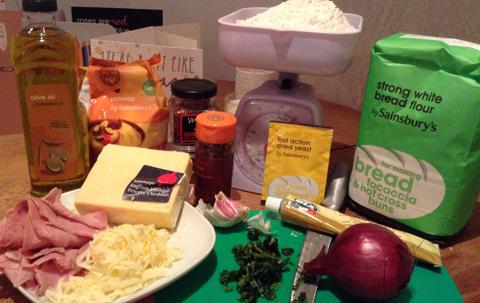 Stromboli
I wasn't certain about the proving times for the Stromboli, as I'm a very novice bread-maker and the recipe didn't say exactly how long to wait, but fortunately they seemed to work fine.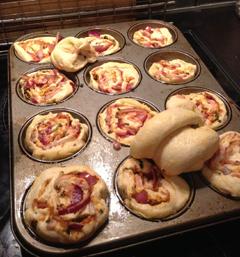 They filled the house with a mouth-watering Mediterranean aroma as they were cooking, and my two friends and I polished off half of them before they'd even cooled down. TIP: they are incredibly delicious hot.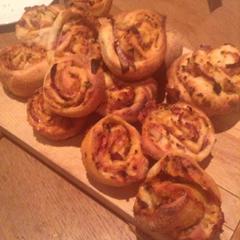 Genoise sponge cake
When I came to make the Genoise sponge cake, I was a bit frightened by the lack of ingredients – I basically had eggs and sugar in front of me.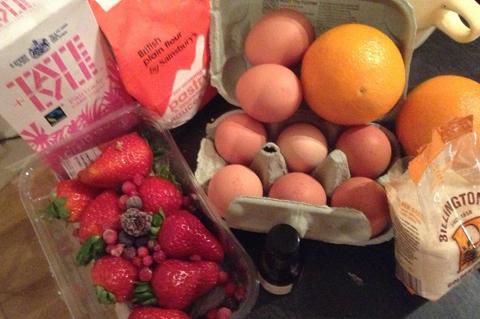 I was nervous, too, when I saw the words 'ribbon-stage' and 'sugar thermometer' gleaming on the page, but John's instruction of whipping my eggs over gently simmering water was one I'd never come across before, and I had thick, pale, ribbon-y eggs in no time. The rest of the baking went just how the recipe dictated – I even managed a thick and glossy Italian meringue filling.
The cake looked much more impressive than I expected it to, even without the dusting of icing sugar that I decided would be sugar overkill, and it tasted delicious.
It includes an orange syrup, which I was unsure about, but the finished cake just tasted sweet with only a hint of citrus. The only problem was that after all that Stromboli, we decided to put the cake in the fridge overnight, to discover the next morning that my nice clouds of meringue-y filling had dissolved into the sponge.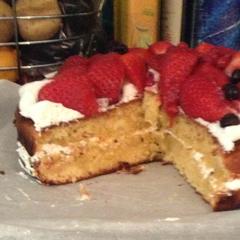 Still tastes yummy though – definitely one to make again.
Don`t miss

---