Food
Veggie week
by Sarah Alcock
It's National Vegetarian Week so food editor Lucy and I (Sarah, content editor) decided we'd take on the challenge and see how easy it is to cut out the meat for a week without over-eating on giant bowls of pasta and big chunks of cheese. We each made a note of our homemade creations and meals we bought - take a look, borrow our ideas and give veggie week a go.
Lucy's veggie week
• Cheat's veggie paella
I used a spice mix that includes smoked paprika, thyme and garlic, a mixed pack of vegetables and pre-roasted peppers to cut down on the time for a Monday night.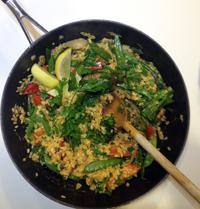 Quick and easy
• Aubergine, tomato and chickpea curry with rice, coriander and natural yogurt
This is one of my staple aubergine dishes at home. Chickpeas are good for protein, which is so important for a vegetarian.
• Spring veg and goats' cheese frittata
I had nothing in the fridge except mint, spring onions, eggs and goats' cheese, so it made sense, and I added peas from the freezer.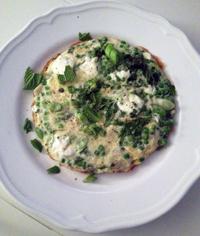 Making the most of what you've got
• Brazilian equivalent of Italian arancini
I tried these deep-fried rice and Parmesan balls at Cabana book launch. Not sure I'd make them at home, but I'd sure order them again!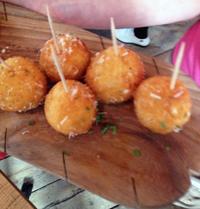 • Lunchbox of roasted veg (beetroot and sweet potato) with Puy lentils, mint, red pepper and goats' cheese.
I also adapted this later in the week, serving it with cooked asparagus (cold) and houmous.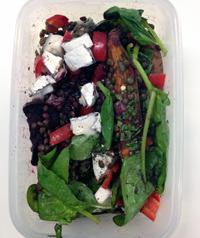 Packing a veg boost
Sarah's meatless menu
• I made Sarah Randell's Sicilian caponata from our June issue. It's aubergines, pine nuts, red pepper, olives, mint and raisins. It's so easy to make and has loads of flavour. Next week I'll serve it with a chicken breast, but you could add chunky bread or feta on the side.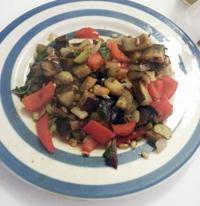 Colourful creation
• Beetroot dip with pitta and toasted sesame seeds and pistachios
This was a really easy lunch – you just mix cooked beetroot with mint, cucumber, Greek yogurt and sugar, then serve with toasted pitta and chilli flakes.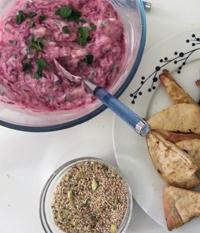 Summer lunching
You can't beat a big plate of roasted vegetables with avocado, brown rice and balsamic vinegar. I made this for a friend and it went down a treat!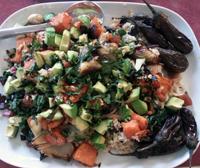 Avocado - good with everything!
• Halloumi, beetroot and mushrooms pitta
I went to a beer festival last weekend and was worried that there would only be pork pies on offer. But no! I found a delicious halloumi, roasted beetroot and mushroom pitta bread, which was huge!
• I had an amazing fresh Bun Vermicelli noodle salad with tofu from Banh Mi Bay in Farringdon. I don't cook with tofu at home but I definitely might do now. And who knew that noodles were so delicious cold...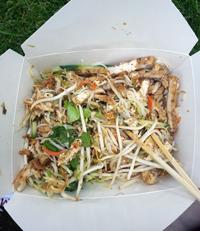 Vietnamese vegetarian heaven
What are you eating this week?
Don`t miss

---