Food
Top 5 places for an Asian-inspired breakfast
Forget waffles and coffee, leave your full English behind – and that kale smoothie, quite simply, won't get a look in. The newest morning trend in London right now is Asian-inspired breakfast.
No, that doesn't mean you'll be having crispy duck on your cornflakes – instead, you can sip on refreshing green tea, dig into steaming hot dumplings and have an elegant feast of a breakfast, without the inevitable greasy bacon guilt that comes with your bog-standard brunch.
Here's our round up of the top five places in London:
Chinese Laundry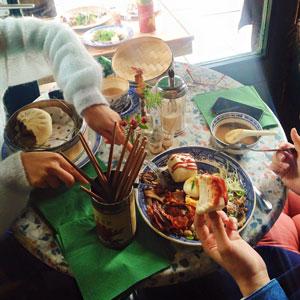 This new opening near Angel serves a northern Chinese style breakfast in kitsch and cosy surroundings. We would happily give up beans on toast for their big baozi; steamed buns stuffed with slow cooked pork belly or garlic and green beans. Comforting chicken congee (a sort of Chinese rice stew) makes everything feel better, and you'll turn your nose up at every other bacon sandwich after you've had their bacon and egg bing pancakes.
They also serve both sweet and savoury tofu; apparently in China, half the population will only eat savoury tofu and can't stand the sweet stuff, while the rest of the country takes the opposite position. Slurp up some sweet tofu curd with muscovado syrup and aduki beans, or try the savoury tofu with chilli oil and crispy soy beans, then decide which side your on.
Must eat: rice and peanut milk. Nutty, creamy and delicious with a spicy breakfast
Must do: go back to the 1970s and sit at one of their retro little Formica tables
chineselaundryroom.co.uk
107 Upper Street, N1 1QN
Served Friday and Saturday 10am – 3pm and Sunday 10am – 4pm
Flesh and Buns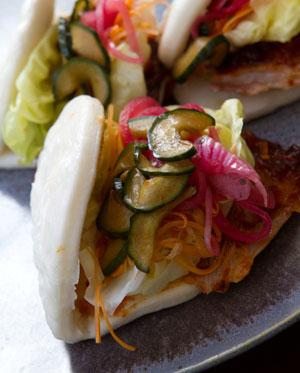 Slightly boozy, but very tasty, Flesh and Buns have an Asian-inspired brunch of epic proportions. The whole table shares multiple small plates like hot chicken yakitori skewers, salmon sashimi and Korean fried wings, followed by the signature 'flesh and buns', which is basically slow cooked meats, crispy fish or grilled veg, sandwiched between fluffy white rice buns. The whole affair comes with unlimited prosecco, red or white wine, which makes that cup of builder's tea seem a little bit dull.
Must eat: wagyu rump steak buns. It's the closest you'll get to eating a burger for breakfast, without feeling guilty.
Must do: start your brunch with a complimentary cocktail. It would be rude not to.
Fleshandbuns.com
Brunch only served on Sundays 12 – 9.30pm
41 Earlham Street, WC2H 9LX
Far East Restaurant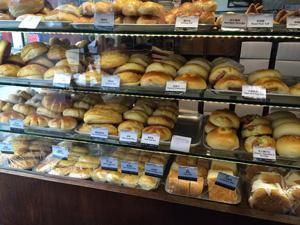 Perhaps the most 'authentic' on the list, this bustling restaurant actually has its own bakery which churns out the freshest pork buns and fried dough fritters (good dunked in hot soy milk). You'll get traditional Cantonese and Sichuan breakfasts, including the famous thousand-year egg congee, which is a brown preserved egg served on top of shredded pork and rice porridge. They're open from 9am to 5am, which brings a whole new meaning to 'all day breakfast'.
Must eat: anything with thousand year egg on top
Must do: get inspired by your breakfast and visit Gerrard Street's supermarkets to make your own version at home
13 Gerrard Street, W1D 5PS
Open 9am – 5am
Tîng Restaurant, Shangri-La Hotel at The Shard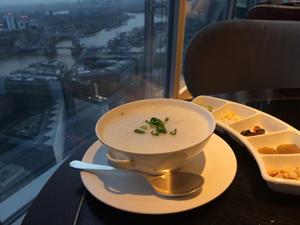 Now this one's a bit fancy, but there's really no better spot for a morning platter of dim sum than having the whole of London at your feet. Tîng is part of the Shangri-La Hotel in the Shard; non-hotel guests are welcome, but you could still daydream that you've stayed the night to feel extra glamorous.
The chicken congee is a power-breakfast that's elegantly sprinkled with ginger pickles, peanuts and coriander. Barbecue pork wok-fried noodles might be a step too close to dinner for some people at 8am, but it will fill you up much more than that hurried croissant and a cappuccino. That said, they do have a full English with eggs and ham or waffles with English honey on the menu too, so you can still play it safe.
Must eat: steamed pork buns. Who needs muesli, anyway?
Must do: people watch from 35 floors up over a cup of green tea
Ting-shang-ri-la.com
Tîng, The Shard, 31 St Thomas Street, SE1 9QU,
Chi Kitchen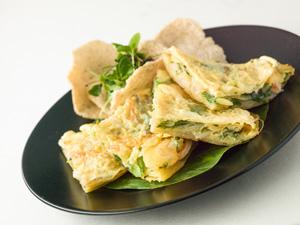 A newly launched Pan-Asian restaurant on the ground floor of Debenhams on Oxford Street, Chi Kitchen gives a playful twist to your favourite breakfast dishes. Eggs Benedict-san is your classic muffin, poached egg and hollandaise sauce, but with tender salmon tataki on top. Their take on a stack of pancakes are sweet Japanese dorayaki served with maple syrup or anko red bean paste, and their omelettes are thick Korean-style pajeon stuffed with squid, prawns and spring onions.
Must eat: Malaysian roti with condensed milk. Why haven't we eaten bread with condensed milk before?
Must do: fuel up on breakfast and then head out shopping
Chikitchen.co.uk
334-348 Oxford St
Breakfast served from 9am
About the author