The Richmond is a gorgeous new neighbourhood restaurant, which is sure to lure people in from beyond the limits of Hackney.
In charge of the kitchen is three-times Bib Gourmand-winning chef Brett Redman (of other local favourites The Pavilion on Victoria Park and Elliot's in Borough Market), and he's teamed up with stylist Margaret Crow, who ensures the ethos, look and feel of the restaurant is as impressive as the food.
It's a raw bar (east London's first and only one, they say), which means an incredible line-up of oysters, tuna or seabass tartare, and scallop carpaccio – but the 'raw' part of their story is perhaps overplayed, as the perfectly cooked main courses and innovative starters are pretty cracking too: a roasted beetroot and goats' curd salad transforms this classic flavour combo into something otherworldly with hints of caraway and apple; and nduja spiced seafood stew is a tumble of impressive octopus tentacles with mussels and clams sitting in a deliciously earthy broth.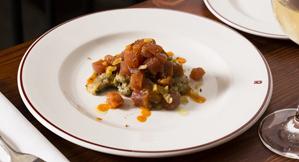 Tuna tartare
Designer Adam Bray brings warmth to the room with dark panelled walls, elegant window blinds and amber lighting. The wine list is equally stripped back, and curated by raw wine expert Isabelle Legeron. One of the few all-natural wine bars in London (try 40 Maltby Street, if you're looking for another); we loved the velvety Monteforche Cabernet Franc.
The Richmond is definitely a keeper. All the dishes are exceptional: it's the kind of place where you could order anything off the menu, and you'll always have food envy of the person sat next to you.
What's it like?
A chic little favourite: relaxed enough to feel real and inviting, but the food is high-end and just a little bit special to make it feel like a treat.
3 things to order
OYSTERS: Weekdays 6-7pm and Saturdays 5-6pm, you can shuck on oysters for just £1 each. With seven all-British varieties on offer, their Maldon Blackwater was the plumpest oyster I've ever eaten – and I'd perhaps go so far as to say the best oyster I've had in London. The wild hand-harvested Mersea Island oysters, Menai rocks from Wales or Portland Pearls from Cornwall were also a triumph.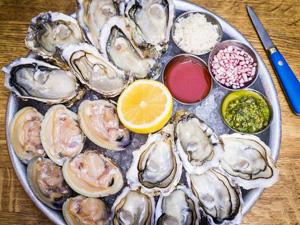 BANANA TART: Just how do they make this so creamy? With a dense texture like pumpkin pie, but intensely ripe banana flavours of banoffee, this pie almost eludes description. We tried to get the recipe from the chef – but he refused!
EAU DE VIE: A digestif that you don't often see on menus these days: eau de vie is an evocative way to round off your meal. All naturally processed at the Cazottes distillery in France's mid-Pyrenees, the golden plum eau de vie is soft and fruity, and their tomato liqueur is beguilingly savoury.
When to go?

Date night. Weeknight treat. Special dinner with friends.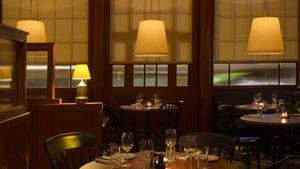 http://www.therichmondhackney.com/
316 Queensbridge Rd, London E8 3NH
@TheRichmond_
About the author