Food
Hot Right Now – The London 'Chicken Shop' craze
by Emma Franklin
What Is It?
Take three of the latest food trends: single ingredient restaurants, increasingly ethically-focused diners and Americana street food - mix them together and what have you got? The gourmet fast food 'Chicken Shop' dining craze that's sweeping London and beyond.
Free-range, herb-fed, buttermilk-poached, you name it, there's a dedicated chicken restaurant out there giving our favourite bird a bit of extra love, and doing it more ethically, healthier and more deliciously (or at least two out of those three) than this kind of food has ever been before.
Where to get it...
Best for spice lovers – The Orange Buffalo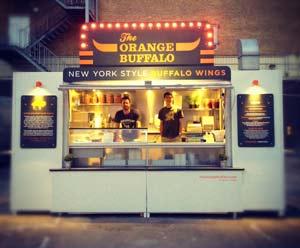 Long before the trendy streets of Dalston were filling up with chicken shops, The Orange Buffalo was plying its trade in a trailer in the yard behind Truman's Brewery in Shoreditch. Free-range wings deep fried to a perfect crisp, then slathered in their outrageously good signature chilli sauces. They've recently opened a concession in a Brighton pub too - thejokerbrighton.com
Best for a bit of crunch - Chick 'n' sours

To say their chicken is crunchy is like saying diamonds are a bit shiny and it's the perfect partner to their super sour cocktails. Go for a 'brunch bun' with boneless thigh, avocado, hot sauce, bacon, egg and Kewpie mayo, or go tangy with the 'guest fry' of thigh and drumstick with General Tso's glaze, chilli, spring onion and pickles. We have no idea who General Tso was, but he made a darn tasty sauce.
Best for the indecisive - Ma'Plucker

Single-ingredient restaurants might be cool but they can make dining out with a group of friends a proper pain unless you happen to all be in the mood for precisely the same thing (and no one's having a 5:2 day, or spontaneously decided to go carb-free). Enter Ma'Plucker. Their mix-and-match menu lets you choose between having your chicken fried, rotisseried or slow-cooked and pulled, and each of these options spawns endless sub-options to cater to every diner's whim.
How to cook it at home?
Nigella's southern fried recipe (from Nigella Bites – a cookbook must-have) is my favourite, and guaranteed to produce succulent yet crispy results every time, or check out the Sainsbury's magazine chicken recipe collection online.
Don`t miss

---