Food
Hot new foodie pop-up: The Little Yellow Door
by Sarah Alcock
Can't decide whether to go out or stay in? Thanks to the seriously friendly flat-mates at Notting Hill's The Little Yellow Door, now you can do both.
When it's cold and wintry outside, hibernating at home curled up under a blanket is just too tempting. But what if you could go out and stay in all at the same time? No, I haven't lost my mind. At London's latest pop-up, The Little Yellow Door, that's exactly what you can do.
Essentially The Little Yellow Door is a bar in someone's living room. Regular visitors will even be given a key so that they can let themselves in. Yep, this is no ordinary venue. It actually feels like you're in someone's house. Go through the (bright yellow) door, head up the narrow, winding staircase and walk into the trendiest, cosiest living room you've ever seen. With all its quirky touches, it's a bit like stepping into Alice In Wonderland. There are hardback books nailed to the wall with coat hangers, slouchy sofas and antique rugs, a large cherry tree painted on the wall and at the far end of the room a tree house. Yep, an actual tree house... complete with cushions and old board games to idle time away.
The 'flat-mates' behind this fun (and slightly crazy) venture have crammed the place with their own stuff to make it all feel as genuine as possible: you'll see Lego on the shelves, sports trophies on the mantelpiece, even family pics and wedding invitations. Drinks menus are tucked inside magazines scattered about the living room and on the bar, there's a huge bowl of punch made with random spirits that 'friends' (that's you and me, btw) bring back from their travels. Don't know what to do with that dodgy bottle of ouzo? Bring it here!
Friday nights see amazing dinner parties (booking ahead is a must; three courses for £35) catered by the daring Wandering Chef team (Jamie and Lalie), while Saturdays are just a good old house party. Expect your cocktails to come in teacups, shots downed from eggcups and exquisite canapés to be handed around, including duck confit scotch eggs and foie-gras pâté bites (bar snacks from £3). Don't mind if we do.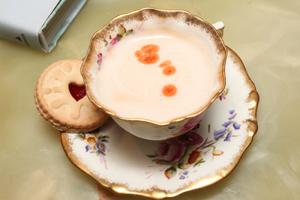 Can't beat a cocktail in a teacup AND a Jammie Dodger
Despite there being about 8.4 million of us in London, the sprawling metropolis can still feel a bit of a lonely place. This isn't helped by the multitudes of impersonal bars, clubs and restaurants you'll find in any given borough. Super-friendly, intimate and fun, The Little Yellow Door offers an alternative to all of these – not totally dissimilar to a private members club (only without any of that silly pretension). If staying in really is the new going out, we'll probably see concepts like this popping up all over the place.
Don`t miss

---