Food
The hot dog takes centre stage
by Sarah Alcock
2013 has been all about the burger so far with more burger joints popping up than you can shake a stick at, but now it's the turn of the 'dog' to create a stir on the foodie scene.
Bubbledogs, Herman Ze German and Hank's Chicago Style Hot Dogs serve up generous portions of the classic American fast food using good-quality ingredients. And it's not just meat you can have in a dog; Mark Hix introduced his Fish Dog van last year at Jamie Oliver's The Big Feastival, which is now on the road serving up an even more delicious version of a fish-finger sandwich with mint mushy peas and tartare sauce.
Last week we went to Kensington Place, where they've taken the trend one step further with their 'Fishbone' menu – introducing the scallop dog. Intrigued? We were...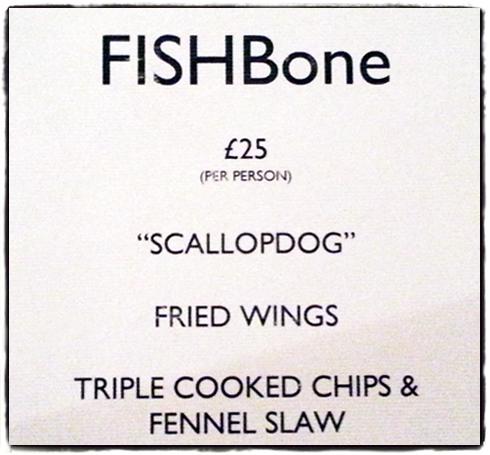 Scallop dog...
The scallop dog is a far cry from Mark Hix's breadcrumbed fish dog; the scallop dog is actually like a frankfurter but made using scallops. You can see why they don't tell you too much about it because the description is slightly off-putting.
We couldn't quite decide whether it was pure genius or not – you lose the nice bits about a scallop: its texture and the pretty coral colour – but our plates were soon empty. Fresh tomato, herbs, onion and shrimp were mixed together as a salsa-like topping, which gave it a nice dose of fresh flavours and acidity.
Wingin' it
But the real talking point of the all-American 'fishbone' menu was the fried wings. After you bite into the crispy outside of the wings you come across delicious, fresh, flaky fish, and then... a bone, not those pesky little fish bones, but an actual solid bone. After a cocktail or two you do begin to question your own logic. 'Skate have fish bones, right?' After a few probing questions we discovered that the fish is actually glued to real chicken bones to give it that proper American wings experience.
Verdict
You might think the 'fishbone' menu is a bit weird. It is. But if you enjoy a bit of food theatre and a real talking point over dinner, then you will definitely enjoy this. Heston would be impressed.
The Fishbone menu is £25 a head, which includes scallop dog, fried wings, triple-cooked chips and fennel slaw, plus dessert. To make a booking, call 020 7727 3180.
Have you tried the gourmet hot dogs or fish dogs? Let us know your favourites.
Don`t miss

---