Food
The Fabulous Baker Brothers on the set of 'What's Cooking?'
by Sarah Alcock
Tom and Henry Herbert, aka The Fabulous Baker Brothers, have been cooking great British food all this week on What's Cooking? From The Sainsbury's Kitchen on Channel 4. We caught up with them on set, where they'd whipped up a quick chilli squid and rocket salad and a spicy twist on the traditional Cornish pasty (check out the recipe, below), and asked them to share their kitchen secrets...
What's your favourite pasty filling? Tell us in the comments box below.
From butcher boy, Henry
It's British pie week and we want to get baking! What are the best cuts of meat to use?
Ox cheek is lovely in a pie, or you could try braising steak that has a good bit of fat on it, which will cook down and give it loads of flavour. Pies are really economical to make because you can use cheaper cuts of meat – they all taste great after long, slow cooking in a good sauce.
What about the best cuts to use for a Sunday roast?
A joint on the bone like a shoulder of lamb or pork cooked really slowly is amazing. Just keep it simple and serve it with the meat juices and some veg.
Which five ingredients can't you live without?
Good oil, whether it's olive oil or rapeseed oil. I'm trying to stay away from butter – I've eaten a lot of it recently! I always have lemons or vinegars, too, for acidity; you can make a dull dish way more exciting with a squeeze of lemon, and I keep a pack of bacon in the fridge, as it adds a great meaty flavour to dishes.
From baker boy, Tom
How do you guarantee a great bake every time?
Good-quality flour is important. Your baking will only be as good as the ingredients you use, so don't skimp. Use the same brand of flour every time to make sure the results of your bakes are consistent. When baking bread, knead it thoroughly to make it elastic and stretchy. Once you've baked something, share it! People love receiving a homemade cake or loaf of bread.
With four children at home, mealtimes must be madness! What do you cook for your kids?
They love their food, so I make anything from pizzas to big pasta dishes or hearty stews – things that will do for a couple of days. The pie we made on What's Cooking? On Monday was a leftover roast dinner pie – it's really straightforward and kids will love it.
What's Cooking? From The Sainsbury's Kitchen is on every weekday at 12.35pm on Channel 4.
Catch up with The Fabulous Baker Brothers on Tuesdays at 9pm on More4.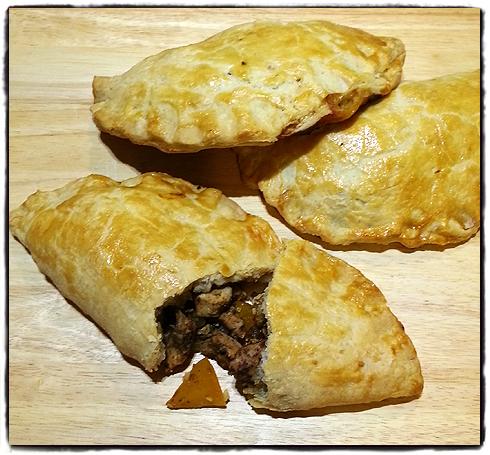 Ingredients
FOR THE PASTRY:
600g strong white flour
1 tsp turmeric
150g cold beef dripping or lard, broken into pieces
150g salted butter, chilled and diced
FOR THE FILLING:
200g chicken thigh fillets, diced
125g swede, peeled and diced
125g potatoes, peeled and diced
½ onion, diced
1 tbsp spicy jerk paste (or 2 tsp Jamaican jerk seasoning powder)
1 tsp Worcestershire sauce
1 medium egg, lightly beaten
40g unsalted butter
Method
To make the pastry, combine the flour and turmeric in a mixing bowl and rub in the dripping or lard and butter using your fingertips until it starts to resemble breadcrumbs. This can also be done in a food processor.
Gradually add 200-240ml ice-cold water until the mixture starts to come together to form a firm dough. Roll into a ball, wrap in clingfilm and rest in the fridge for 30 minutes.
Preheat the oven to 180°C, fan 160°C, gas 4. To make the filling, put the chicken and vegetables in a large bowl with the jerk paste and Worcestershire sauce. Mix together and season with salt and freshly ground black pepper.
Remove the pastry from the fridge and cut it into four equal pieces. Dust the work surface with a little flour and roll each piece into a disc about 21cm in diameter, using a small plate as a guide.
Brush the edges of the pastry with a little beaten egg, then pile a quarter of the filling on to the middle of each disc and top each with a little piece of butter.
Fold the pastry over the filling to enclose it, pressing the edges together to seal. The pasties should be a semi-circle shape.
Transfer the pasties to a baking sheet lined with baking paper. Brush them all over with the remaining beaten egg and bake in the oven for 40-45 minutes until golden.
Tip
If you have any leftover roast beef from your Sunday roast, use this instead of chicken.
Don`t miss

---