Food
Thanksgiving croissant and restaurant meal giveaway
Serves: 2
Whenever I speak to my brother, who lives in New York, I always ask about what's happening on the foodie scene in the Big Apple. Last week, he told me about the 'Thanksgiving croissant', which is basically their version of the Christmas leftover sandwich, but a little naughtier...
I had a go at making my own at home last weekend using some leftovers from my roast chicken and it was delicious!
If you're not celebrating Thanksgiving this weekend, give it a go on Boxing Day with your Christmas leftovers.
Thanksgiving menu prize draw
There are some amazing places to go for Thanksgiving dinner in London, too.
The Lockhart London is a southwest American restaurant in Marble Arch that serve up dishes from states like Louisiana, Texas and New Mexico but using all local and seasonal British ingredients.
We are offering one lucky winner and a guest, the chance to sample The Lockhart's delicious Thanksgiving menu this weekend.
Here's what's on the menu:
Texas caviar and fried pickles, slow-smoked beef brisket, maple glazed ham, smoked heritage turkey, pumpkin pecan pie, paired with a Thanksgiving tipple...
Thanksgiving croissant...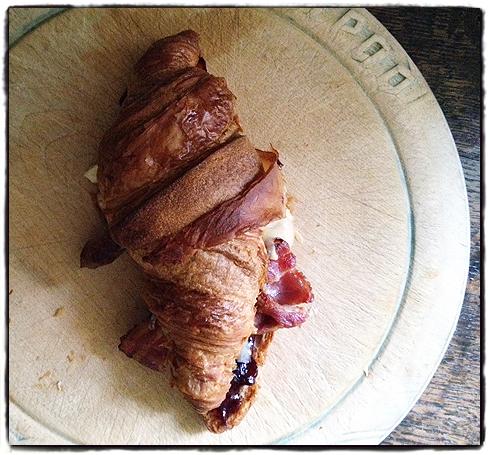 Method
Preheat the oven to 220C, fan 200C, gas 7.
Take 2 large, ready-made croissants and cut in half horizontally. Spread a tablespoon of cranberry sauce into each croissant.
Cut 120 g pack ready roasted/ leftover cooked turkey into slices and divide between the two. Slice up a leftover cooked sausage or 6 cooked cocktail sausages and 2 rashers of cooked bacon and add these to the croissant (or use leftover stuffing).
Season with a little black pepper. Divide 50g grated gruyere cheese between the two and sandwich together.
Place in a foil lined baking tray and bake in the oven for 5-10 minutes until fully heated through.
About the author