Food
Tea with Oscar
by Sarah Alcock
For those who'd like to try afternoon tea with something a little more sophisticated than the humble scone, the Oscar Wilde Bar at the Hotel Café Royal offers five stylish courses and a selection of 21 teas, accompanied by smooth jazz on a baby grand. Mixing old-school classics with intriguing modern inventions, an afternoon in this gilded 19th-century salon is a great treat for all cake fans.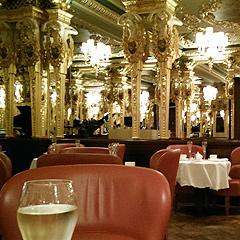 Stunning Louis XVI décor
Just some of the delicacies we enjoyed from executive chef Andrew Turner and executive pastry chef Andrew Blas included:
• Amuse bouche: a cheese and basil muffin, topped with a swirl of goats' cheese, served with a pipette of apple purée and juice to squeeze inside. Soft and delicious.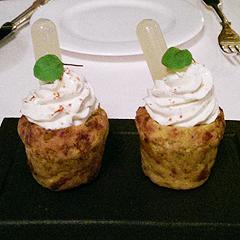 They were so elegant we ate them with cutlery
• Savoury stand: smoked salmon with quails' egg mini sandwich, cheese puffs topped with gold leaf, samosas with a tiny dollop of raita. Standout favourite was the classic cucumber and cream cheese on beetroot bread. Yes, it was pink.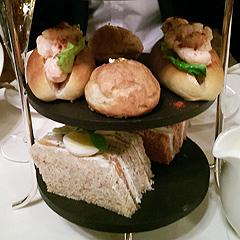 Dainty and delicious sandwiches
• Palate cleanser: a quivering piece of homemade marshmallow, like a tiny sherbert cloud, served with a fluorescent shot of fruit tea with lychee.
Top notch scones and jam
• Scones and sweet stand: warm bite-sized scones with tiny tubes of lemon curd and dishes of clotted cream and jam. The potted rhubarb was gorgeous – a tiny terracotta flowerpot with stewed rhubarb, mint 'grass' topped with two shards of blackberry meringue – and don't miss the absinthe green fairy macaroon.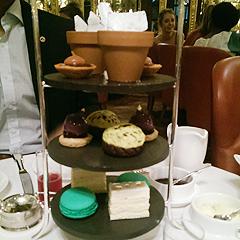 Our impressive tower of sweets

• Cakes: as well as traditional fruit, we tried a memorable lemon and poppy seed and a hazelnut cake with a delicious, crunchy, caramel topping.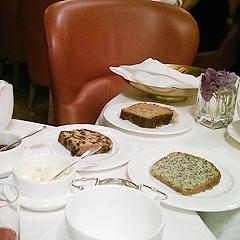 It was a struggle, but we managed cake too...
• To drink: The Oscar house blend – a fragrant, smoky Lapsang Souchong. Then green tea with jade tips – fresh and clean-tasting. Also a glass of Veuve Clicquot.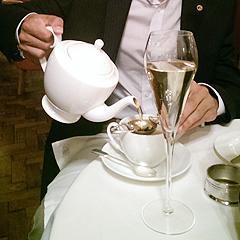 Tea on tap
Afternoon tea at the Oscar Wilde bar really is a unique, glamorous affair – worthy of the great author himself.
Sittings for Afternoon Tea are available from 2pm-5.30pm Monday to Sunday, and cost from £42 per person. For more details and to book, visit the Hotel Café Royal website.
Cover photograph courtesy of Hotel Cafe Royal
Don`t miss

---