Food
Taking orders ... The Laos Cafe by Saiphin
by Sarah Alcock
Laos is a small, land-locked country between Thailand, Cambodia and Vietnam and one thing's for sure – its food packs an almighty punch. At the Laos Cafe you can taste this under-represented cuisine in all its authentic glory.
What is it?
A pop-up cafe by Saiphin Moore, co-founder of Rosa's Thai Cafe (a small chain of smashing Thai restaurants that started off as a humble street food stall on Brick Lane). It is modern and minimalistic with glass walls and a tiny open kitchen. All the food is cooked from scratch over charcoal (a traditional Laos cooking technique) and packed with fiery, feisty flavour.
Where is it?
A mere three-minutes walk from London's Victoria station, tucked away from the hustle and bustle on unexpectedly quiet Gillingham Street.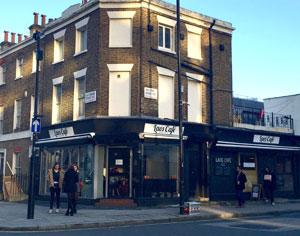 The pop-up cafe in Victoria
Who would love it?
If you love Thai and Vietnamese food, Laotian has to be the next cuisine on your 'to-eat' list. It uses similar ingredients to Thailand and Vietnam such as chillies, loads of fresh herbs and lime but makes more use of national staples such as padaek (cured, fermented fish paste) which gives the food a bigger umami flavour than other Asian cuisines. Lots of dishes we think of as being Thai are actually Laotian originally, such as sticky rice, laap (minced meat salad) and som tum (papaya salad) so if you want to try the mother of all Asian foods, Laos is where it's at.
Best starter on the menu
Peek-gai-tod - that's fried chicken wings to you and me (£6.50). Juicy chicken, crispy skin and a fresh herb salad – without a doubt, the best fried chicken we've ever tasted, putting that ubiquitous Colonel to shame.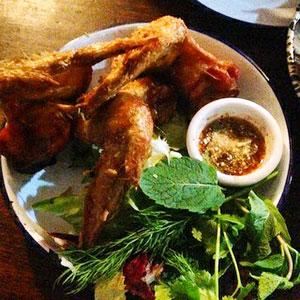 Juicy, fried chicken wings
The main course we would order again
The seafood and glass noodle salad, yum-woon-sen (£10) made with plump prawns, chunky white squid and a zingy, piquant dressing. Pad Thai (£9) was a close second (an explosion of peanut, chilli and sweet and sour tamarind) while the char-grilled pork with soy dipping sauce (moo-yang) was meltingly tender and tasty (£10).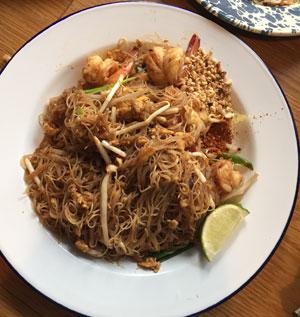 Our tasty pad thai
Our favourite dessert
There's only one! But the creamy coconut ice cream (£4) tastes like an artisan bounty bar (minus the chocolate). And you don't have to be AA Gill to taste it's freshly made.
Next time we would try
Som tum – papaya salad with salted eggs (£8) and pla-som, Saiphin's home-pickled salmon (£10). In fact, that sounds really good. Shall we go there now?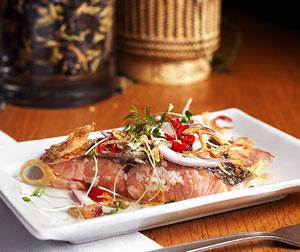 The home-pickled salmon
The Laos Cafe by Saiphin is open until the end of February, Monday-Saturday 12-10:30pm and Sundays 12-10pm.
Laos Cafe by Saiphin
25 Gillingham Street
London
SW1V 1HN
T: 020 3813 6773
Don`t miss

---