Food
Taking orders...Tabl supper clubs
Supper clubs are the future of eating out; restaurant-worthy dishes with the atmosphere of a dinner party and no hefty bill.
What is it?
Tabl.com is a website where you can book supper clubs in London and Brighton – from a seafood evening with Gizzi Erskine to small home kitchens serving authentic Persian, Indian and Greek food. You can either book to attend the supper club, or sign up to host your own.
Where is it?
Content editor Sarah Alcock booked in to Japanese supper club Monograph, located in a small kitchen space in Hackney. But supper clubs can be anywhere, including people's own homes and amazing spaces like The Vaults underneath Waterloo station.
Who would love it?
Supper clubs are definitely not everyone's cup of tea, and probably not where you would opt to have a romantic dinner. However, if you love meeting new people, trying new foods and having a very different dining experience then you should give them a go. No two are ever the same. Take a bottle and an outgoing friend and you're sure to have an amazing time.
What we ate
Monograph Japanese (£29 per person) is a real 'experience' of an evening with video (like a funny clip on how not to eat noodles) and sound bites to make you feel like you're really in Japan – you'd never get anything like that in a restaurant.
The menus are set and usually noted on the Tabl website so you know what to expect. We had four courses...
Watercress, tofu, katsuobushi (smoked bonito flakes), red shiso (dried perilla leaves) and ponzu. The ponzu (dressing made from citrus juice, soy sauce and rice vinegar) was in little bottles on the table for us to dress the food ourselves.
Tofu to start with peppery watercress
Next was Japanese udon noodles with pork belly. They were absolutely delicious – with a nice miso base and a lemony tang. Once we'd eaten the noodles with our chopsticks, we picked up the bowls and drank the broth.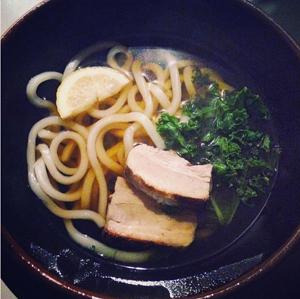 The most delicious noodles with pork belly
This was followed by Saikyo-miso marinated salmon and rice. The salmon is marinated for 24 hours in miso, mirin (Japanese rice wine) and sugar, then slowbaked.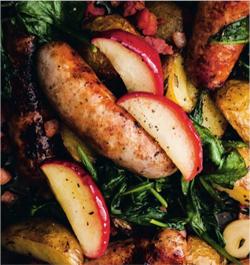 Mega-marinated salmon
The dessert was like nothing we'd tasted before. There was a selection of three little sweets – each was a talking point around the table. Aka daifuku is a chewy glutinous rice cake filled with azuki bean paste; not overly sweet. Chocolate mocha is a thinner layer of rice stuffed with chocolate ganache – these were amazing. Dorayaki are pancakes and can be sweet or savoury. These were filled with matcha custard and were almost cakey in texture and not too sweet.
If you want to try some really authentic Japanese food, we'd definitely recommend booking in to Monograph.
Next time we want to book:
Winterval feast by the Social Pantry is a six course menu with paired wines for only £38.50 per person. We like the sound of the smoked mackerel pâté with celeriac remoulade and toasted sourdough.
Alternatively, Cook Greek host 'A homemade Greek feast', which is a tapas-style sharing dinner including beef and lamb meatballs, smoked aubergine and homemade baklava...(£28 per person)
About the author