Food
Taking Orders: Galvin at Windows
by Abigail Spooner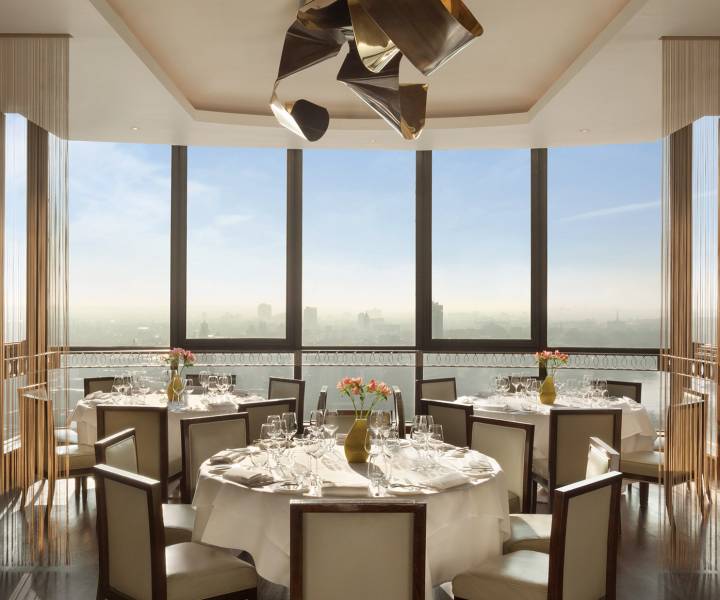 Spectacular views from Galvin at Windows
Abigail Spooner heads sky-high for 360-degree panoramic views of London and a tasting menu of gastronomic delights
Where is it?
A special dining destination, Galvin at Windows is situated in Mayfair on the 28th floor of the London Hilton hotel on Park Lane.
What's all the fuss about?
Besides the breathtaking views across the capital, head chef Marc Hardiman brings innovation and fine dining to his menus with seasonal ingredients, bold flavours and modern flair.
What's the place like?
The décor is slick and sophisticated with floor-to-ceiling windows and crisp white linen-lined tables. Following a warm welcome, the service is seamless yet discreet throughout the evening. The adjoining sky bar, named 10° after the golden glow of the setting sun when it's 10 degrees off the horizon, is stylish and inviting with a tempting cocktail list to peruse while you soak up the sights.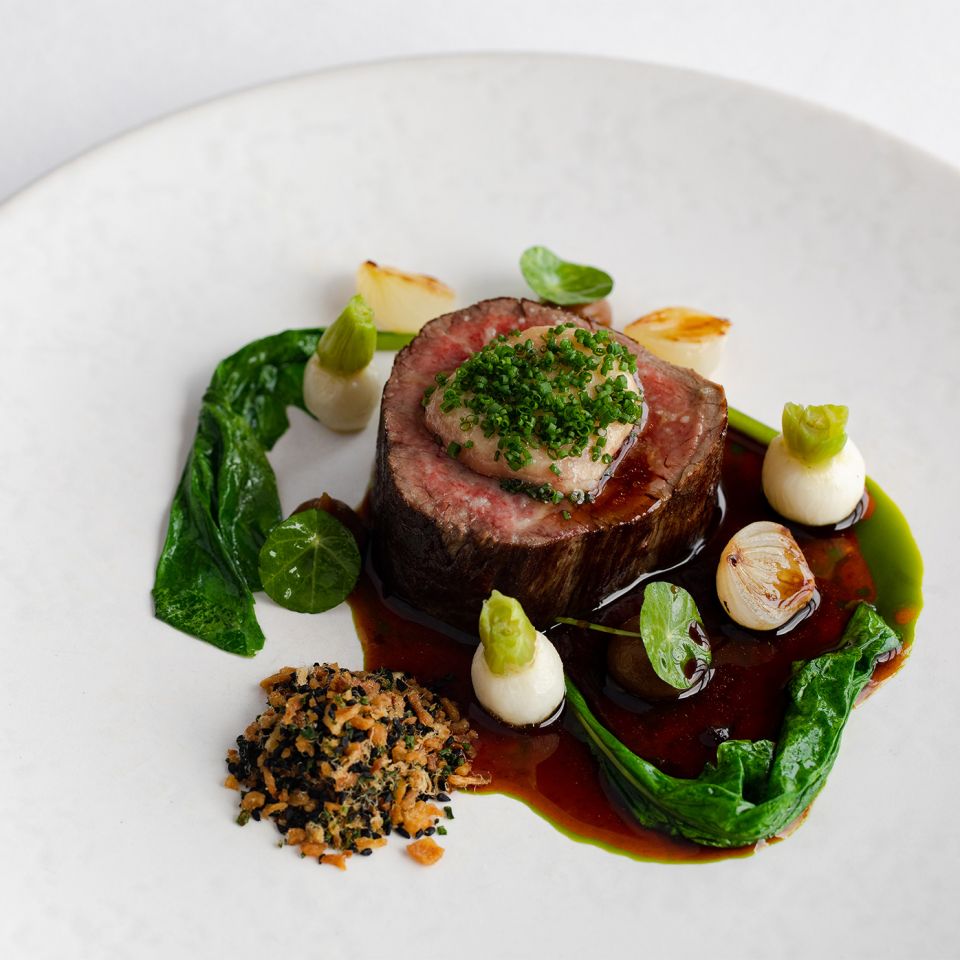 Beef fillet, onion, turnip, nasturtium
What did we eat and drink?
After a glass of champagne in the sky bar to kick-start the evening in style, we can't resist opting for the seven-course tasting menu with wine pairings. To begin, a dainty salad of sweet and juicy heirloom tomatoes sits in a pool of ajoblanco (a classic Spanish almond and garlic soup) with boquerones (Spanish anchovies) and a verdant green lovage oil. It certainly whets the appetite for what's to come. Salmon with variations of beetroot and taramasalata is up next, followed by succulent Scottish langoustines paired with pig's cheek. The waiter pours over a lightly spiced tea infused with lemongrass and makrut lime, which complements the dish unexpectedly well.
The menu continues with beautifully plated perfection. For our first meat course, a plump barbecue quail arrives in a theatre-like shroud of smoke and sits on a nest of leeks and celeriac with grains of pearl barley to mimic the bird's natural habitat. The smoked beef fillet to follow is meltingly tender with a flavoursome bone marrow purée and rich red wine jus. Head sommelier Rudina Arapi also takes the time to guide us through each wine pairing with her extensive knowledge and enthusiasm.
A light and delicate dessert of white peach sorbet with honey, lavender and granola is the perfect palate cleanser. Despite six courses down, the thought of a second sweet course puts a child-like grin on my face, and even more so when it arrives looking like a 'Solero' ice cream. However, this is a very different experience to what you'd pick up at your local corner shop. Instead, a creamy white chocolate and Tahitian vanilla parfait is enhanced with a tropical passion fruit glaze, gold leaf and edible flowers. It's lick-your-lips good.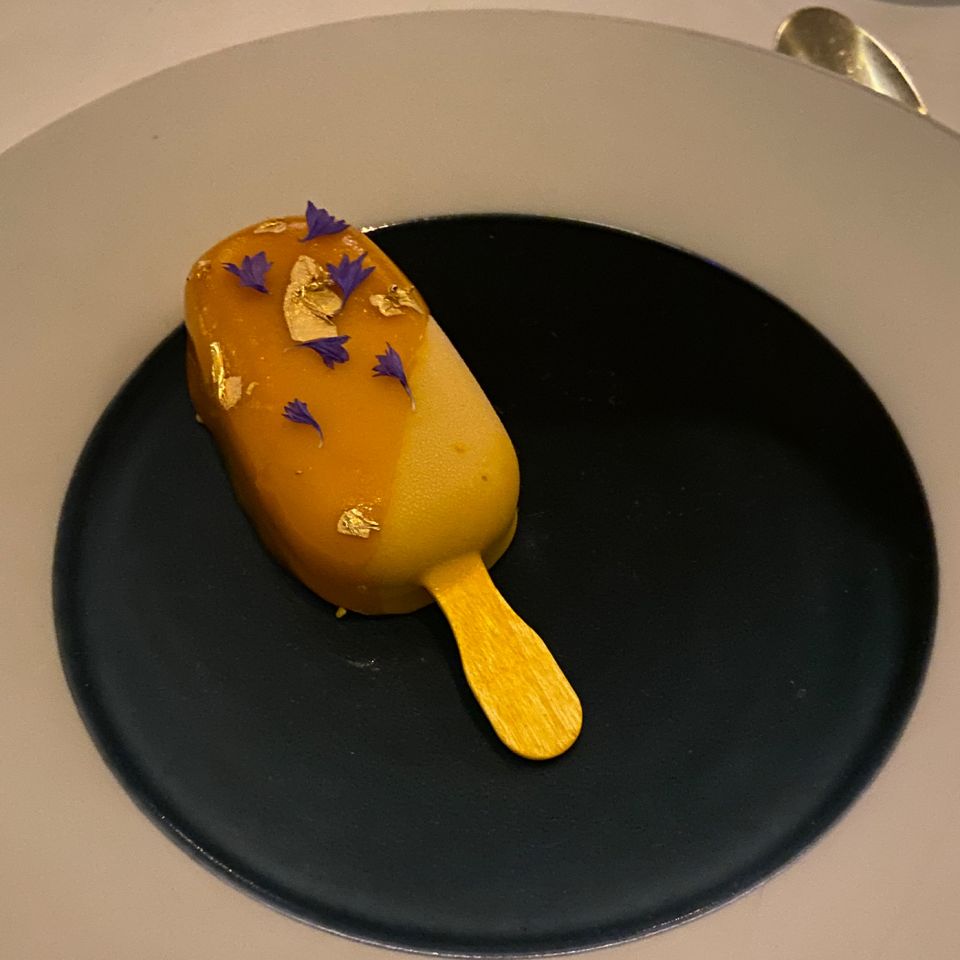 The 'Solero' dessert
Your verdict?
The seven-course tasting menu isn't a cheap option at £119 (excluding wine pairings), but it certainly makes for a memorable experience. Alternatively, an a la carte menu is available. You'll still be able to lap up the enviable views and you'll almost certainly still receive impeccable service.
Lasting memory?
Our final look out over the twinkling lights of London below. And that heavenly 'Solero' dessert…
Don`t miss

---