Food
Taking orders... Beef & Brew
You wouldn't think that London needed another steak restaurant – but it seems we do. Especially when the steak's such good value and comes smothered in truffle béarnaise like at Beef & Brew in Kentish Town
What is it?
Beef & Brew started life as a pop up, but chef Jessica Simmons has now given it a permanent home in this cute and casual little steakhouse that specialises in craft beer. Life is about the simple pleasures here – meat and beer take centre stage, and Jessica's training under Angela Hartnett is evident as simplicity and quality shine through in every aspect of the restaurant.
Where is it?
Opposite Kentish Town tube station. Just look for the low-lit, sparsely furnished little place with a massive painting of a cow on the inside.
Who would love it?
There's basically beer or beef in everything. From beer cheese melt to brisket 'nuggets', if they can get beer or beef into a dish – they will. Cocktail lovers will get excited by the beer-tails: Michelada is the on-trend, beer-infused reinterpretation of a Bloody Mary, and the 'Lagertia' is a fun riff off a margarita, with tequila, Cointreau, lime and lager. Serious beer lovers will be very happy indeed with the astute list of session IPAs, Saison, ales and stouts.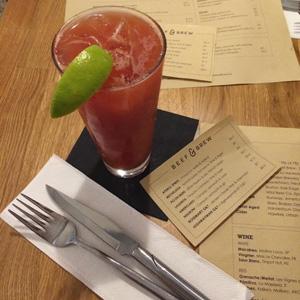 A must-try beer-tail!
Best starter on the menu?
Get on trend by ordering the cauliflower cheese croquettes. We enjoyed some of these at Michelin-starred pub the Harwood Arms the other week, and we have to say that Beef & Brew's were better: a taste of nostalgia in a naughty, crispy croquette.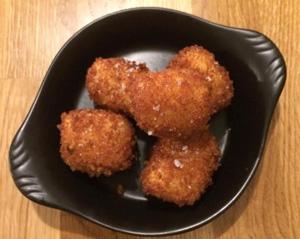 Naughty, but very nice!
The main course we would order again?
Just order anything with the truffle béarnaise: thick and creamy with a hint of truffle, it compliments any dish from a pared-back, perfectly cooked flat-iron steak, to a dirty steak bun with shallot rings. You can expect high-quality meat at a reasonable price (mains start from £8) and it's refreshing to see more unusual cuts like the hanger, butler and rump cap getting a bit more attention and stellar treatment on the grill. There are also only 10 mains to choose from, which always makes life easier.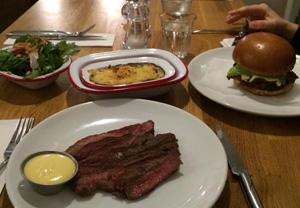 Delicious truffle bearnaise
Our favourite dessert?
Don't leave without digging a spoon into their Brewers' Mess of brownie drowning in salted caramel, chocolate, and dark porter sauce. And just say 'yes' to pairing it with the Broken Dreams stout: a 6% coffee-rich, chocolatey beer that tastes like dessert in a glass.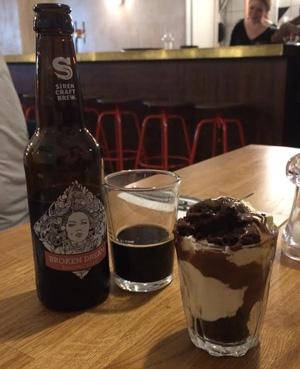 Chocolatey beer and pudding pairing
Next time we would try...
Lemonade-soaked aubergines (just what would that taste like?) or brisket jam nuggets. Unfortunately, they'd sold out of both!
About the author