Food
Summer barbecue puddings
by Sarah Alcock
No doubt Sainsbury's will see their shelves stripped of burgers, coleslaw and disposable barbies this weekend as we prepare for another scorching couple of days, but what about those sugar cravings? We've come up with three delicious treats you can cook on the barbecue to satisfy your sweet tooth!
What sweet things do you like to cook on the barbecue? Tell us in the comments box below.
Grilled Madeira cake with quick berry compote and vanilla ice cream
Serves 4 (pictured above)
300g mixed summer berries
caster sugar, to taste (optional)
1 x 285g Madeira cake
40g unsalted butter
1 tbsp icing sugar
4 scoops vanilla ice cream
1 Make the compote by heating the berries, chopped if large, in a small pan with 2 tablespoons of water for 5 minutes until they release their juices.
2 Taste and sweeten with a little sugar, if necessary. Leave to cool.
3 Cut the cake into quarters. Melt the butter in a small pan, then brush it over the cake.
4 Sprinkle the icing sugar over the slices of cake, ensuring they are coated on all sides.
5 Put the slices straight on to the warm barbecue and grill for 2-3 minutes, turning once, until you have bar marks on both sides.
6 Serve with the berry compote and ice cream.
Barbecued pineapple skewers with coconut and chocolate dipping sauce
Serves 8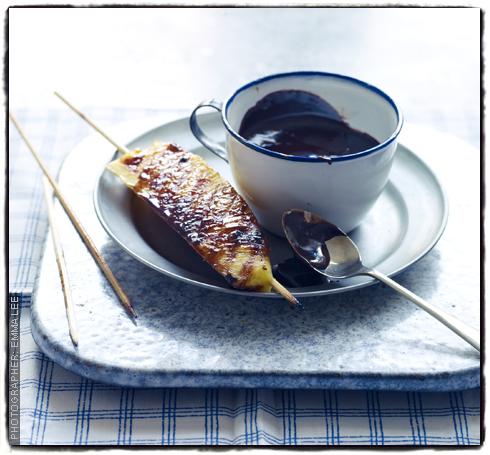 TIP Using coconut cream instead of regular cream adds a tropical flavour to the chocolate sauce. You can also griddle the pineapple skewers if the sun isn't shining.
1 ripe pineapple
1 tbsp demerara sugar
250ml coconut cream
300g dark chocolate, finely chopped
2 tbsp coconut liqueur, such as Malibu (optional)
1 Soak 8 long wooden skewers in cold water for 5-10 minutes.
2 Top and tail the pineapple, then use a large knife to cut away the skin.
3 Halve the pineapple lengthways, then cut each half into 4 long pieces and skewer them through the middle.
4 Sprinkle the pineapple skewers all over with the sugar, then barbecue for 1-2 minutes on each side.
5 Meanwhile, gently heat together the coconut cream, chocolate and coconut liqueur, if using, in a pan, stirring occasionally, until you have a smooth sauce.
6 Serve the sauce in individual ramekins with the grilled pineapple skewers to dip in.
Butterscotch banana parcels
Serves 4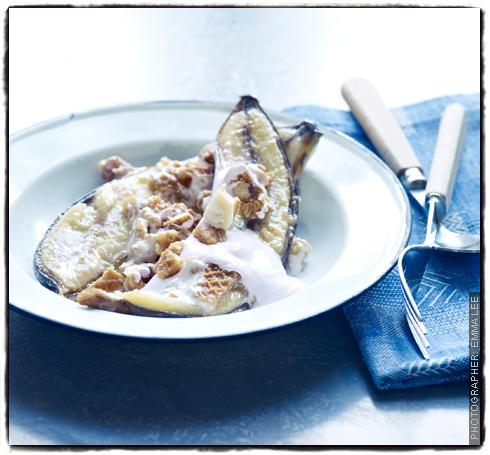 TIP You can also cook these in the oven at 200°C, fan 180°C, gas 6 for 12-15 minutes
4 large ripe bananas
juice of 1 lime
150g marshmallows
4 tbsp ready-made butterscotch or toffee fudge sauce
2 tbsp toasted chopped mixed nuts
100g Daelmans mini stroopwafels (Dutch caramel wafers), roughly chopped
1 Tear off four sheets of kitchen foil, about 36cm square.
2 Halve the bananas lengthways (leaving the skin on) and place two banana halves in the centre of each piece of foil, cut sides up. Squeeze over the lime juice.
3 Divide the marshmallows and butterscotch sauce among the parcels, then top with the nuts.
4 Bring the sides of the foil up and scrunch together to make a sealed parcel, then place on the barbecue (it should be warm, not too hot) until the marshmallows have melted.
5 Open the parcels, scatter with the chopped waffles and serve.
Don`t miss

---