Food
Seven ways with cookies
by Sarah Alcock
Our third most requested recipe over 20 years of Sainsbury's magazine is our very own cookery assistant Emma Franklin's 7 easy cookie recipes.
Use this double chocolate version as the main recipe for our variations, adjusting as needed.
125g soft unsalted butter
125g caster sugar
2 tbsp condensed milk
125g self-raising flour, sifted
50g cocoa, sifted
100g dark and/or white chocolate, cut into chunks
1 Preheat the oven to 150°C, fan 130°C, gas 2. Using an electric hand whisk or mixer, cream the butter and sugar together until pale and fluffy.
2 Beat in the condensed milk, then add the flour, cocoa and a pinch of salt. Mix together, than stir in the chocolate chunks.
3 Roll into 12 walnut-sized balls and space at least 5cm apart on 2 baking sheets, then flatten them slightly with the back of a spoon. Bake for about 25 minutes, until firm at the edges but still soft in the middle. Leave to cool for a few minutes before transferring to a cooling rack.
VARIATIONS
Maple syrup pecan
Step 2
Use 2 tbsp maple syrup instead of the condensed milk, increase the flour to 175g and omit the cocoa. Finely chop 100g pecan halves to replace the chocolate chunks, keeping 12 halves aside for decoration. Step 3 Top each cookie with a reserved pecan half before baking.
White chocolate and cranberry
Step 2 Use 175g flour and omit the cocoa. Use 100g white chocolate (not dark) and add 40g dried cranberries.
Oats and honey
Step 2 Use just 1 tbsp condensed milk and add 1 tbsp clear honey. Use 175g flour and add 50g large rolled oats; omit the cocoa. Omit the chocolate chunks.
Step 3 Use a baking sheet lined with baking paper for these. Drizzle each cookie with a little honey and sprinkle with extra oats before baking; check after 20 minutes.
Zingy ginger and lemon
Step 2 Use 175g flour, omit the cocoa and add 2 tsp ground ginger with the flour. Replace the chocolate with 75g chopped crystallised ginger.
Step 3 Once cooled, drizzle with icing (75g icing sugar whisked with 1 tbsp lemon juice to make a smooth paste).
Cherry and flaked almond
Step 2 Use 175g flour and omit the cocoa. Replace the chocolate chunks with 75g chopped glacé cherries.
Step 3 Sprinkle each cookie with a few flaked almonds before baking.
Toffee fudge chunk
Step 1 Use dark brown soft sugar instead of caster sugar.
Step 2 Use 175g flour and omit the cocoa. Replace the chocolate with 50g mini fudge chunks.
Step 3 Sprinkle 50g fudge chunks over the flattened cookies before baking. Dip half of each cooled cookie in 200g melted dark chocolate; allow to set.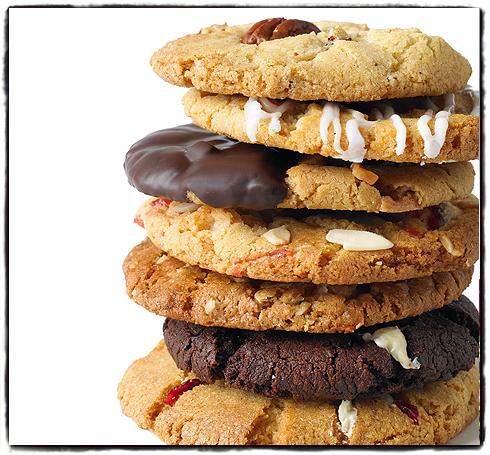 Don`t miss

---