Food
Spiced pumpkin mini cheesecakes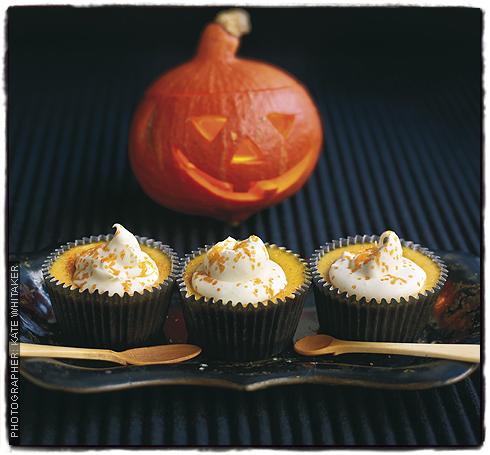 Serves: 12
These little cheesecakes from Weekend Baking by Sarah Randell (Ryland Peters & Small, £16.99) make the perfect treat for Halloween.
Ingredients
FOR THE CHEESECAKES
75g butter
125g shortcake or shortbread biscuits, broken into pieces
200g cream cheese
100g soft-curd cheese
100g tinned pumpkin purée
100g caster sugar
2 medium eggs, lightly beaten
2 pinches each of ground cloves, ginger, allspice and nutmeg
orange sanding sugar, to decorate (optional)
FOR THE NUTMEG ICING
50g caster sugar
100g cream cheese
½ tsp freshly grated nutmeg
Method
Preheat the oven to 150°C, fan 130°C, gas 3. Line a 12-hole muffin tin with paper cupcake cases.
For the biscuit base, melt the butter in a small pan, then leave to cool slightly.
Grind the biscuits to crumbs in a food processor.
Add all but 1 tablespoon of the melted butter (reserve this for the icing) and whiz to combine.
Divide the biscuit mixture among the cupcake cases, pressing it down firmly with the back of a teaspoon.
Put the cream cheese, curd cheese, pumpkin purée, sugar, eggs and spices in an electric mixer (or use a large mixing bowl and an electric hand whisk). Whisk until smooth and combined.
Tip the mixture into a jug, then pour it evenly into the cupcake cases.
Bake the cheesecakes for 15 minutes.
Leave to cool completely – they will set as they cool.
To make the nutmeg icing, whisk all the ingredients together (including the reserved tablespoon of butter) and put a spoonful on top of each cheesecake. Sprinkle with orange sanding sugar, if you like.
Tip
If you're not eating the cheesecakes straight away, chill them, but bring them to room temperature before serving. They're soft-set, so best eaten with a teaspoon.
About the author