Food
After service: Rick Stein
by Cass Chapman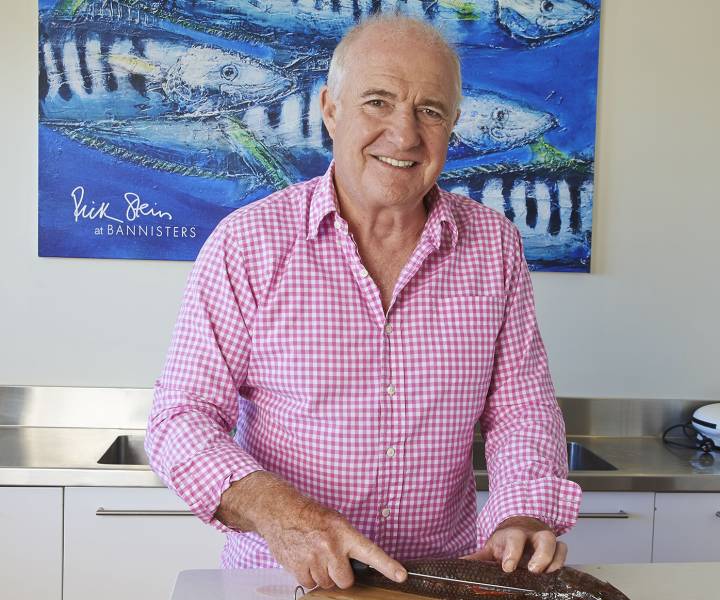 Image: Shutterstock
How do top chefs unwind after service? Rick Stein tells us about Mozart, moonlight and wild swimming.
You have to get in the mood for service. The hour leading up to it is always a little tense because you have to change from being a home person to being in what a friend of mine calls 'bossing and grumping mode'. When I was cooking regularly, I had all my herbs at my house, and the really nice thing was going into the garden and picking bunches of coriander, parsley and wild fennel, which I grew for service. It was a nice way of getting into the mood.
I trick myself to get the timing right. I have never been the most organised of chefs so I was never 'en place', as they say. Service started and, try as I may, I never ever got that right. Even today, I have to tell myself that the guests are going to start arriving an hour before they actually do to get the timing right.
The great thing about cooking is that when you stop, you feel like you've done something worthwhile. If it was a particularly busy or difficult service in Padstow, I'd get in my old black Mercedes, which I was very fond of, and drive out to Trevose Head. I would sit there in the car, looking out over Constantine Bay and watching the surf in the moonlight while listening to Mozart. That was a very pleasurable experience.
During difficult shifts, I didn't always stay calm. But looking back on it now, it was really more about panic than getting angry, and sometimes the panic was induced by the lack of experience in some of the young chefs working for me. But if you have a really experienced and committed brigade, there is nothing better in the world than running a kitchen. I tried to lead by example, always forging an idea of what I wanted myself.
I often find Michelin starred places a little disappointing. You get lots of 'oohs' and 'aahs', and photos being taken of the food, but that's not what restaurants are about for me. I think a great restaurant is about the atmosphere, and you pick up on that straight away. It's a combination of great food and service, but also great customers and, when it works, it's a really special thing. Right from the early days for me, it wasn't just about the food, partly because I was the owner and the chef; it was about trying to create that special atmosphere. Everybody who loves restaurants will know what I'm talking about.
There is nothing that excites me more than a good dish in somebody else's restaurant. It's about the nuances. I'm not looking for ash and crazy garnishes. I just want good-quality ingredients. I think my wife must get bored rigid, but I am a complete food nut.
I love swimming. Now they call it wild swimming, but it used to be just swimming in the sea. I love it. I do it every day.
Rick Stein's The Road To Mexico, which accompanies his new TV series, is out now (BBC Books, £26).
Don`t miss

---