Food
Olly Smith's perfect pairings
by Leanne Bracey
My wine matching knowledge goes as far as red being good with meat and white with fish – but listening to jolly Olly Smith at the Hotel du Vin in Henley was a revelation. His infectious energy made me never want to eat a meal again without a proper pairing. Here's what Olly paired with each course we had at the Hotel du Vin:
To start:
Terrine of poached salmon and tiger prawn, saffron and fennel salad – CHABLIS
Domaine Laroche Chablis Premier Cru Les Vaudevey (2010) from France.
It was really ripe and perfectly crisp.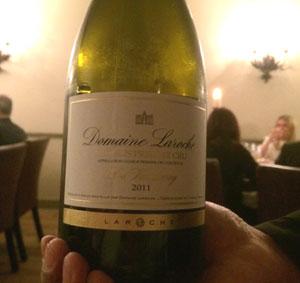 For main:
Loin of veal, saltimbocca, glazed carrots, celeriac fondant and lemon – SYRAH
Matetic EQ Syrah (2010) from Chile.
Olly told us Chile makes great fruity, spicy wines that are great value. This one was also produced bio-dynamically which, according to Olly, means no hangover. Hooray!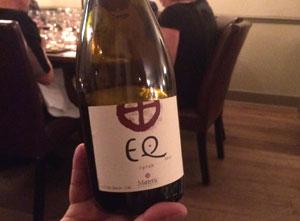 For dessert:
Rhubarb and custard tart with roast apple compote – SWEET
Klein Constantia Vin de Constance (2005) from South Africa.
This wine is really worth tracking down – it tasted of brown sugar and had a really raisin-y aftertaste. Plus it has a few famous, historical fans, too – Charles Dickens enjoyed a tipple, Jane Austen included it in her novels and Napoleon was apparently a big fan. It was even featured in 50 Shades Of Grey (but don't let that put you off). Apparently a sweet wine should 'wobble' – a bit like a jelly – and should be sweeter than your pudding.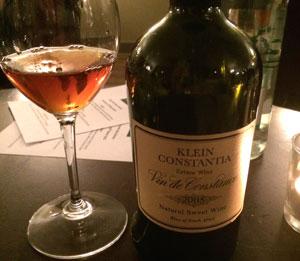 A few other pearls of wine wisdom from Olly:
What's your favourite wine for under £10?
Portuguese reds; they are very underrated. For whites, it's Picpoul. They're zesty and sharp – French wine at its best.
If you were stranded on a desert island with only one case of wine, what would be in it?
I love Contino Rioja Reserva – it's a wine that makes me feel like I'm flying in bulging clouds of deep black fruit. White would have to be a Greek wine from Santorini, like Hatzidakis Assyrtiko. I love Santorini white, but their whole range is pretty dazzling. I'm also a huge fan of Gaia, who make one of my all-time favourite whites – Wild Ferment Assyrtiko. It's as intense and electrifying as a thunderbolt of lemony pleasures.
Do you enjoy English wine?

I love English wine, especially Camel Valley – a sparkling Pinot from Cornwall. http://www.camelvalley.com. For my 40th birthday I opened a Methuselah (giant six-litre wine bottle) of Pinot Noir Rosé 2010 from there. In fact, I collect English fizz and have done since 2000. I also love Chapel Down and Gusborne.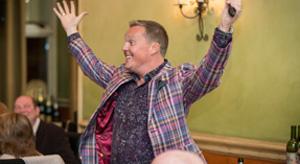 You're invited to a last-minute dinner party – what wine do you take?
To show off and crowd-please it would be a Pinot Noir from New Zealand – something not too rich, like Two Paddocks. I spent some time at the vineyard in Otago with Sam Neill [winemaker and star of Peaky Blinders and Jurassic Park] – he's producing some exquisite Pinot Noir. Another top choice would be any Pinot made by Nick Mills at Rippon - one of the most deep-thinking and vibrant characters in the wine world.
Prosecco or Cava?
It is exceptionally rare to find a traditional method bottle of Prosecco – the only one I've tasted was on a trip to Treviso. A top-level Prosecco is Cartizze – it tends to be a little fruitier and makes a slice of Victoria sponge taste like the cake of the gods. Raventós i Blanc is a decent Cava producer.
Screw cap or cork?

Screw cap is better as it keeps the wine in the condition the maker intended. I'm definitely not a fan of plastic corks.
Visit Hotel du Vin

Tickets for Coastal Retreats event are £95 per person – find out more and buy tickets online at https://www.hotelduvin.com/events/wine/olly-smith-wine-dinners-2015. There's a wine matching evening with Olly at the Hotel du Vin in Poole on 4 June – dinner pairings will focus on lighter wines for holidaying in the UK.
Don`t miss

---