Food
Taking Orders: Maison François
This glamorous new restaurant in central London draws its inspiration from the brasseries of France. Abigail Spooner steps inside for a slice of French elegance.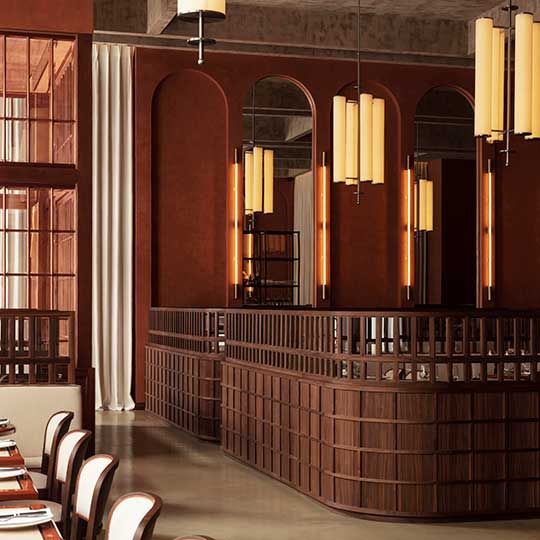 The glamorous interior of Maison François
Where is it?
A stone's throw from St James's park on Duke Street; a swish part of town that harks back to a genteel London, with top tailors and cheese and wine shops lining the smart streets.
What's all the fuss about?
Recently opened by François O'Neill, this all-day restaurant and wine bar brings the French brasserie tradition to the heart of London. Chef and MasterChef: The Professionals finalist Matthew Ryle heads up the kitchen, having honed his cooking skills at The Dorchester, and serves up a classically French menu with a contemporary touch.
What's the place like?
Chic and sophisticated with soaring ceilings and Art Deco details, from chandeliers and mirrored arches to curved banquette seating.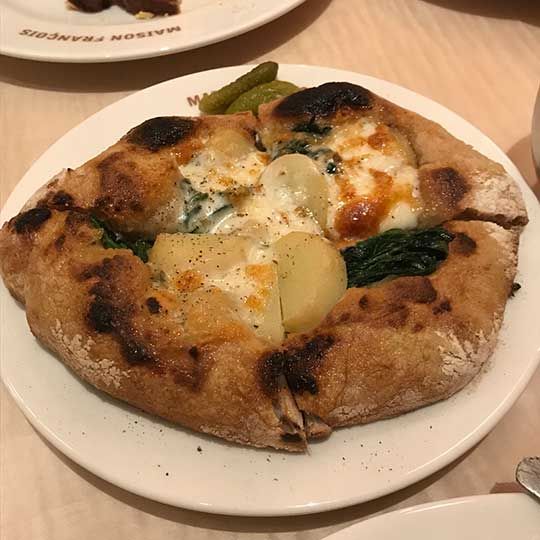 Garlic, spinach and tealeggio flatbread
What did we eat and drink?
Willingly accepting the offer of a pre-dinner aperitif, we are led down winding stairs to laid-back Frank's wine bar and enjoy a delicious glass of Provençal rosé each. So good, that we swiftly order the same again to accompany dinner. Equally spoilt for choice on the food front, we opt for a couple of hors d'oeuvres as well as a garlic, spinach and taleggio flatbread with puffed-up crust and an oozing cheese centre. The pâté en croute maison arrives as a beautifully layered meat terrine with the crispest of pastry, whilst moreish comté gougères (fancy cheese puffs to you and me) are rightly showered in yet more cheese.
For the main event, we are torn between the two pasta dishes on offer but the Toulouse sausage ragu with chanterelle mushrooms doesn't disappoint. From the tempting selection of fish, the red mullet fillets served on a bouillabaisse sauce with fennel are delicately flavoured and cooked to perfection. The highlight of dinner is a multi-drawered dessert trolley which arrives to my delighted eyes, groaning under the weight of tarts, eclairs and gateaux galore.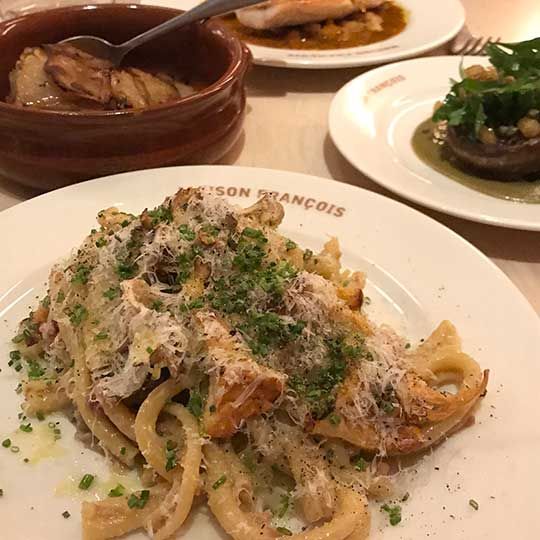 The hospitable waiter describes each meticulously presented item in detail and while I could happily eat each and every one of them, I select a wedge of the tarte tatin, which is warmed for me and served with a dollop of crème fraiche. Meanwhile, my friend enjoys a majestic hazelnut Paris-Brest, complete with chocolate shards and gold leaf.
Your verdict
Perfect for temporarily fulfilling any longings for a gourmet trip to Paris, Maison François encapsulates the classic brasserie experience with its fine food, attentive service and warming atmosphere.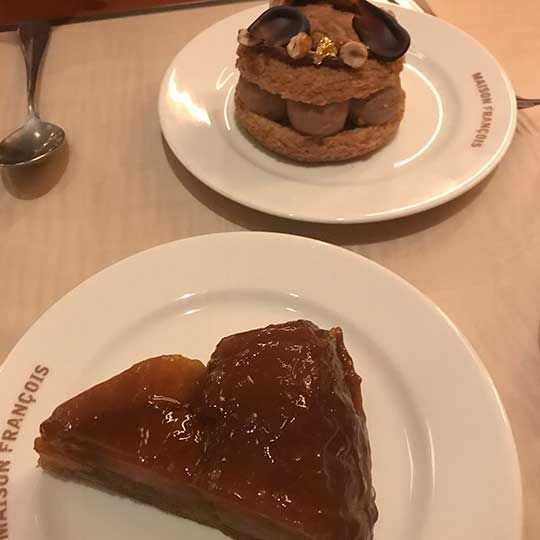 Tarte tatin and Paris Brest
Lasting memory
The dessert trolley of my sweet-toothed dreams.
Maison François; 020 3988 5777
About the author