Adrenaline junkie? Foodie? Fan of flying? If you answered yes to all of the above, you might want to pop down to Canary Wharf this week and buy yourself (and some height-loving friends) some tickets to London in the Sky – an open-air pop up restaurant which dangles (*safely) from a crane. #cranecurry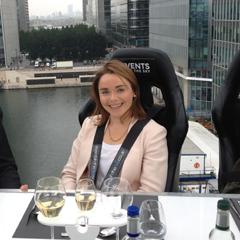 Lucy in the sky
I indulged in a fantastic 3-course lunch, cooked by chefs from Michelin-starred Atul Kochhar's restaurant, Benares, while being 100 foot above the ground.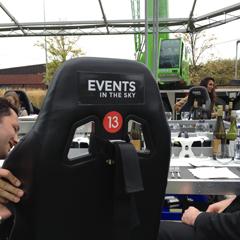 Getting ready for take-off
I rather gingerly arrived at Canary Wharf in time for my 12.45 'flight' and was greeted with a welcome glass of Taittinger, which went down very well as I surveyed the scene in front of me – essentially a large Chef's table with 22 swish chairs attached to it. I'm not a nervous flyer, so fear hadn't really crossed my mind until this point... Still, bubbles in hand, child-like excitement won over any last-minute panic and I happily stepped aboard lucky seat '13'. Strapped in and legs dangling, we were slowly but surely elevated into the sky.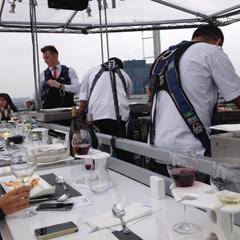 Chefs are harnessed in for safety
Wow - it certainly puts a unique spin on an alfresco lunch – with the late summer breeze and striking city skyline surrounding us, it is hands down one of the most surreal dining experiences I've had so far.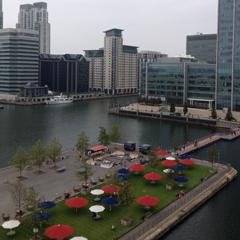 Lunch with a view
Thankfully, my nervous laughter began to subside as we were served the first course: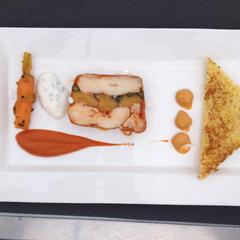 Chicken tikka terrine with spiced pickled baby carrot, tarragon raita
Accompanied by well matched Villa Maria wines (the Riesling went very well with the fragrant spices), and with the chefs plating up in front of us we moved on to a perfectly spiced Hot smoked cod kedgeree with soft boiled free range duck egg, pea shoot salad.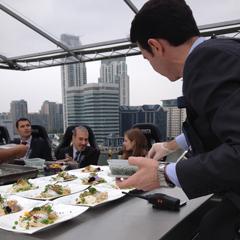 Adding the final touches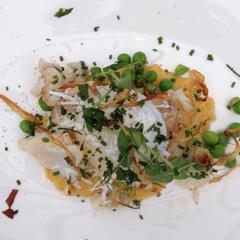 To finish, we delved into Cardamom flavoured milk poached cottage cheese dumplings with dark, milk and white chocolate - encased in a dark chocolate 'bauble-like' shell, sprinkled with milk chocolate popping candy and drizzled in white chocolate sauce.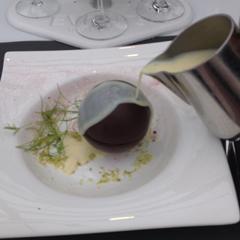 High-class dessert
To purchase tickets visit:
www.eventsinthesky.co.uk
Prices start from £50 per person,
Open from 8.30am – 10pm, you can buy tickets for flights throughout the day from breakfast by Anna Hansen's The Modern Pantry, to lunch or dinner by Club Gascon's Pascal Aussignac, Angler's Tony Fleming, L'Atelier de Joel Robuchon's Xavier Boyer and Alyn Williams from Alyn Williams at The Westbury.
About the author