Food
Taking orders: Lahpet
If you haven't jumped on the Burmese food train, then now is time. Lahpet has opened up on London's Bethnal Green Road, and it should be enough to make you take notice.
Founder Dan Anton and head chef Zaw Mahesh both have Burmese heritage and they're bringing a refined approach to traditional dishes from Myanmar. Burmese cuisine is a mix of Chinese, Laotian, Indian and Thai – so expect plenty of pickles, fish sauce, noodles, ginger and spice.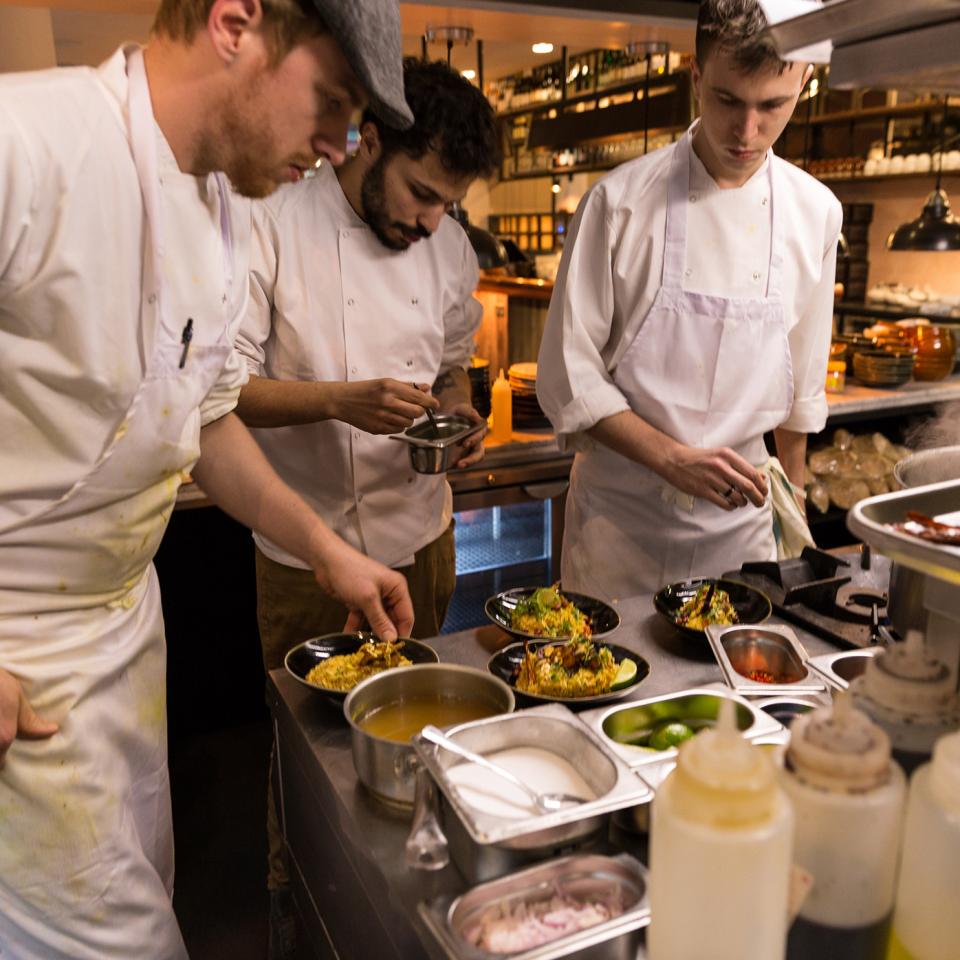 Where is it?
A short walk from Shoreditch High Street overground, this colourful Burmese restaurant has Hackney cool-factor but is slightly removed from the chaos of Boxpark and Kingsland Road. Don't expect it to be quiet though – customers were queuing out the door on the night we visited.
What's all the fuss about?
You may have heard of Lahpet as the Maltby Street food stall that brought Burmese food into the limelight, or during its residency in Helmsley Place, London Fields. This is the team's first complete restaurant. The variety of seating areas, with an open-plan layout, tall bar stools, and tucked-away booths capture the rambunctious spirit of their street food roots – but it now feels decidedly grown-up. They still have a street food stall at Old Spitalfields Market (open 7 days), so visit the kitchen there if you want to keep it real.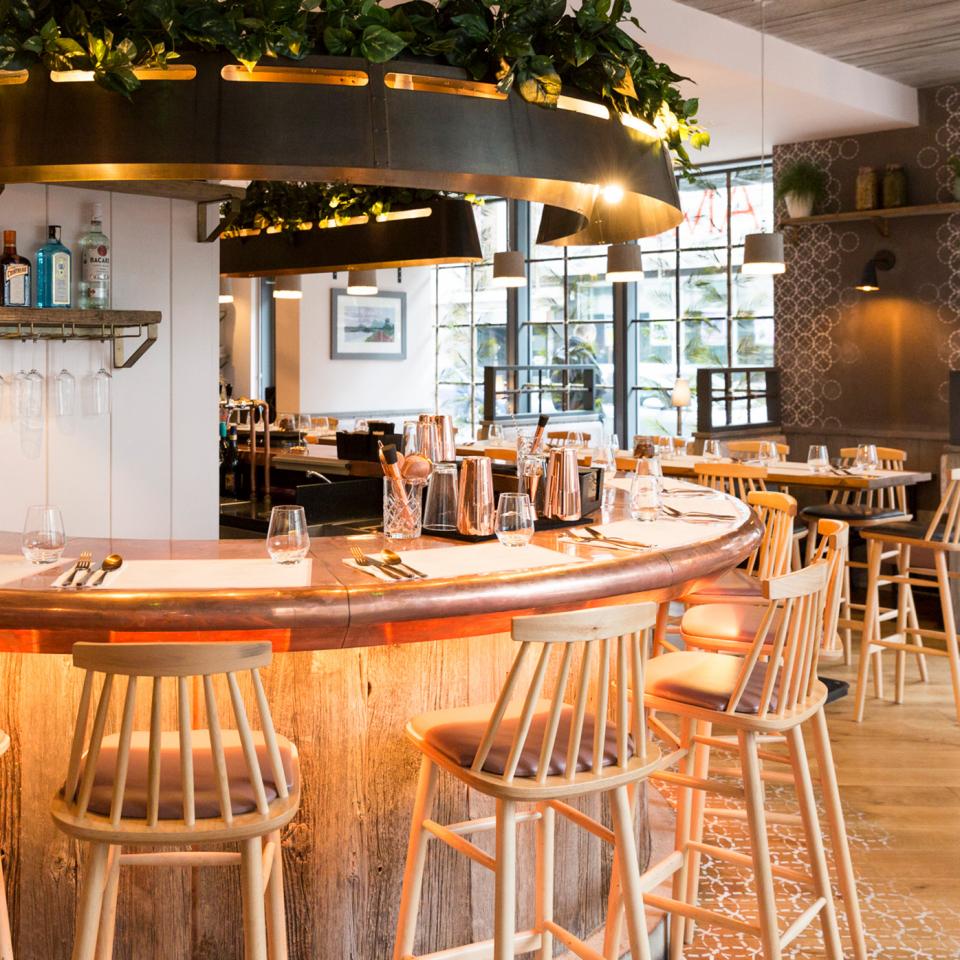 What's the place like?
Eat at the large sharing tables in the main part of the restaurant, or reserve one of the booths up against the windows for people-watching while eating your dinner. There's a small outdoor area for summer, yet they've brought the outside in with bold palm prints, reflective surfaces and Myanmar-inspired decor.
What did we eat and drink?
Starters come tapas-style, so it's perfect for groups or friends who don't mind sharing their dinner. Mains are individually plated, but you'll probably want to share those too. We didn't recognise anything on the menu, so our waiter made excellent recommendations. The fritter platter was a great place to start: Shan (or Burmese) tofu fritters were our favourite. They're made with chickpea flour – not tofu at all. The inside was silky smooth with a crisp, deep-fried crust that called out for sweet chilli dip.
Aubergine salad was slithers of soft, charred eggplant piled up with micro-coriander, crunchy red cabbage, garlic and lime. Nan-gyi thoke salad came as a tumble of thick rice noodles in an edible crispy rice bowl with soft-boiled eggs on top. You'll see a running theme here, where the Burmese take on a 'salad' is almost a meal in itself. We didn't try the signature Lahpet pickled tealeaf salad (which is what Lahpet is named after) – but it's on our list for next time.
You could happily enjoy a whole meal of shared starters, but we tried the king prawn curry and stuffed aubergine with oyster mushrooms for mains. You need plenty of rice to mop up the sauces. We had food envy when guests next to us ordered the chicken coconut noodles with an impressive crisp shard emerging from the bowl.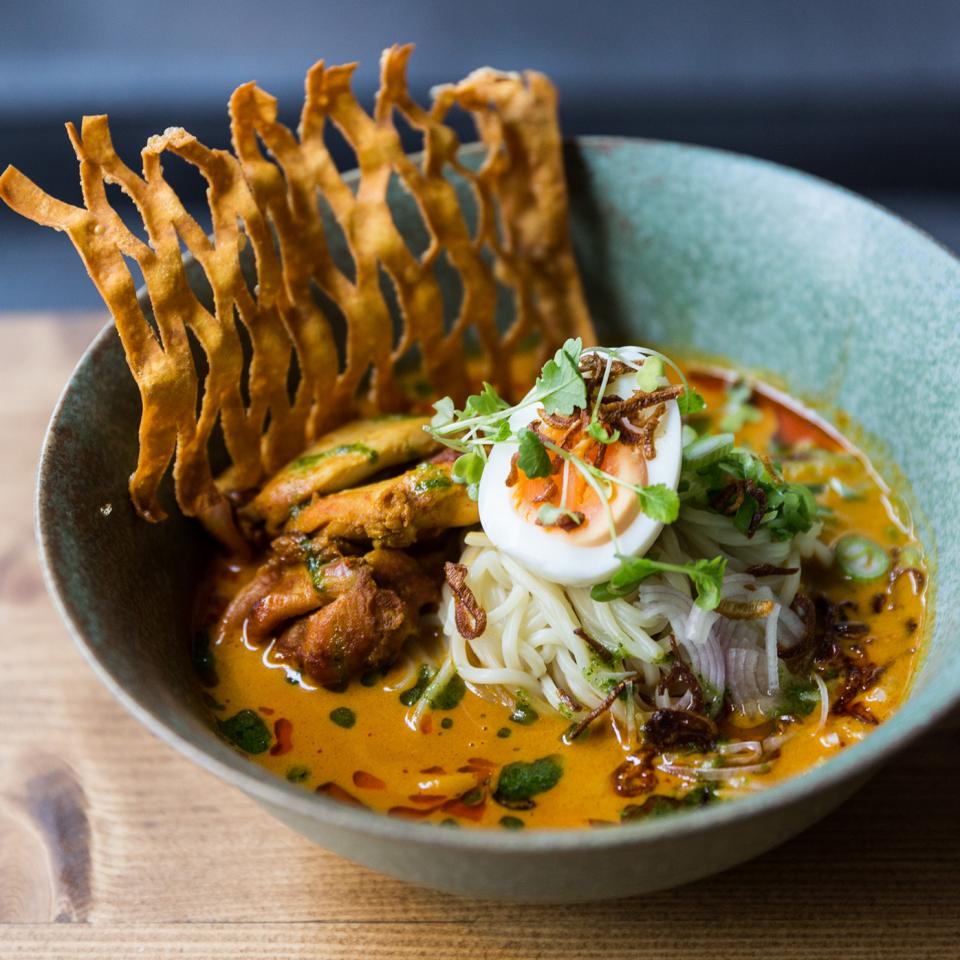 Cocktails are strong and playful, just how we like them. The Jaggery Old Fashioned takes a bourbon classic and infuses it with marmalade and cane sugar, while the Lahpet Sour features Earl Grey tea and strawberry jam with a shot of Campari and gin.
Your verdict?
The best meal we've had in a long time. Lahpet is perfect for food lovers who are looking to try something new – the flavours, presentation and textures were a surprise and delight with every course. We'll be going back for more.
Lasting memory?
That deep-fried tofu. We wish all tofu tasted like that.