Food
Jack Monroe: the new, powerful voice in food
by Sarah Alcock
I felt inspired to use every ingredient in my fridge and be more savvy about how I cook than ever before after chatting to Jack Monroe, author of the hugely successful blog that's now spawned a book, A Girl Called Jack.
Who is Jack Monroe?
Food is a subject very close to Jack's heart – she lived off a shopping budget of £10 a week for an entire year while she was unemployed. In that time, she developed recipes using simple, nutritional ingredients at minimal cost and blogged her ideas at agirlcalledjack.com.
She's become a big name in food over the last year – her first book has just been published – and her inspiring and important message is especially relevant in today's culture of excessive food waste and tightening purse strings.
Here are a few pearls of wisdom from Jack's mouth about cooking at home to save money, reduce waste and eat really well:
1. GROW YOUR OWN HERBS (on your windowsill)
Have one woody herb like rosemary – it's quite hardy and grows all year round. It's great in meat dishes and casseroles. One fresh herb like mint – use in pesto, burgers, sauces, dressings and salads. And one everything herb like coriander – it's great in curries and tagines, and any dish you use coriander in you can always use parsley, too. They're different flavours but work well as substitutes for each other.
2. PROTEIN DOESN'T HAVE TO MEAN MEAT
Beans and pulses are amazing. You can use them to make burgers, falafel and tagines. I use a lot of fish in my cooking, too. Whether it's Sainsbury's Basics white fish fillets (MSC certified), which are great in curries, or vitamin B-packed sardines. You can fry them, roast them with a bit of salt, add them to a tomato sauce for a really deep Italian style sauce, or make them into fishcakes.
3. MY FAVOURITE RECIPE IS SODA BREAD
If you have a good soda bread recipe you can do anything and you don't need any kind of fancy bread maker. Make it into scones, pizza bases, put spinach and feta in it, or add sugar and fruit and it's like a massive scone you can carve.
4. HAVE A GOOD 'EVERYTHING' SAUCE
Mine's a tagine sauce made with a mixture of chopped tomatoes, mandarins and a bit each of cumin, turmeric and paprika. I can then add spinach, chicken, chickpeas or vegetables.
5. THE COOKBOOKS THAT INSPIRED ME
Abel & Cole – their cookbook is seasonal and non-intimidating; the kind of cooking anyone can chuck together. Sarah Raven's Garden Cookbook – I bought mine in an Oxfam shop for a couple of quid. It's great for ideas for how to use up vegetables that you've got kicking around in the bottom of the fridge. Nigel Slater's Real Fast Food – he knows exactly what flavours go together and uses simple combinations. Allegra McEvedy and Paul Merrett's Economy Gastronomy – this was one of the first cookbooks I ever had and has great budget ideas.
6. MY SHOPPING LIST NOWADAYS
I don't just spend £10 any more, but I still cook within my principles of using basic food and fresh seasonal ingredients. There's no excuse for buying battery-farmed meat. If you can't afford fairly farmed meat, then don't buy it at all. I brag about Sainsbury's tea, coffee and bananas as they're all Fairtrade, did you know you can get 80 Basics teabags for 27p and they're still Fairtrade?
7. FOOD BANKS
Don't spend £3 on a latte today – spend it on a couple of basic items and donate to your local food bank instead. There are half a million families relying on food banks, so every small donation will make a massive difference to someone.
A Girl Called Jack by Jack Monroe (Penguin, £12.99) is out now.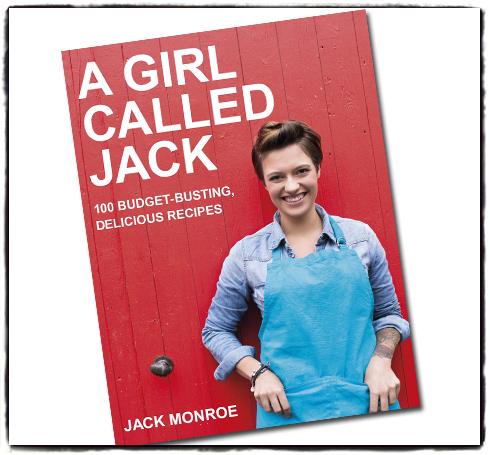 Don`t miss

---