Food
In season: what to cook and eat in August
by Abigail Spooner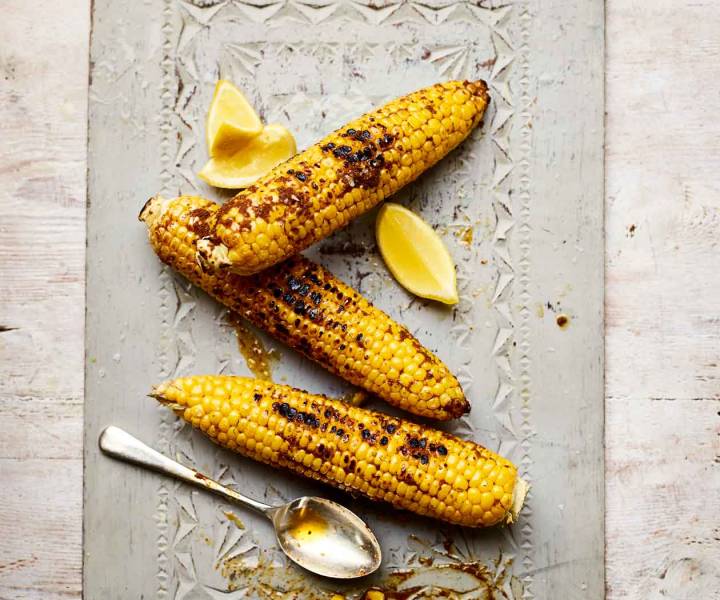 Image: Dan Jones
In August the summer fruits are still going strong and heat-loving tomatoes are at their peak, giving us an array of colourful produce to pick, cook and eat. Read on for our seasonal recommendations and recipes…
1. Cherries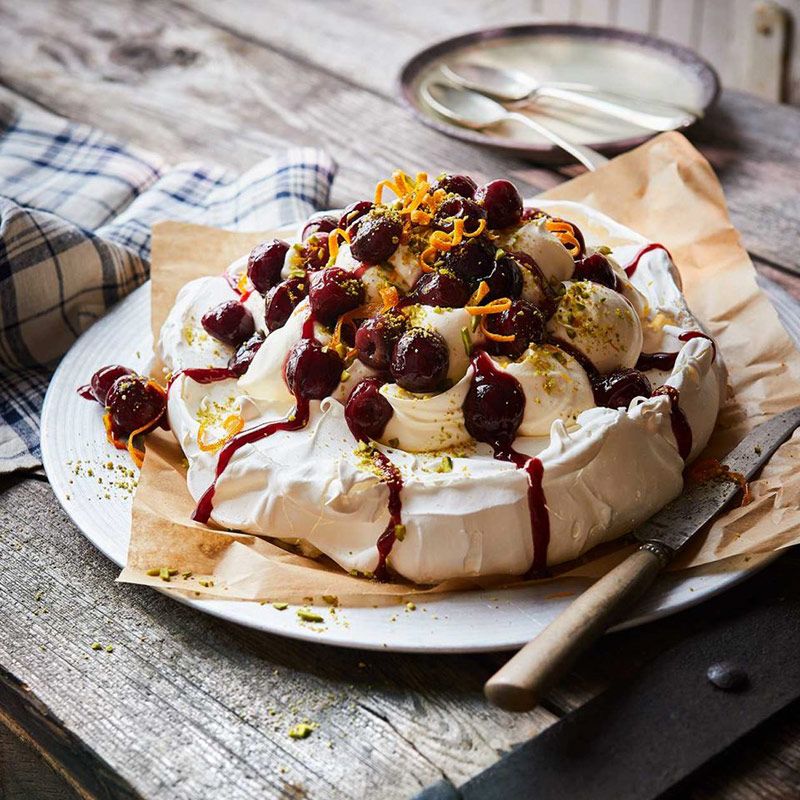 Image: Maja Smend
A staple of the summer season, ruby-red cherries work particularly well with chocolate and spices such as vanilla and cinnamon. The chemical compound benzaldehyde is naturally found in both almonds and cherries, which explains why they are such a perfect pairing, not least in a Bakewell tart. It's worth investing in a cherry pitter for speed of stoning, especially if you're using them in cooking or baking. If not, use the flat blade of a knife to lightly squash each cherry on a board. The stone should be released, leaving the cherry fairly intact.
TRY IT
Whip up this pavlova for your next summer gathering. It's piled with billowing mascarpone cream, chopped pistachios, and a cherry and orange compote.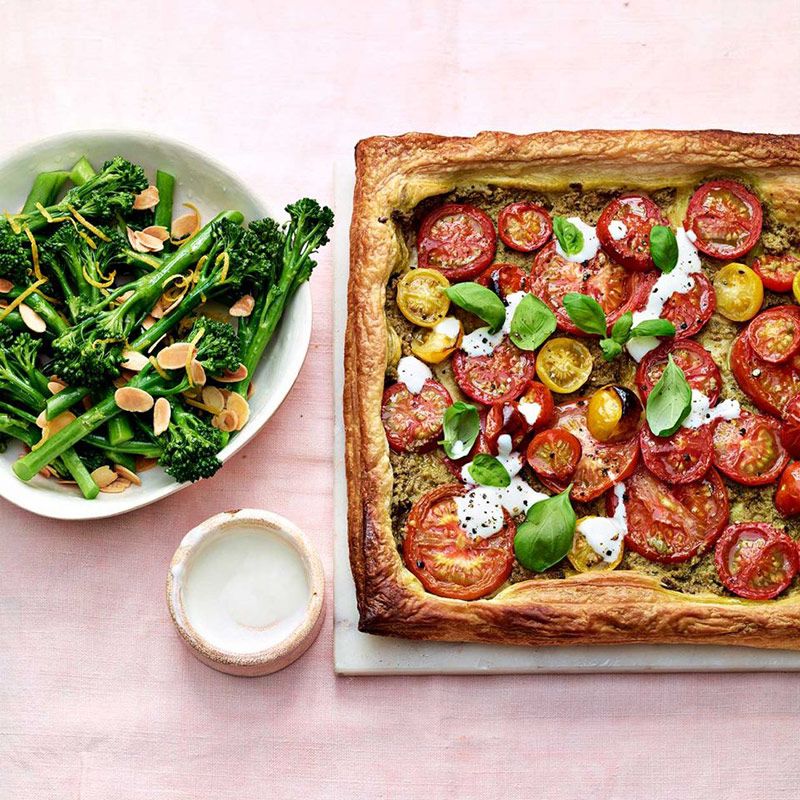 Image: Dan Jones
While tomatoes grace the supermarket shelves all year round, they are at their juicy best during the summer months. There are a huge number of varieties, from cherry and plum tomatoes to the larger beefsteak tomatoes. Enjoy them fresh in salads, slow roast to intensify their flavour, or simmer down into a homemade tomato sauce for pasta. For a summer lunch idea, blitz ripe tomatoes into a refreshing gazpacho to serve alongside crusty bread.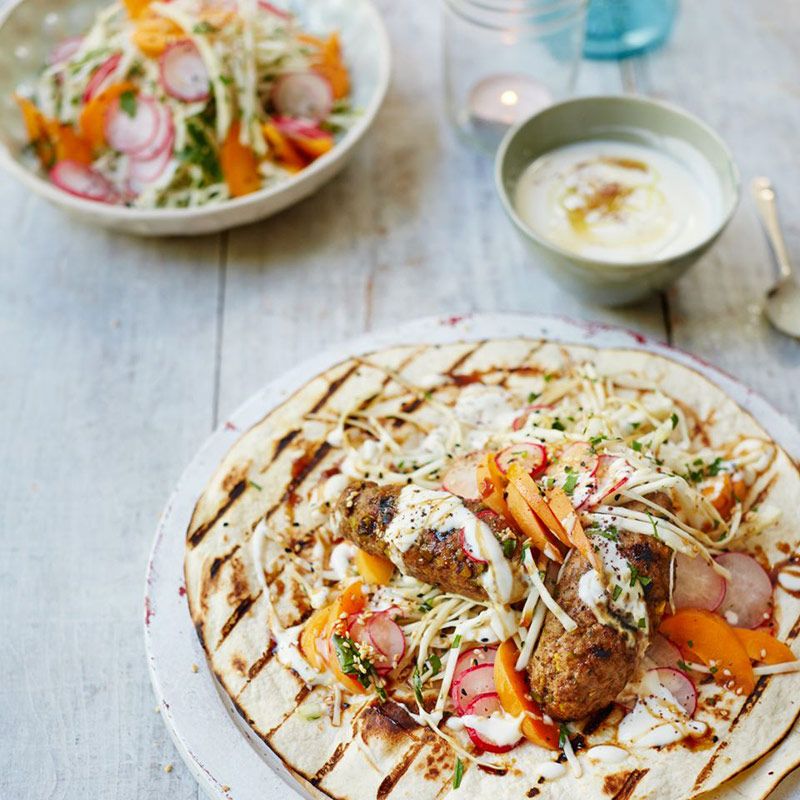 Image: Laura Edwards
With a soft, velvety skin and delicately floral fragrance, apricots are a relative of the peach and can be used in both sweet and savoury cooking. They're delicious in tarts and crumbles or used to make jams and chutneys. It's worth waiting to enjoy apricots at peak ripeness; they should have a bit of give when gently squeezed. Store them in a brown paper bag to speed up the process if needed.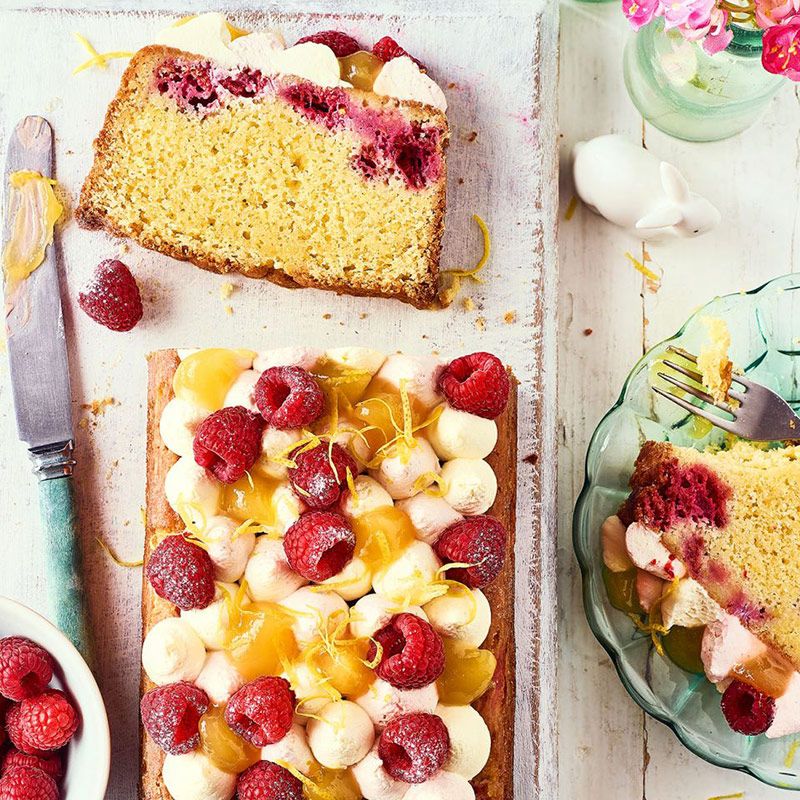 Image: Martin Poole
Late summer produces the best bounty of these sweet-sour berries. One of the most intensely flavoured members of the berry family, they are most commonly red in colour, but you can also find black, golden and pink varieties at farmers' markets and speciality greengrocers. Serve them over ice cream or yogurt, layer into trifles, or make a coulis for drizzling over cheesecake. Alternatively, let raspberries go slightly squidgy by baking them into a batch of brownies.
Try it
This zesty loaf is pretty as a picture and will go down a treat at teatime.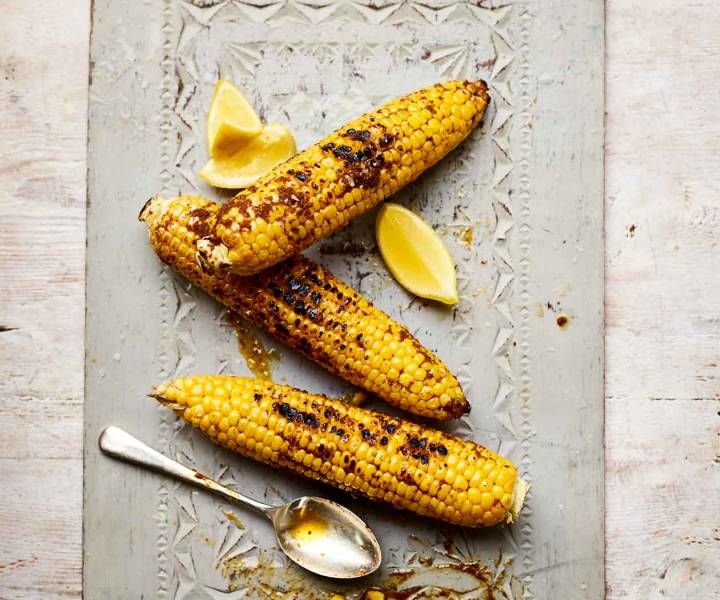 Image: Dan Jones
Also known as corn on the cob, sweetcorn is composed of bright yellow kernels (800 per ear of corn on average) that add pops of sweetness to a whole host of dishes. The kernels can be cooked on the central core or shaved off first, but little beats corn on the cobs doused in butter and seasoned with flaky sea salt. You can also enjoy the shaved kernels raw in salads, tossed in a stir fry or stirred through a salsa.
Try it
Griddling whole corn on the cobs gives a lovely charred smokiness, and this recipe incorporates the fragrant spices of India for a simple side dish.
Don`t miss

---