Food
How to make the perfect Diwali curry
by Helena Lang
At a recent event held by Sainsbury's we met MasterChef winner Dhruv Baker and the team from Noon, the company who have been making ready-prepared curries for Sainsbury's for 26 years. Here's what we learned about rustling up a tasty curry for Diwali...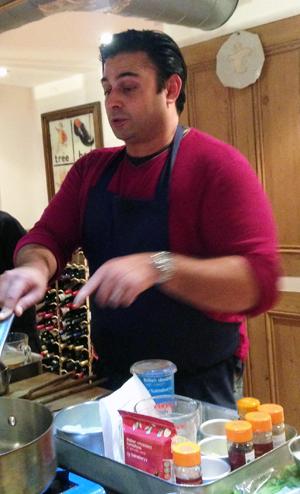 Dhruv Baker cooking up a storm!
Starter snack
It's fine to serve ready-prepared Indian snacks as a starter – all of Sainsbury's samosas are hand-folded, and are delicious and artisan. Crisp them up in a hot oven and serve with a tub of natural yogurt mixed with shredded mint and a teaspoon of salt to dip or mango chutney and lime pickle.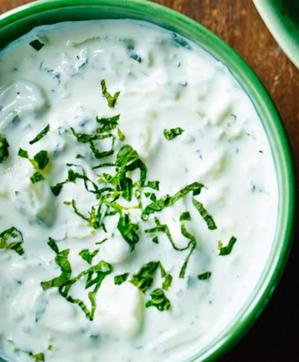 Super easy cucumber raita
Use whole spices
When making a curry, heat some oil and cook your whole spices first until they release their aroma, remove them from the pan while you fry off your other ingredients and then pop them back in once you have added liquid, such as stock or chopped tomatoes, to release their flavour.
Make your own nut purée
Cashew nut purée gives sauces such as the one in a biryani a nutty, creamy flavour and texture. Make your own by blitzing a couple of handfuls of cashew nuts with a cupful of water in a food processor then add to chicken or vegetable sauces.
The best biryani
When making a biryani, marinate your chicken in a spice rub for several hours before cooking it on a griddle pan. You can do this several hours ahead. Then, when layering up your biryani, put the vegetables in their sauce at the bottom of your baking dish. Cover with your cooked rice and then nestle the chicken on the top, covering well with foil. Then bake in the oven.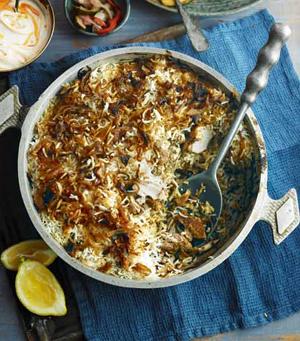 Check out our chicken biryani...
Onion garnish
If you have a spare houror two then spend time cooking a bag of peeled sliced onions in plenty of oil until they are a rich brown colour but not burned. Keep them in the fridge to scatter over curries, jacket potatoes, use in toasties or as a garnish on soups. They add a wonderful flavour.
What are you making for Diwali? Let us know in the comments box below, or tweet us @Tried_Tasted
Don`t miss

---