Food
How to cook this season – Valentine Warner
by Sarah Alcock
We asked chef Valentine Warner about his favourite ways to eat spring's finest offerings, as well as what he'll be cooking on the barbecue...
ASPARAGUS
'Asparagus is my favourite seasonal ingredient and when it's around I always feel slightly panicky if I feel I'm not using it enough.'
• Try cooking Jeremy Lee's asparagus (head chef at Quo Vadis) – he wraps up asparagus in filo pastry, paints them with butter and a good grating of Parmesan plus a sprinkle of black pepper, then pops them in the oven on a high heat so the filo goes crispy.
• Asparagus is also delicious served with fried eggs and drizzled with anchovy sauce.
• Never throw the stalks away; there's a whole soup in there – cut all the stalks off, whiz them up and put it all through a sieve to get rid of the woody bits. It's nice served chilled with a bit of lovage.
JERSEY ROYALS
'I like them the Fergus Henderson (chef at St John restaurant) way, which is to boil them then put a great big lump of Stinking Bishop on top.'
• When the potatoes are hot, add a bit of butter, a hunk of Waterloo cheese (made by a couple in Berkshire), a good grind of black pepper and finish with spring onions on top.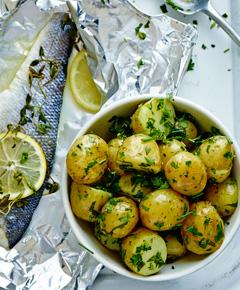 Lovely, buttery tatties
LEMONS
'I couldn't live without lemons; summer is the time for butter and lemons or olive oil and lemons.'
• If you've cooked a big plate of spaghetti, mix in some gremolata (lemon zest, garlic and parsley) or new-season garlic then add some lemon zest to finish it nicely.
On the BBQ
'I cook everything on the barbecue, but especially fish.'
• Make sure your fish is wiped extremely dry so it doesn't stick to the barbecue.
• Add plenty of salt to the skin before cooking to help the fish raise off the bars.
• Buy a big sole or plaice for your barbecue this weekend, and in a few weeks it'll be time for mackerel.
• If you're not into fish, try a barbecued shoulder of lamb with lots and lots of herbs like sage and thyme on top. Try adding ripped open chamomile tea bags, too, for extra flavour.
Throw another shrimp on the barbie
SOMETHING HEALTHY
'Watercress is just one of my favourite things in the world.'
• Salads are delicious with lots of herbs and capers. Try new leaves like escarole (part of the endive family) or treviso (looks like chicory but it's red).
JAPANESE FOOD
'If I could only eat one cuisine for the rest of my life it would be Japanese.'
• Japanese is still very misunderstood in this country; people think it's only raw fish and rice or deep-fried tempura.
• The best Japanese dish (in Valentine's book, What To Eat Next) is called Nasu Dengaku. You grill aubergine before adding a sweet miso and ginger dressing then re-grill it and sprinkle with raw spring onions. It's delicious.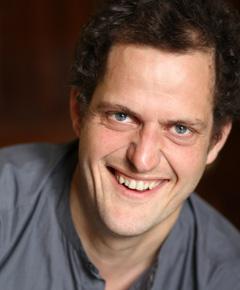 Look out for Valentine Warner at Waterloo
Do you go through Waterloo station?
Valentine, and other well-known Lurpak ambassadors, will be cooking at Waterloo train station all day on 24-26 April using all new Lurpak cook's range products. He'll be whipping up a tasty grilled curried chicken dish using Lurpak cooking liquid, for anyone passing through the station– happy commuting!
Don`t miss

---