Food
Green Kitchen: living life on the veg
From Meat Free Mondays (thank you Mr McCartney for the rap) to 'Dare to go Veggie' week, eating less meat seems to be top of the foodie agenda. And no one could make it more appealing than David and Luise, the team behind the award-winning vegetarian food blog, Green Kitchen Stories. Bursting with simple recipes made from whole foods and organic ingredients, the mouth-watering pics and stylish vids make vegetarian food sexy – just take a peek at this banana almond and chocolate cake to see what I mean...
I caught up with them at the Green Kitchen food and film evening at Charlotte Street Hotel. As a committed carnivore, I was keen to discover more about vegetarianism and taste dishes from their new book Green Kitchen Travels, inspired by their recent adventures around the world.
Dinner began with an upside-down beet tower: a neat salad of shredded beetroot, lettuce and carrot mixed with lime, herbs and olive oil. Creamy avocado is stirred through the mix before ramekins are filled and turned out onto plates. Topped with goats' cheese and pine nuts, textures were fun and the taste fresh without tasting too virtuous. Hard to beet (ahem).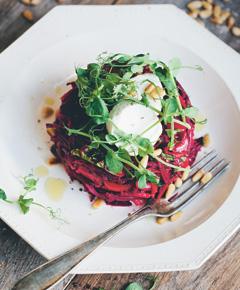 For our main, we were presented with adorable Hokkaido pumpkins (a much smaller variety than Jack O' Lantern types – perfect for one). They were generously stuffed with wholegrain rice, autumn veg, chopped pistachios and raisins, delicately flavoured with a hint of cinnamon. Blackened in the oven, they would make a terrific centrepiece – and it's impossible to lift the lid without a certain amount of childish glee.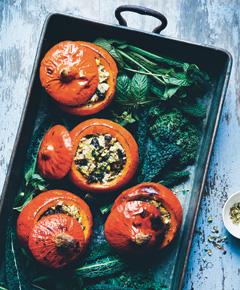 Pud was torta di ricotta and polenta. Like a grown-up cheesecake made with tangy ricotta, ground almonds and sweetened with raw honey, it was rich, moist and completely free from flour and refined sugar. 'Healthy eating' like this I can handle.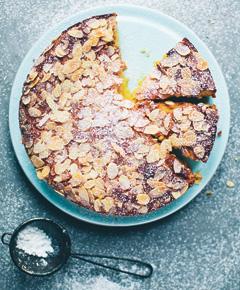 Sipping my wine, I realised I had just enjoyed the most varied dinner I'd had in ages and needed two hands to count all the different veggies I'd eaten, not to mention all the grains, nuts, herbs and spices.
Looking at David and Luise (needless to say positively glowing on their veggie fare), I asked the Green Team to share their top tips for cooking like this at home.
Veggie top tips
1. Plan your meals. Sounds boring but it makes a big difference. Get an idea of the dishes you want to cook before you go shopping, but don't be a slave to a recipe. Lots of veg are interchangeable – just experiment!
2. Stock up the storecupboard. You'll always find lentils, beans, quinoa and brown rice in our kitchen, as well as a zillion different nuts, nut and seed butters and dried super fruits. Keep berries in the freezer too for porridge, smoothies, desserts and salads.
3. Scoff the seasons. Food tastes better, is cheaper and is often what your body craves when it's in season.
4. Start with the veg when you're dreaming up a dish in your head and then add the starch and protein. Don't plan meals around meat and fish, as we tend to do in the West.
5. Veg out. You can't eat too much veg! Add them to your favourite recipes such as beetroot or spinach pancakes as well as dishes you eat all the time – Bircher muesli soaked in carrot juice is really nice.

All the recipes mentioned above are available in Green Kitchen Travels (Hardie Grant, £25) and don't miss the exclusive recipes from David and Luise in the February issue of Sainsbury's magazine (on sale 7 January).
Ready for a life on the veg? Let us know how you get on!
About the author