Food
Gizzi Erskine's Thai chicken satay rice bowl - in the test kitchen
by Sarah Alcock
Here in the office, we love our food, but not the weight gain that comes with testing (and tasting) recipes all day, every day, so it's always a joy to make healthier recipes that are just as tasty. So when the new book Skinny Weeks & Weekend Feasts (Quadrille, £19.99) by Gizzi Erskine (who made her name on TV show Cook Yourself Thin) landed on our desks, we couldn't wait to whip up some of the delicious recipes. We went for her Thai chicken satay rice bowl first, which is perfect for lunchboxes.
We couldn't find yellow curry paste or Thai basil on our trip to the shops, so used Thai red curry paste, regular basil and added a big pinch of turmeric to the curry powder. We reckon a bit of mint would be great with these flavours, too.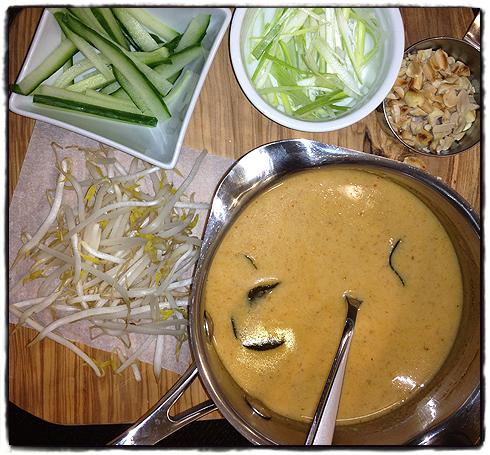 Thai chicken satay rice bowl
Ingredients
2 chicken thighs, skin on, bones removed
1 tsp curry powder
a good pinch of sea salt
olive oil spray
30g Thai yellow curry paste (or Thai red curry paste)
200g reduced-fat coconut milk
200ml chicken stock
1 tbsp peanut butter
1 tbsp palm sugar
1 tbsp Thai fish sauce
5 lime leaves
120g freshly cooked brown rice
½ small cucumber, deseeded and cut into matchsticks
4 spring onions, cut into matchsticks
a handful of bean sprouts
1 tbsp chopped toasted peanuts
a small handful each of fresh coriander and Thai basil leaves (or regular basil leaves)
Method
Rub the chicken thighs with the curry powder and salt, then spritz gently with olive oil. Set aside.
To make the sauce, spritz a little oil into the bottom of a pan over a moderate heat. Add the curry paste and fry for 2 minutes.
Pour over the reduced-fat coconut milk (the sauce will be thinner than if you used full-fat, but you still get all the flavour), then add the chicken stock, peanut butter, palm sugar, fish sauce and lime leaves.
Bring to the boil, then simmer for 5 minutes. Keep warm.
Heat a griddle pan until smoking. Lay the chicken thighs in the pan, skin-side down, then lower the heat to medium.
Griddle for 4-5 minutes, until the skin is crisp and lightly charred, then turn over and cook for a further 4-5 minutes until the chicken is cooked through. Transfer to a plate and set aside to rest for a few minutes.
Put the chicken on a chopping board covered with baking paper (to prevent staining), then slice it thickly, pouring any excess cooking juices into the curry sauce.
Divide the cooked rice between bowls, pour on a little sauce, then top with the chicken, cucumber, spring onions, bean sprouts and peanuts. Scatter over the herbs and serve.
Don`t miss

---