Food
Food markets - the hidden gems
by Sarah Alcock
Everybody loves a food market, but bigger doesn't always mean better. Though grand markets such as London's Borough are institutions, the most pleasant ones are often the lesser-known, hidden gems: small, neighbourhood affairs stuffed with brilliant local suppliers, and where you never have to queue for a sausage roll.
Here, the Sainsbury's Magazine food team share their favourite markets around the UK.
Emma, assistant food editor

The farmers' market in Leamington Spa (in the pump room gardens) is a lovely little local market. It's particularly good for meat, especially poultry, and veg – with locally grown gems such as purple sprouting broccoli and asparagus. And there's always a delicious hog roast.
Stoke Newington farmers' market is my London haunt. There's a fantastic guy who has all sorts of gorgeous wild mushrooms. He also serves up divine garlic mushrooms on toast. It's great for veg – at least half the produce stalls are veg (the squashes, tomatoes, salad and herbs are the best).
Kate, chief sub-editor

I love North Cross Road market on Saturday mornings in East Dulwich, London – amazing fruit tarts and cheesecakes (perfect if you want a quick pud cheat for a dinner party!), fab fresh salads, quiches, beautiful cheeses and fresh pastas, plus a Vietnamese banh mi van, a hog roast stall and a very popular popcorn stand... all irresistible. There's pretty vintage goods, plants and artisan jewellery in the mix, too.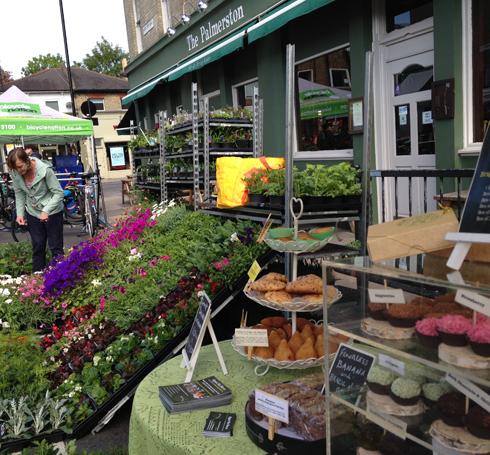 Leah, food director

One of my favourite places to spend a Saturday morning is Green Park market in Bath, Somerset. Located under the sweeping vaulted roof of a decommissioned Victorian train station, it's filled with fantastic producers offering everything from local charcuterie to cheese. Try the award-winning Wyfe of Bath – a nutty, semi-hard cheese, washed down with a glass of crisp Somerset apple juice.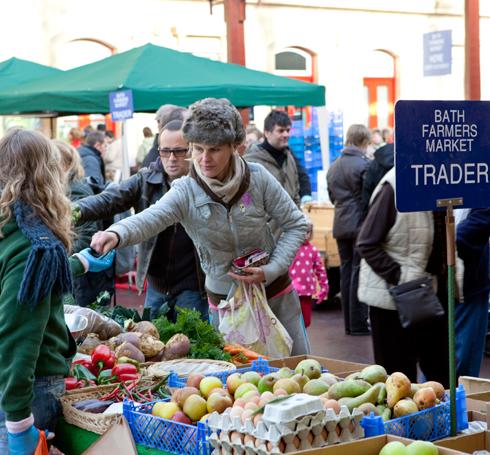 Francesca, senior sub-editor

I like Brockley Market in south London. It's in Lewisham, and is held in the college car park. There's a fab mixture of cheeses, charcuterie, cakes, sandwiches, spices and fresh fruit and veg. I love it because it's small but filled with brilliant stalls and it supports local businesses.
Sarah, digital content and social media editor

Mine is just down the road from me in West Norwood, London. Called Feast, it runs on the first Sunday of the month from April to December and is a mix of artisan food stalls, street food, bakers, craft stalls and live music. Last time I went they had a brass band playing on the steps of St Luke's Church. I've eyed up a few stalls and next time I want to check out the Greek souvlaki, and the Chinese dumpling vendors. There are plenty of amazing bakes, including some very cute vegan cakes from a stall called Sweet Carolina.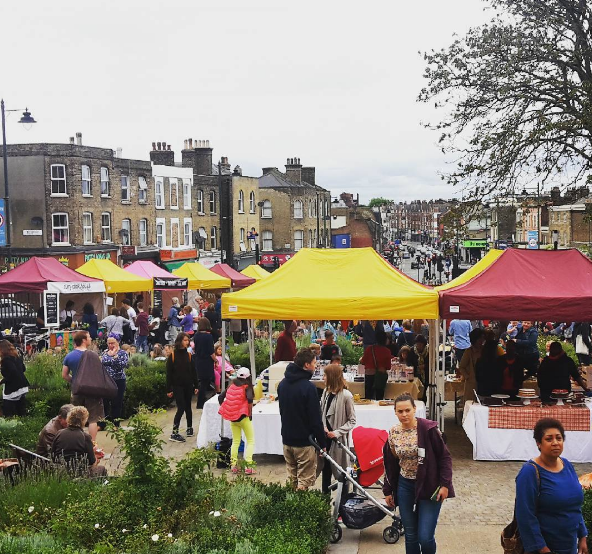 Michelle, deputy editor

My local one is the Alexandra Palace market in London, which runs most Sundays. It's a nice combination of food produce and street food stalls, so you can buy a loaf of lovely bread and some top cheese, meat, fish etc, but also grab a tasty snack for a picnic up on the hill. A jolly nice view too!
Don`t miss

---