Food
Eric Lanlard's madeleine Charlotte cake
by Emily Wright
We hung out with pastry chef extraordinaire Eric Lanlard last week and he made a classic French madeleine Charlotte cake that's super-easy to whip up at home, even if you're not quite as skilled as he is. Read on to find out exactly how Eric did it...
Traditionally, a Charlotte cake involves a tin being lined with bread, sponge cake or biscuits and then filled with fruit purée or custard, before being left to set. Eric sped up this process by using shop-bought madeleines to create his masterpiece, but we like making our own! Try Sarah Randell's cinnamon madeleines (you could make more and keep some extra to have in the cake tin!)
Summer fruits and madeleine Charlotte cake

Serves 8
Hands-on time 40 mins
Total time 40 mins, plus chilling
You will need:

21 shop-bought madeleines (Eric used Bonne Maman)
250g mixed summer fruits
For the syrup
100g golden caster sugar
100g strawberries
For the mousse
300g strawberries
100g golden caster sugar
5 platinum-grade gelatine leaves
4 medium egg yolks
300ml whipping cream
2 tsp vanilla bean paste
Eric whips up a storm
How he did it:
1. First, make the syrup. In a saucepan, mix the sugar and 100ml water. Bring to the boil and simmer for 2 minutes. Leave to cool.
2. Wash and hull 100g of strawberries, then liquidise them with a stick blender or in a mini food processor to make a coulis. Pass the coulis through a fine sieve to remove all the seeds. When the sugar syrup is cool, mix with the coulis and set aside.
3. Next, make the mousse. Wash and hull 300g strawberries. Cook the strawberries in a small saucepan with 50g of the sugar for 8-10 minutes until very soft, then mash to create a purée.
4. Meanwhile, in a separate bowl, cover the gelatine leaves with cold water.
5. In another bowl, whisk the egg yolks with the remaining 50g of sugar until pale and fluffy. Pour the hot strawberry purée onto the yolk and sugar mixture, whisking continuously. Still whisking, put this mixture back into a saucepan and place on a low heat for 2-3 minutes, stirring, until the mixture is hot and coats the back of a spoon.
6. Drain the soaked gelatine leaves and stir them into the hot strawberry mixture. Pour into a large bowl and set aside to cool, stirring occasionally. Meanwhile, use an electric hand whisk to whip the cream into soft peaks, adding the vanilla bean paste halfway through.
7. When the strawberry mixture is cold, fold in the whipped cream in two batches to create a smooth, creamy mousse.
8. Now start to 'build' your cake. Line the sides of a 22cm springform tin with baking paper. Cut the madeleines in half lengthways and line the tin with the scalloped sides against the wall of the tin. Fill the bottom of the tin with the madeleine off-cuts – cut them to fit if you need to.
9. Using a pastry brush, paint the madeleines with two-thirds of the strawberry syrup you made first. Then, using a ladle, cover the madeleines with half the mousse. Cover the mousse with another layer of madeleines, paint them with the remaining syrup, and pour on the remaining mousse. There should be a small gap between the final layer of mousse and the top of the upright madeleines.
10. Put the cake in the fridge to set for at least 3 hours. When set, gently remove the tin and put on a serving plate or cake stand. Decorate with mixed summer fruits and enjoy.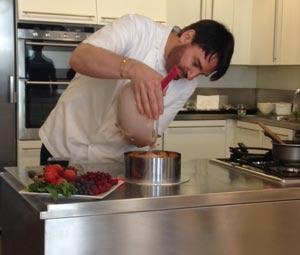 In goes the strawberry mousse – yum!
The verdict

Before we knew it, it was time to dig in! This sweet treat takes less than an hour to make, plus three hours chilling in the fridge – while you chill in the garden with a glass of wine, perhaps? You can pick up Bonne Maman madeleines in store (£2 for 175g). Find out more at lovebonnemaman.co.uk.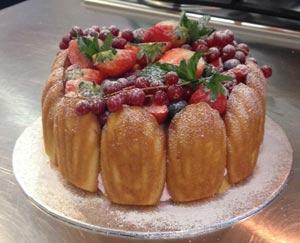 Eric's finished cake is easier to make than it looks
It was so tasty we made it again in our kitchen...not too shabby, eh?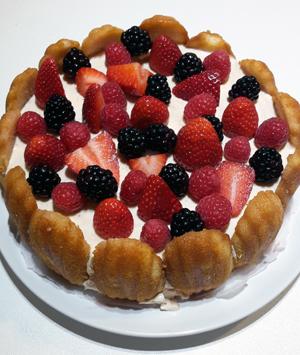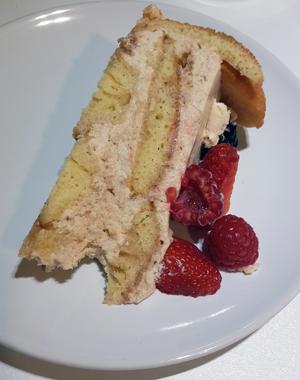 Don`t miss

---