Food
A glamorous dinner with Atul Kochhar and James Martin
As The Queen cracked a bottle of English fizz on the bow of P&O's magnificent new cruise ship Britannia, Sainsbury's magazine editor-in-chief Helena Lang caught up with James Martin and Atul Kochhar, who are both working hard to ensure guests have a gastronomic experience on board...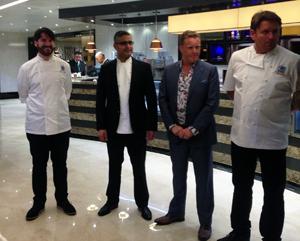 The 4 super sea chefs: Eric Lanlard, Atul Kochhar, Olly Smith and James Martin
Atul Kochhar
Atul was the first Indian chef in the UK to receive a Michelin star and his flagship restaurant Benares is one of the Sainsbury's magazine team's favourites. On Britannia he launched another branch of his Sindhu restaurants (there are already two others on the Azura and Aurora ships). It's a beautiful, intimate dining area, all glossy dark wood and saffron-coloured furnishings.
What does Sindhu mean?
'Sindhu is the Sanskrit word for ocean or river, which seemed very appropriate for a restaurant aboard such an amazing cruise liner.'
How different is Sindhu from Benares?
'I hope to bring the same standard of cooking but undoubtedly devising a menu and serving so many different guests in so many different places creates problems that we don't face in Mayfair! I need to create dishes using ingredients that the kitchen can carry with them on board and using others that can be easily found in various ports of call.'
What are the stand-out dishes?
'There's a soft-shell crab starter that's been so popular I don't think we'll ever be able to take it off the menu! And a pan-fried spiced duck breast served with a three-bean stew that's really delicious. It's a real Indian fusion dish – the duck is very Goan in style while the stew is more typical Punjabi.'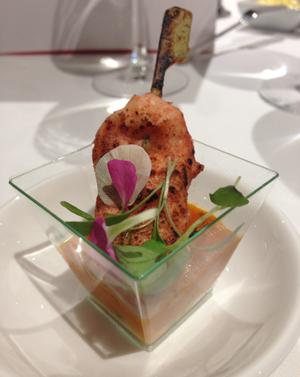 Atul's chicken tikka masala amuse bouche - very amusing indeed!
What's your favourite dessert?
'That has to be the bread and butter pudding, which is infused with pepper and fennel and served with black pepper ice cream. It's fantastic!'
James Martin
Saturday Kitchen star James is working with P&O to develop and improve all the food served on board. His starter at the launch gala dinner was a plate of Bourbon whiskey and vanilla cured salmon, Exmoor caviar and Morecambe Bay shrimp with pickled cucumber ketchup, ginger and tapioca beetroot rye crisps.
How did you prep for last night's starter?
'Well, my day kicked off with peeling and slicing 5.5kg of fresh ginger! It took me and three other chefs five hours! We also had to prepare the pickled cucumber, cucumber ketchup and the crisps.'
The salmon was delicious, where is it from?
'Scotland, of course! There were 190 fillets delivered for dinner.'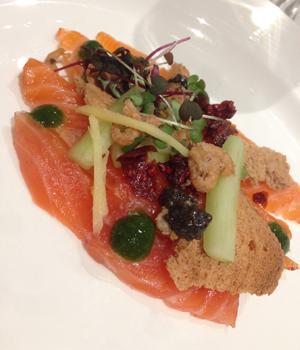 James' smoked salmon starter
What are you most proud of about your involvement with Britannia?
'The cookery club. It's an amazing state-of-the-art space dedicated to teaching cruising guests how to cook delicious food. We've managed to get some amazing chefs to join us on board for tutorials such as Mary Berry, Nathan Outlaw and Pierre Koffmann.'
What are the challenges the chefs on board Britannia face?
'The sheer quantities are incredible. I've worked out that every day they will be serving 30 tonnes of food. This equates to cooking 20,000 meals each day – that's 6 million a year! All those meals have to be of the same amazing standard.'
About the author