Food
Dan Lepard on Great British Buns
by Sarah Randell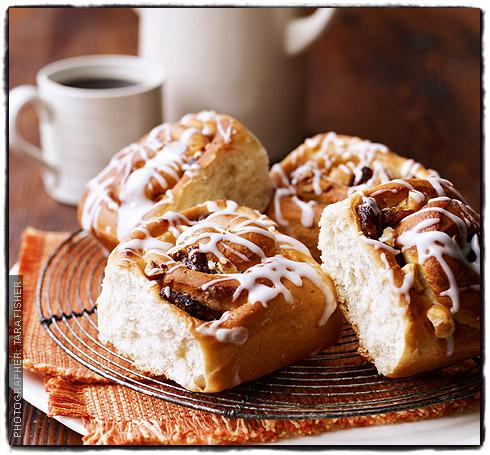 Chelsea buns, Bath buns, Marlborough buns... you can't beat a traditional British bun, which is why we're looking forward to tuning in to The Great British Bake Off tonight to find out how the bakers fare when creating their signature regional bun recipes.
We've been debating our favourites in the office, and it got us wondering how these British classics came about in the first place. We asked award-winning baker and bun expert Dan Lepard for a little history lesson...
Back in the day, the word 'bun' simply meant a unit of baked dough, the way we might say 'a cup of sugar'. It didn't specifically refer to a soft-yeasted dough mixture until the early 1900s, so before then buns could be quite firm, like rock cakes, or soft like today's currant buns.
The world-famous hot cross bun with its piped cross on top didn't always look this way. In the 1800s, a metal cross would be stamped on to each bun before baking, creating a clover-leaf effect. Try this at home using a chopstick pressed into each dough ball twice to create a cross.
Before shop bakeries, buns were sold on London's streets by sellers with baskets full of them. The sellers had a different cry for each bun, so customers would know which type they were.
Chelsea buns would have originally been much simpler than they are today, certainly without icing and probably without dried fruit or spices. One description from the Chelsea Bun House, which created Chelsea buns until 1839, said 'their delicate flavour, lightness, and richness have never been successfully imitated'. The only thing we know is that they were brushed with butter and the dough was rolled up and sliced into the iconic spiral shape.
Bath buns have pieces of sugar baked on top (and sometimes underneath) and have a soft, buttery flavour. They were popular at inns where travellers in horse-drawn carts would stop for something to eat. As a travelling snack, Bath buns spread much further than the city of Bath itself, and by the late 1800s they were popular throughout England.
Which bun would you go for at the baker's? Leave a comment and let us know.
Don`t miss

---