We're very lucky here at Sainsbury's magazine that we have a big kitchen where we test all our recipes for the magazine. This week we used our kitchens to make a huge curry lunch for 130 people to raise some much-needed cash for Nepal.
The very lovely Anjum Anand and her curry brand, The Spice Tailor, very kindly donated two different curry sauces – a Mangalore Herb curry and Keralan coconut curry, as well as 130 onion naans.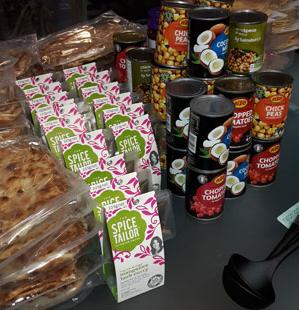 Lots of The Spice Tailor sauces
And Tilda donated a huge vat of rice – so huge that it's as big as Anande, here.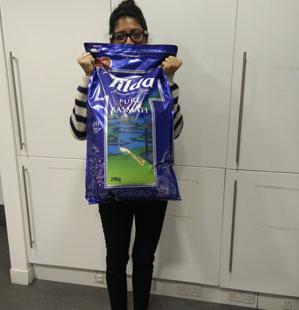 You can just spot her behind the vat of rice!
The morning was spent deboning 23kg chicken thighs, opening countless tins of chickpeas and cooking 10kg of spinach (Popeye would be proud).
At 12.30 the doors opened to a big queue of very hungry workers... and we prepped our super servers for opening! They're not shy on portions!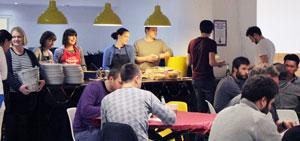 Helena and the mag team serving up lunch
After the last of the building had been fed (we interrupted an IT meeting to deliver 4 large plates of curry), the magazine team could tuck in and enjoy the delicious curry....
We had a bit of both: the Keralan coconut curry with chicken was rich and delicious (especially because Emma padded it out with a few lamb chops!), and the vegetarian (with cauliflower, chickpeas and spinach) Mangalore herb curry was earthy and full of flavour.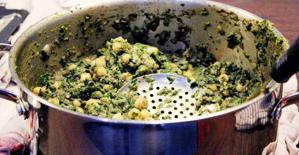 The Mangalore herb curry - boy, was it good!
And don't forget the poppadoms and mango chutney – you can't have a curry without them!
Total raised for Nepal: £1012
A huge thanks for everyone who paid their £5 or more for curry, to The Spice Tailor and Anjum and Tilda for the most rice we've ever had in our test kitchen.
WATCH OUR VIDEO OF THE EVENT...
If you want to donate, here is where to do it. http://www.dec.org.uk
About the author