Food
Christmas with Claudia Roden
by Isabella Fernandes
If anyone's kitchen secrets are worth knowing, it's food writer Claudia Roden's. Her A Book of Middle Eastern Food, published over 40 years ago, introduced us to previously hard-to-come-by foods such as houmous, and her most recent book, The Food Of Spain, involved a whopping five years of research.
I met up with Claudia at a Spanish food evening at the Jewish Museum in London, organised by Jewish food charity gefiltefest, which she was hosting with one of our fave chefs José Pizarro, to find out a few of her top foodie tips.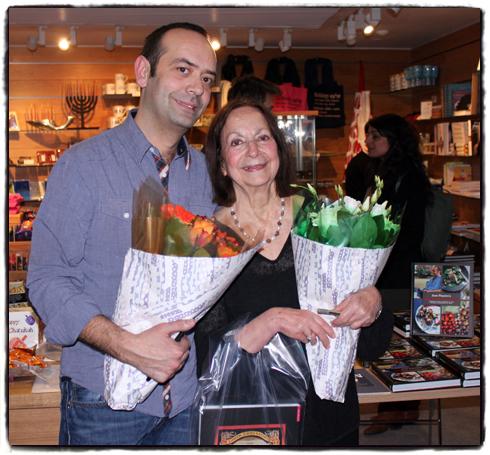 Christmas dinner
'Instead of stuffing the turkey on Christmas Day, make the stuffing separately – it's easier, tastes better and you can cook as much as you like!' Claudia uses soft pitted prunes and apples to give her Spanish-style stuffing a fruity kick.
A thrifty way to feed the family
Use a little dry-cured ham or chorizo to flavour vegetable soups and stews, as the Spanish do, suggests Claudia. 'Many of the Spanish recipes I've collected are peasant dishes, so they're very thrifty. In the countryside everyone has a pig – they make ham and chorizo from it and it lasts them all year.'
For the best fish stock
'Use prawn shells – they give brilliant flavour to fish stews and soups.'
The perfect Spanish omelette
'To make a Spanish omelette, the potatoes should be stewed in olive oil,' says Claudia. She cooks them in the oil for 20-30 minutes. Josés tip? Cook the onions separately first until they're sweet and golden.
Claudia's recipe for Spanish Christmas cupcakes
'These little almond cupcakes are traditionally made at Christmas around Toledo.'
Almond cupcakes
Ingredients
3 large eggs, separated, plus 2 egg yolks
¼ tsp lemon juice
200g caster sugar
grated zest of 1 lemon
50g cornflour
300g ground almonds
icing sugar, for dusting
Method
Preheat the oven to 180°C, fan 160°C, gas 4. Line your muffin trays with paper cupcake cases.
Using an electric mixer, beat two of the egg whites with the lemon juice and 4 tablespoons of the sugar until stiff.
In a separate bowl, beat the five egg yolks and the final egg white with the remaining sugar until pale and creamy.
Beat in the grated lemon zest and the cornflour, then mix in the ground almonds – it should make a thick paste. If the mixture's too dry, add a couple of tablespoons of water to loosen it.
Gently fold in the whipped egg whites, then spoon the mixture into the cupcake cases so that the cases are three-quarters full.
Bake for 10-12 minutes for miniature cupcakes or 15-20 minutes for standard-sized cupcakes.
Transfer to a wire rack to cool. Dust with icing sugar before serving.
Don`t miss

---