Food
Chocolate masterclass at Alain Ducasse
Nibble the edges, savour the taste, wrap up the rest – that's what I tried to do on my way home from the 'Manufacture de Chocolat' masterclass at Alain Ducasse at The Dorchester, but it was impossible not to scoff the lot because the chocolate creations in my goodie bag were melt-in-the-mouth amazing.
At my masterclass with artisan chocolate maker Nicolas Berger, I tempered chocolate, made my own Mendiant chocolate bar in a fancy mould, watched my chocolate soufflés rise through the roof – well, almost – and delicately decorated a tarte fine au chocolat (essentially a chocolate pizza...).
Here are a few tips that I picked up on my masterclass.
TEMPERING CHOCOLATE
• Why do we temper chocolate? If you have to melt and cool chocolate in a recipe, tempering will make sure you get a shiny finish with a nice snap to your chocolate. Without this, you'll get that horrible matte consistency with white patches and a pathetic bend, rather than a nice sharp snap when you break it.
• How do you do it? Melt chocolate slowly over a pan of water. The chocolate must then be cooled to 28°C – this is done by pouring the chocolate onto a cool marble surface and moving it around using a spatula. Test the temperature with a thermometer. It's then reheated to 32°C (the temperature differs depending on the type of chocolate), then it's ready to be moulded.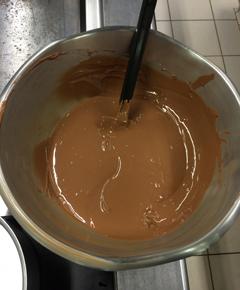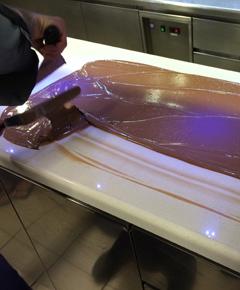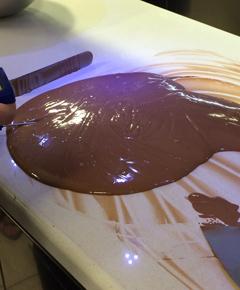 • We made Mendiant chocolate bars with our tempered chocolate. What is that? Well, it's a bar of chocolate formed in a mould and covered in luxurious candied and dried fruits and caramelised nuts. They look pretty as a picture. If I found one of these in my stocking this Christmas, I'd be chuffed.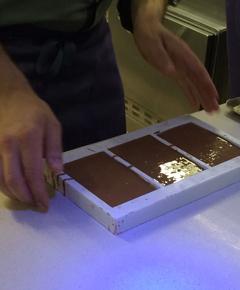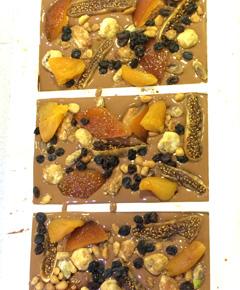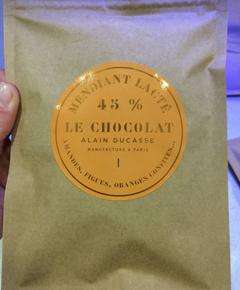 CHOCOLATE SOUFFLES
• The key to a cracking soufflé is whisking the eggs... use older eggs because they're not so elastic.
• Whisk slowly. This helps get more air in and a bigger volume so they're stronger and will rise up and up.
• Don't overwhip, however, or the eggs will separate and it'll be a bit of a flop.
• Make sure you butter and sugar your moulds first so the batter doesn't stick, then have a go at piping in the mixture, like Nicolas here.
The Manufacture de Chocolat workshop costs £150 per person for a two-hour masterclass, plus you can eat all the food you make. Bookings will be taken from 1 November for the classes that take place at
The Dorchester Hotel
on 7 February and 7 March 2015.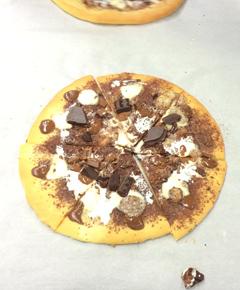 choccy pizza!
About the author