Food
Food for a happy and prosperous Chinese New Year
by Anne Robinson
Let's face it, February is a pretty dreary time of year... but there is a mid-winter celebration to look forward to and it's one of the best in the world. This Chinese New Year will be celebrated on 8 February, with over two weeks of music, parades, and lots of food!
Many of the dishes commonly served at Chinese New Year contain ingredients which symbolise luck, wealth and good health.
We asked Bing Luo, head chef at Hutong, the award-winning Chinese restaurant at The Shard about the celebrations, as well as what food we should eat for a prosperous and happy year to come.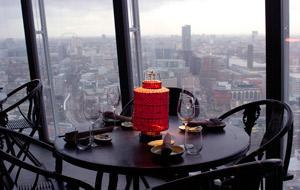 How do you celebrate Chinese New Year?
The traditional way of celebrating it depends on the region. It's very common for the whole family to sit together and make dumplings and tangyuan - a traditional Chinese dessert of little glutinous rice balls served in a ginger syrup or broth. Tradition dictates that the more dumplings you eat during the New Year, the more money you make!
On Chinese New Year's Eve, you deep clean the house – this is symbolic of sweeping away all the misfortune and bad luck from the previous year.
How are you marking it at Hutong?
I have created a special Double Happiness Menu. It will start with the customary Loi Hei salad, a dish that dates back 750 years to the days when fishermen along the coast of China would celebrate the seventh day of Chinese New Year, known as Renri (everyone's birthday) with this raw fish and diced vegetable dish.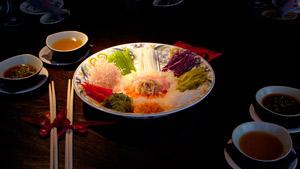 The most important (and fun) part of eating the raw seafood salad is mixing all the ingredients together, ensuring good luck for the coming year. Everyone calls out 'Lo Hei', which means 'to mix it up', but also sounds like 'to prosper more and more', while tossing the ingredients high in the air with your chopsticks. It can get very messy!
Watch the video below to see how the dish is presented.
Award-winning restaurant Hutong serve up their Loi Hei salad from Sainsbury's magazine on Vimeo.
We have two dim sum. The turnip cake is very traditional – we only make this cake during Chinese New Year. It is associated with the phrase 'hao cai tao', which literally means 'good luck'. We also have seafood won-tons which are very typical in Northern Chinese cuisine. The only difference is that we use seafood, instead of the more common pork.
On a Chinese New Year menu, you must have fish to represent a good beginning to the coming year. The word 'fish' in Chinese sounds very close to the word 'abundant'. We are serving grouper, which the chef cuts into the shape of a flower.
The red lantern soft shell crab is one of our signature dishes. The vibrant red colour and the presentation is all a sign of celebration, perfect for the occasion. During Chinese New Year, you'll see a lot of red. We add our own homemade spices, so the taste is really special.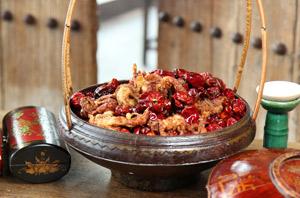 The lamb is another signature dish at Hutong and is very popular. We use lamb belly and marinate it – then we braise it for 3-4 hours, de-bone it, and fry it with herbs and flavourings. It's crispy on top and very tender inside. It's also got garlic, chilli and soy sauce to serve, which balances out the fattiness of the meat perfectly. We serve it on wood, which is a nod to an Asian-Chinese banquet.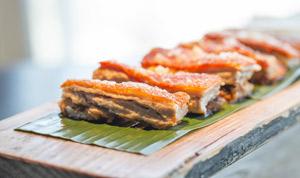 How important is presentation?
It is very important. I have worked with many international chefs and have adapted ideas from European concepts of presentation. For us, it's important to incorporate the ideas of tradition and rituals behind Chinese cuisine. Portioning is also much bigger – it's meant for sharing!
How is Chinese food developing and changing?
It's changing rapidly. Before the only Chinese food available in the UK was takeaways and fast food, which wasn't authentic. Now, people understand what Chinese food is meant to be like.
What can we make at home for Chinese New Year?
You can have a go at the Lo Hei salad at home. Just put some mixed salad and veg in a bowl, add some corn, shredded carrot, tomato, and Japanese seaweed. Then buy a piece of salmon or any fish you can eat raw and make a simple lemon dressing to drizzle on top.
Don`t miss

---