Food
Chefs: my mum used to make me…
by Sarah Alcock
Lots of us have fond memories of sitting in our family kitchens at a young age, watching our mums baking a perfect sponge cake or whipping up a super tasty stew, and it seems top chefs are no different. To mark Mother's Day, we asked some of our favourites what early memories and recipes they hold dearest.
Theo Randall, Theo Randall at The InterContinental, London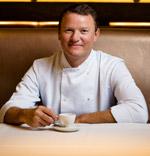 'My mother always cooked the best beef stew, which we would have after a long walk at the weekend. She also baked steaming hot potatoes as a side. I vividly remember putting butter on them, and using my fork to break the potato into all the juice of the stew.'
Try our Italian beef, porcini and red wine stew
Sarah Barber, executive pastry chef at newly opened Café Royal, London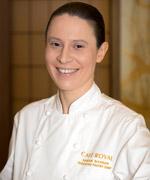 'My mum taught me how to create great classics, such as rhubarb and custard, home-made apple pie and chocolate tart. Great childhood memories like these live on every day in my patisserie style.'
Try our classic rhubarb and apple pie
Alex Craciun, head chef of new restaurant Sosharu, London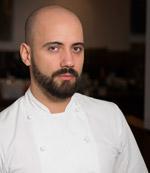 'My mum is a very, very good cook and I have learnt so much from her. One of the key things that she has taught me is how to be organised and keep a clean kitchen – a skill which is really useful for my career!'
Tom Aikens, owner of Tom's Kitchen, London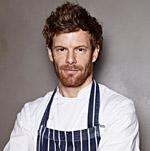 'From a young age my twin brother and I helped out in the kitchen. My mother would involve us in home baking, and we were always on hand to help to lick the bowl. Living in Norfolk, we also had a large back garden where we grew a lot of our own fruit and vegetables. As a result, I learnt about seasonality from an early age and how to grow and cook great produce.'
Olia Hercules, food writer, stylist and chef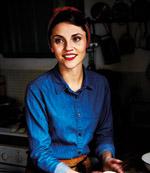 'I think my favourite 'Mum dinner' was, and probably still is, mushroom and noodle broth. Dad would bring these incredible dried porcini mushrooms from northern Ukraine, and mum would make a simple but delicious soup. I still remember the liquid, it was almost black – that's how intense those porcini were. I can smell it now, and feel the silkiness of the home-made egg noodles. There is nothing like it, just five ingredients and water turned into an explosion of flavour. It was one of the first dishes that she taught me, and I make it for my son now.'
Eric Lanlard, award-winning master patissier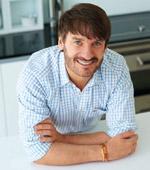 'My mum made the best baked stuffed tomatoes – perfectly ripe tomatoes filled with a mixture of lean beef mince, chicken liver pâté and eggs. She would put them in a deep baking tray with uncooked rice and place the whole lot in the oven. The juices would be oozing from the tomatoes. Truly delicious!'
Try our Greek rice-stuffed tomatoes
Jasmine and Melissa Hemsley, food writers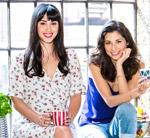 'Our mum was always very much into cooking for health. She wanted us to be doctors so she would always say, "Eat this for your brain so you can grow up and be a doctor!" As we grew up, I don't think we knew that was healthy eating, it was just Mum always thinking about your brain whenever you ate!"
Ching-He Huang, chef and food writer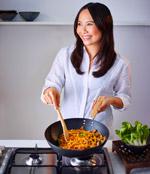 'When I was hungry and needed a snack, Mum made me the best wok-fried Chinese hot and sour chicken rice noodles, known as 'Mei-Fun'. It's a delicious medley of chicken, shredded egg omelette, crunchy cabbage, baby shrimp and a hint of sour and sweet chillies. It was a quick, comforting dish – honest, humble, warm, like her.'
Credits
Theo Randall's second cookbook, My Simple Italian: 100 inspired recipes from one of Britain's best Italian chefs, published by Ebury Press, is out now.
Olia Hercules' debut cookbook Mamushka: Recipes from Ukraine & beyond, published by Mitchell Beazley, is out now.
Eric Lanlard's book Afternoon Tea, published by Mitchell Beazley, is out on 12 May 2016 and is available to pre-order from amazon.co.uk.
The Hemsley sisters' second book Good + Simple, published by Ebury press, is out now.
To recreate Ching's dish, she recommends using the new JML Lotus Wok for the optimum Chinese cooking experience. Available from jmldirect.com, £49.99.
Don`t miss

---