Food
How to get a free/cheap dinner
by Deborah James
LOVE eating out - BUT feeling the strain of spending? Here are five top ideas on getting more fodder for fewer funds.
1. BECOME A MYSTERY DINER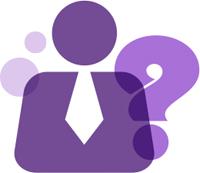 Fancy socialsing regularly for FREE? Become a mystery diner. You'll get to try out loads of resturants and exclusive bars whilst footing the bill to someone else. There are currently over 10,000 'foodie spies' in the UK and there is still a demand for more secret diners. Bad service beware!
Sign-up for your next assignment at www.mysterydining.net
2. GO WWOOFING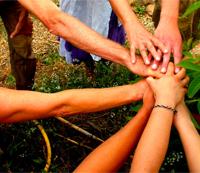 Nothing to do with dogs, WWOOFING stands for 'World Wide Opportunities on Organic Farms'. In exchange for some gardening or farm work, you'll get free lodgings, meals and the chance to learn new organic outdoor skills. Volunteers can escape the city for the weekend and stay with one of 480 registered hosts around the UK. There are 100 different countries that offer this scheme, so keep it in mind for your summer holiday too.
Find out more about wwoofing
3. GET A VOUCHER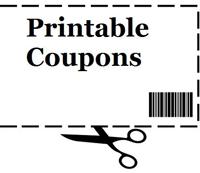 These days no one's ashamed in producing a voucher when it comes to the bill. In fact most will waggle it proudly in the air when demanding their discount. Moneysavingexpert.com is the best place to find restaurant offers. You can get free pizzas, £5 off pub meals and super cheap dinner deals simply by printing off a coupon.
Make dinner out with friends cheaper at www.moneysavingexpert.com
4. EAT STREET FOOD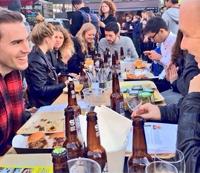 The Urban Food Fest - in Manchester and London - is 100% free to get into, you just pay for cheaply priced food and drink. You'll get live acoustic music, 15 very different foodie vans - think jerk chicken, macaroons, deep-fried frog legs, pad Thai, craft beer - and other street entertainment. The eating choices change every week and it's a cheaper alternative to spending the evening in a restaurant or bar with friends.
Find out more about Urban Food Fest
5. CHOOSE A COMMUNITY CAFE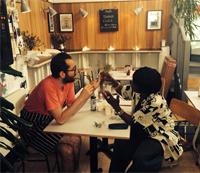 Fed up with corporate chain eateries gobbling up your money? Get your coffee from a community cafe. Run by volunteers, they provide a more affordable eating out experience – many are BYOS – and put their profits back into supporting their local area and charities.
SPECIAL MENTION GOES TO: The NANA café, east London. A cute, comfort food and craft café staffed by women (nanas!), mainly over 60 who want to feel part of their local community. This quirky place used to be a public toilet and now – thanks to hard work and fundraising - it's a cosy space that serves homemade soups, sough dough sarnies and hearty cakes at excellent value.
Don`t miss

---