Food
Carrot, ginger and apricot soup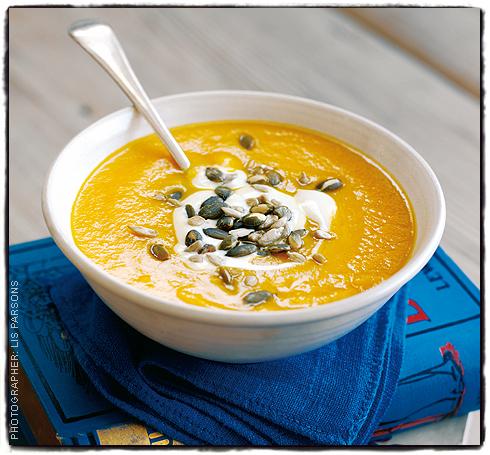 Serves: 6
January blues getting you down? Cosy up with a bowl of warming soup. You can vary the vegetables to suit what you have in the fridge; butternut squash works particularly well and I sometimes add a handful of sweetcorn kernels, too, after liquidising.
Ingredients
25g butter
1 large onion, peeled and chopped
2 fat garlic cloves, peeled and chopped (optional)
2.5cm knob fresh ginger, peeled and chopped
450g carrots, peeled and chopped
1 medium sweet (or regular) potato, peeled and chopped
100g ready-to-eat dried apricots
1 litre hot vegetable or chicken stock (or use half water and half milk)
2 tablespoons each sunflower and pumpkin seeds
6 tbsp natural yogurt
Method
Melt the butter in a large saucepan and stir in the onion, garlic (if using) and the ginger. Cook gently, partially covered for 8-10 minutes, until softened.
Stir in the carrots, sweet potato, apricots and stock and season. Bring to the boil then reduce to a simmer and cook, partially covered, for 20 minutes or until the carrots are soft.
Meanwhile, toast the seeds in a small frying pan for 2-3 minutes, then tip into a bowl to cool.
Leave the soup to cool a little, then liquidise it until smooth. Reheat gently to serve. Serve in warm bowls with a swirl of yogurt and a sprinkling of seeds.
Tip
This soup will keep for 2-3 days in the fridge and it freezes well, too.
About the author