Food
CARLUCCIO'S PASTA TIPS
Serves: 4
Antonio Carluccio, the undisputed king of pasta, taught us some top tips and recipe ideas at his pasta masterclass hosted by Divertimenti Cookery School.
'MOF MOF' – minimum of fuss; maximum of flavour – is the secret to success with cooking pasta. That, and if you're adding garlic to your Bolognese, then you're doing it ALL WRONG!
TOP TIPS
How to cook pasta
• 100g pasta should be cooked in 1 litre of water so the pasta doesn't reabsorb the starch.
• Add 10g of salt per litre of water to stop it being slimy.
Dry or fresh pasta?
• Fresh is better for larger bands of pasta like ravioli.
• Dried penne has a roughness, which is great for collecting more sauce.
• Linguine or flat pasta goes best with seafood.
At our demonstration Carluccio cooked us a fresh and delicious linguine with king prawns and fennel. He simply fried onions, added fennel bulbs with a bit of water until evaporated, then added dill and prawns until cooked. He plated it up with a drizzle of olive oil. He suggested that you could use spaghetti too if you have some at home.
Make proper Bolognese
We make Bolognese all wrong. All you need is onion cooked in a bit of oil, two types of mince – pork and veal – cooked with tomato chunks, tomato paste and dry white wine. Don't add herbs: 'you ruin everything with oregano,' according to Carluccio! Let it cook for at least 2 hours or as long as you like. It's all about the taste of the meat.
Carbonara does not need cream
There should be no cream in carbonara. Fry cheek of pork or ham in oil till crisp. Beat together egg yolk and Parmesan cheese, salt and pepper. Put the mixture on top of the cooked pasta, stir but don't cook otherwise you get scrambled egg. Simple.
Use up the bottom of a pasta pack
This was my favourite dish that Carluccio cooked for us. It's a soup that's made using the leftovers of many packets of different pasta shapes, called munnezzaglia (meaning rubbish in Italian).
White beans (cannellini) are soaked and whizzed to a paste, then a soup is made from stock, bits of ham, garlic, tomatoes, beans and the leftover pasta shapes.

Antonio Carluccio's new book, Pasta, is out now (Quadrille, £20)
Here's the recipe to try at home...
PASTA E FAGIOLI - PASTA AND BEAN SOUP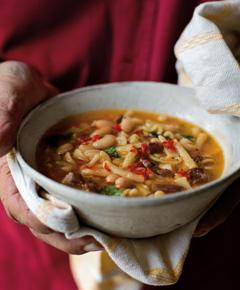 Ingredients
300g dried cannellini beans, soaked overnight
5 tbsp olive oil
a few pieces of cured Italian ham (prosciutto) and, if you can find it, a piece on the bone, or a handful of lardons
2 garlic cloves, peeled and sliced
10 cherry tomatoes, halved
1 litre beef or chicken stock
200g mixed short dried pasta
2 tbsp fresh basil leaves
extra-virgin olive oil, to finish
1 tsp chopped fresh chilli, to finish
Method
Drain the soaked beans, and cover with fresh water (do not add salt). Cook them for 1½ hours until soft. Drain and reduce half of them to a paste in a processor.
In a large saucepan, heat the olive oil gently, then add the pieces of ham and the bone (if lucky enough to find one), and fry for about 2-3 minutes. Add the garlic and fry very briefly.
Add the tomatoes and stock, and bring to the boil. Add both the whole beans, the bean paste and the pasta, and cook, stirring occasionally, until the pasta is soft, about 10 minutes. Add the basil and salt and pepper to taste.
Divide the soup between warmed bowls and serve with a little drizzle of extra-virgin olive oil. I wouldn't add any cheese, but perhaps a little chopped chilli would be good.
About the author